Jumping Critique :)
---
I haven't asked for a critique in a while, so I figured I'd get some input here.
Some background:
What I have been working on mostly is keeping my head from dropping (not eyes, just head - i know, I'm weird ;) ), and gradually becoming used to the automatic release (I have very few photos documenting this). These pictures are from the last 2-3 months. They will go from less recent to more recent- the newest being from last weekend. For those, bear in mind that I hadn't ridden for nearly all of september because I am struggling with mono, and had 3 rides(1 jump) prior to competing.
before anyone chastises me- there was a smaller box on the other side. we were jumping this fence both ways during this course.
i know that I'm too seated too early here- it was a kind of awkward jump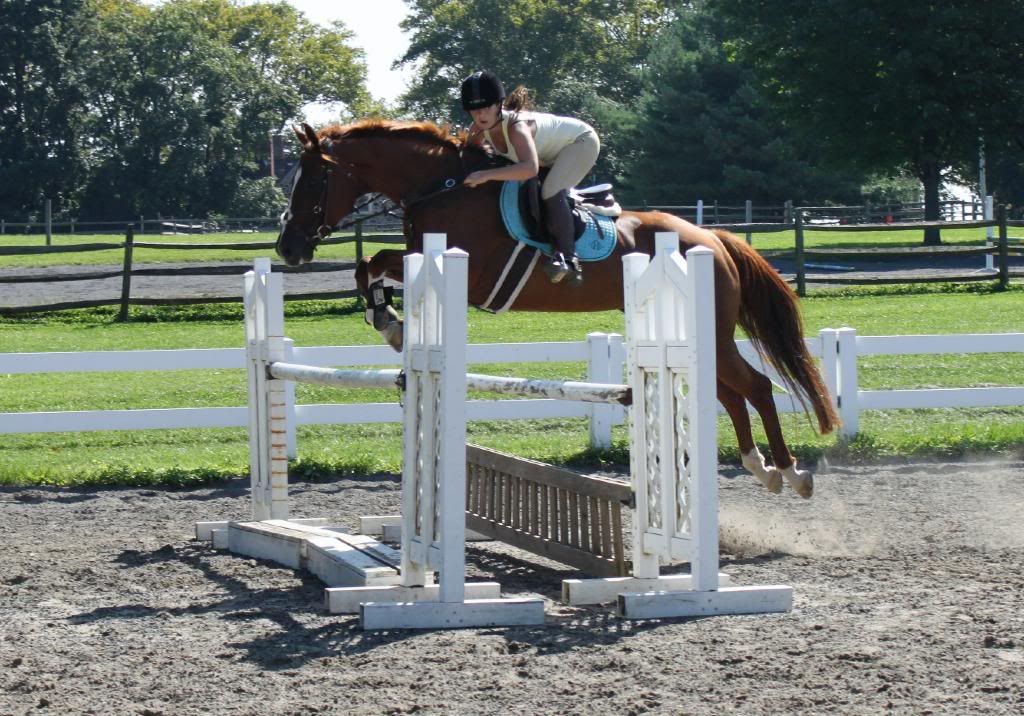 this previous weekend: Radnor HT - Training/Prelim (Training XC, Prelim Dressage/XC) (head dropping was an issue, and auto releases were, i suppose, too much to ask of my mono-licious self haha)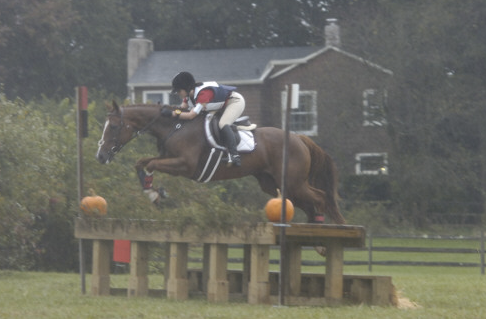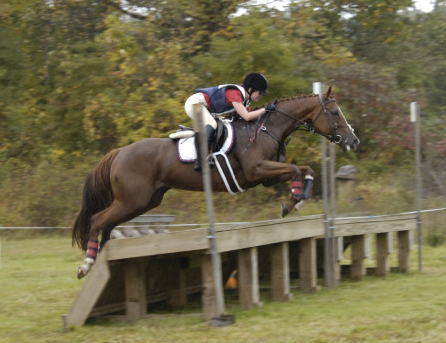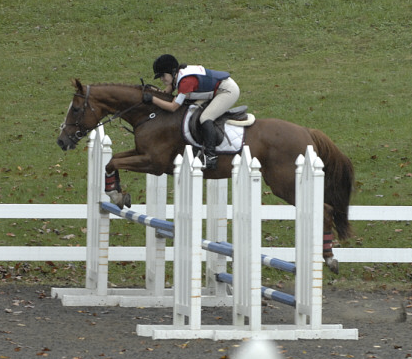 see what I mean about the head drop? my eyes are up and on the next fence, but my head is heavy. I blame poor health- hehe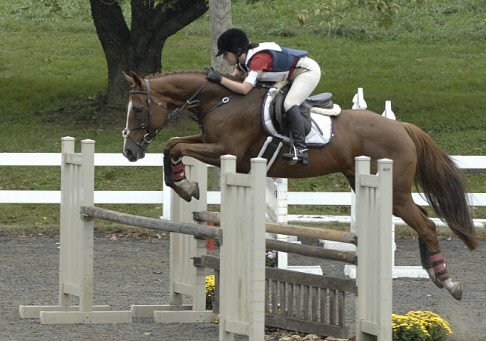 and a video, for those who'd like to watch. this is from not this previous tuesday, but the one before. My first time jumping in over a month. In this video we are practicing our adjustability. In the first course we take out a stride in each line, and in the second we go back to adding.
and that's all I've got for now! Hope you enjoyed. Feel free to rip us to shreds. I have many things that I know I need to work on, but I'd like to see if your criticisms are parallel to mine.
and just cause she's so cute....
---
Last edited by crossiii; 10-16-2009 at

06:17 PM

.
You look good! Love the steady legs and solid seat. You are collapsing your upper body over most of the jumps though, you are almost laying on your (adorable) horses neck. This probably adds to the head dropping. Overall though, I am jealous!
Yeah, what she said. I'm only jumping 2', so I'm not really qualified to critique your level. My trainer events prelim and I personally think she's nuts! The span of the xc jumps is massive. Anyway, great lower leg, but upper body's too far forward. Auto release looks good.
I agree, if you strengthened your upper half i think it would look amazing. Great pics!
in the video i think you're cantering a tiny bit too fast, although thats understandable as you hadn't jumped for a while. your lower leg is great :)
Thanks guys!
I would agree that I need to strengthen my upper body, When I practice automatic releases more I am usually better - for whatever reason I am always closer to her neck. I think that the fact that I can't rely on my arms for support forces me to use core strength to hold myself up. Does that make any sense?

MyBoyPuck - Prelim XC scares me too, at the moment XD I need to school some more of it. Its always more daunting though when you're not seeing it from atop the powerful animal ;)

CaptainLiecy - too fast? what exactly do you mean? Well, in the first course we were more forward than we'd ordinarily be, because part of the exercise is adding/losing a stride. Naturally, I have a short strided mare, who gives the impression that she's moving more quickly than she is. In neither of the courses do I feel that she is strung out or running, and my primary concern is that I have the impulsion that feels necessary given the height of what I'm jumping. The speed with which her legs move doesn't mean much to me, as long as she has her butt beneath her, her forehand up, a nice rhythm, and she's balanced and together coming to a fence.
you are curving your ack adn laying on his neck! that could be why mabe your pushing him to do that
Quote:
you are curving your ack adn laying on his neck! that could be why mabe your pushing him to do that
causing her to do what?? go fast? again, I doubt my position is what causes her to be NATURALLY short strided? and with the exception of a picture or two my back is really fairly straight, and when it is curved, I don't find it to be very exagerated at all. That having been said, I will continue to work on it. Please note that I'm wearing an XC vest in the bulk of the pictures, which always causes my back to appear more rounded than it really is. And while I agree that I am too low to her neck and need to strengthen and lift, I'm actually not laying on her. In the future if you intend to give me a critique, I kindly ask that you explain yourself a little more thoroughly, and perhaps make sure that your spelling is correct. Have a nice day.
You and Mel are amazing! No critique from me. :]
---
I give myself very good advice, But I very seldom follow it
Can I just say your arena is MASSIVE!!