Jumping Critique
---
Other than the fact that my leg slipped back... A LOT!!
what else is wrong with me/the horse? I don't notice anything else, my eyes are up, back is straight... but I figured I would like to get some other opinions on it just to be sure.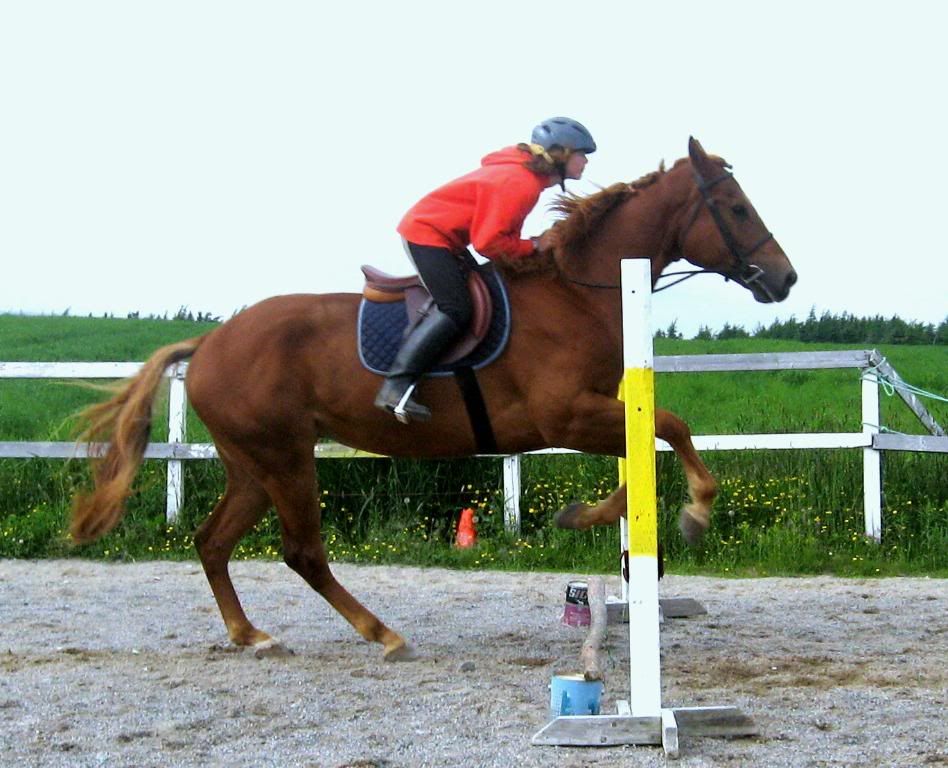 Your leg probably slipped back because youre holding on with your knees! Try to focus on using your calves and thighs!! Youre stirrups also might be a little long. Stay confident!! I like the paint cans holding up a rail :) I used all kinds of sh*t to make jumps lol
---
Life is better at a gallop.
I'm not critiqueing, but I'd just like to say that the rail held up by the paint cans is creating a false ground line, it confuses the horse where to take off. Put the rail on the ground in front of the jump
---
Eventing, the sport where you strap your medical information to your arm.
Yes, your leg slipped back. You need to ask yourself "Why did my leg slip back?" first of all, before you can correct your other mistakes.

Due to your lower leg not being stabalized, you jumped ahead. See how your crotch is over the pommel of your saddle? It shouldn't be there. It should be behind the pommel. See how your seat is way out of your tack? It should be much closer to your saddle - and your seat should be over the center of your saddle, pushed back towards the cantle.

As it is, all because of your lower leg, you created a domino effect that is very common in the Jumping World - unfunctional form.

You essentially threw all your bodies weight onto your horses shoulders, which made your horses job that much harder to get over the fence.

You need to correct your leg first. When you do that, then you can work on remaining behind your horse, instead of lurching ahead.
---