Jumping Critique - Please help
---
Okay so i had a really long post but it deleted so ill try and keep this shorter!
I had a lesson and [I]finally[I] got video taped! However, now that i can see my mistakes i am having a rather down fall of confidence. When im riding i know what i need to do but i feel like i have a mental block and cant physically do it
Any suggestions will be VERY appreciated!
Anyhow, here is what i see (its a long list and cookies for anyone who finishes this!)
1. Rein Length - this is my biggest mental block that i can feel, i know my reins get to long and end up in my lap...
2. Legs moving - i need to start running or something, i have heard my instructor mention it but i never knew it was so bad
3. Jumping position - my awful old position has returned. I have always had the "problem" horses that stop so i used to end up in this awkward stand up position where i didn't bend. It has returned as well as overjumping.
4. Pumping - not as noticeable but still there
5. no release
On to the pictures
1, 2, 3 - i could flat this horse all day
4 - overjumping, no release
6 - overumping, no release, lower leg has swong (is that a word?) pushing my upper body foward
7 - extreme long spot, my horse saved me by miles on this jump, strangely enough, i think it is the picture were i look the best
8 - blurry but he looks nice
Cookies, ice cream, whatever you want for reading this. If you want some entertainment turn up the volume and listen to my instructor and "camera crew!" Videos will be up soon
Overall you look like a lovely rider that just needs some fine tuning points.

First off, I would ditch [what I think I see are] the draw reins. You have both of them super tight and that's not how they're supposed to be used. They are forcing the horse into an unnatural false frame, your horse isn't working through himself.

Secondly, I love that you are looking to where you want to go in each picture. I don't see one where you're fixated on your horse's neck - give yourself a huge pat on the back for this!!

Okay, on to the critique:
Flat trot - elbows bent, hands away from the wither.

Flat canter - Hands up off the wither; they're not touching but they are very low.

You really really really need to develop a release. Grab mane, put a leather around your horse's neck - anything to make you THINK about giving your horse its head before, over and after the jump. I hate to say it, but you have a very tight grip on the reins right now. If you have a problem with rushing, there are exercises to stop that, but hanging on for dear life won't solve it.

You look to have a steady leg in these pictures - yay! Remember to keep the side of your leg on, not your heel. Toes forward.

Let the horse jump for you, you don't need to be doing 2 jobs. Let the horse close your hip angle. You are overjumping as well - try letting the horse come to you first.

Hope this helped!
---
The lovely images above provided by CVLC Photography cvlphotography.com
Thank you so much for the critique! I will have the videos up soon, i just have to figure out how to do it. I think that show a little more of my faults
Here are the videos:
This one is okay - i chip into the 1st rollback bending line but the second time i do it, it is better
This is my favorite because i am an "active" rider but i dont make any sudden moves. My distances are all good except for the last line which i chip into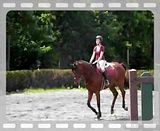 Here are the not so good videos:
This one was good until we spooked at the owner of the barn - went back to the jump with an AWFUL distance and i look terrrible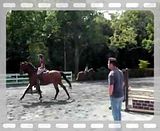 Not great but not awful - almost hit jump standard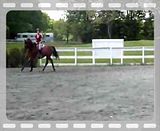 First off, you're not a terrible rider. You have some points to work on, but so do we all.

You are bumping up and down in the saddle quite a bit, my suggestion would be to either adopt a deeper seat and actually sit or take a two point.
Regarding your legs, ask your trainer to give you som lunge line lessons where all you have to focus on is your position. Preferably stirrupless.
Another exercise you can try is keeping a two-point all the way around the arena. Do it at a walk first, and keep your hands off the neck. Alternate between hands in "rein" position without the reins, 'superman' in front of you and 'flying' beside you. Do this at a walk first, then when you can do a few laps of each around the arena without falling back or forwards, try the trot. Then canter, then add some ground poles... etc, you get the point!

Your release does need work. You are keeping a lot of contact over the fence. Contact is fine as long as it's not restricting the horse's movements. Funny enough, your reins slip through your hands and you end up with a very long rein and your hand back in your lap to accomodate and keep contact. Honestly, put duct tape in one place or funky colored reins so you know where your hand is supposed to be.

I'm tapped out for the moment, sorry - might be back later!
Best of luck
---
The lovely images above provided by CVLC Photography cvlphotography.com
You jump ahead allot in the over fences picture, and I think the reason why you use so much rein is because you do not have any stabillity in your lower body to give you that base of security over the fence - so you turn to other avenues for that, your horses mouth.

Your issue is not your hands, your issue is that you are turning to your hands for a solution, when that is incorrect.

What I see is you reaching for your toes over the fences, instead of sinking down into your heels. You have no base of security. You are pinching your knees instead of wrapping your lower inner calf around your horses girth - so due to that, you've blocked the flow of weight that needs to enter your heels.

You pinch your knees, you reach for your toes for stabillity. You pinch your knees, your lower leg flings back and your upper body flings forward.

You already critiqued your jumping position - what I am going to really recommend is Reinless Lunge Line Work. Lots of it.

Find your seat - learn how to allow your seat to control rhythm and pace. Find your legs, where they need to be and how to use them to aid your seat. Rely on those two.

Teach yourself to feel your horses movement and rhythm. Gain that abillity to feel. Learn to trust your horses rhythm, learn to control it through your seat and legs.

Teach your body to where it needs to be. Your knee's opened. Your heels taking your bodies weight. Your calf wrapped around your horse side. TRAIN those muscles as to where they need to be.

Learn to use your seat and legs to bend your horse, to turn your horse, to control your horse, to lift your horse into your aids and to aid your horse *I see in one picture you are turning with your inside rein and leaning to the inside....we turn out horses by bending them around our inside leg and keeping that outside shoulder from popping through our outside rein - NOT the inside rein*

All this will be achieved through Reinless Lunge Line Work.

Then incorporate that over small x rails/cavaletti's.

We ride Seat into Legs into Hands.
Banned
Join Date: Dec 2008
Location: At my house, or stable, duh!(Michigan)
Posts: 2,479
• Horses:
3
It looks like you are digging your heel into the side of your horse.
Definitely need work on your release; you rely on your reins way too much. I second the longe line work, to help you develop an independent confident seat, without relying on your hands.

Toss that martingale, too, or loosen it significantly; your horse can't even jump properly, the way it is adjusted now, even if you did give a release, he wouldn't feel it, because the tie down is so snug.

Those are the two things that 'bug' me most...
Green Broke
Join Date: May 2009
Location: Winnipeg, Manitoba, Canada
Posts: 4,510
• Horses:
2
I really don't understand why he's being jumped in a German martingale. That device is strictly for use on the flat, and even then, it's ridiculously tight. You're asking for an accident using it over fences, especially that tight, your horse isn't able to use his head or neck properly.

All in all I think you're a lovely rider, but it concerns me that your trainer is either ok with, or actually telling you to ride him in a German martingale all the time. Just my opinion though, something to think about, don't want to see you or your fine horse get hurt!
---
Quote:
I hope God tells her to smash her computer with a sledgehammer.
As long as it is properly fitted, there is nothing wrong with jumping in one over smallers jumps (under 3ft). But yes, I agree this one is too tight