Jumping Critique Please - Show in a month!
---
So i'm taking Libby to a schooling show on Dec. 6th, we're going to ride in 2ft. Hunters. Its going to be our first show in over a year and my first show (over fences) since my back surgery in December. I am crazy nervous!! I would really love a critique of my jumping position so I know what I need to work on! I know my release is my biggest problem, I tend to do the chicken elbow thing, lol. Any advice would be great! Let me know what you think of Liberty too, thanks!
Photos: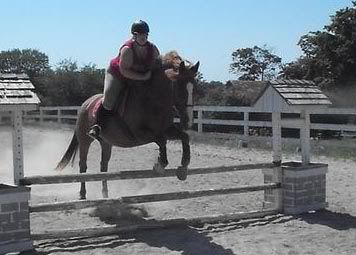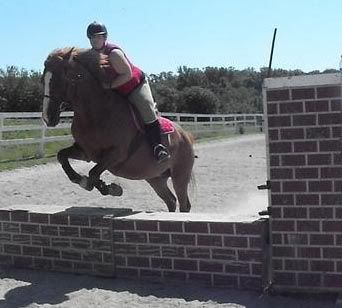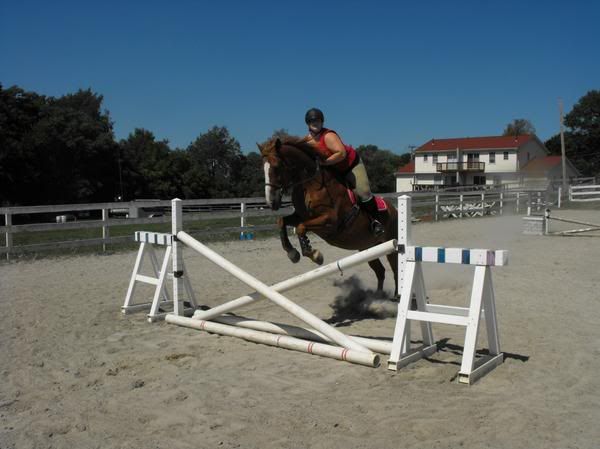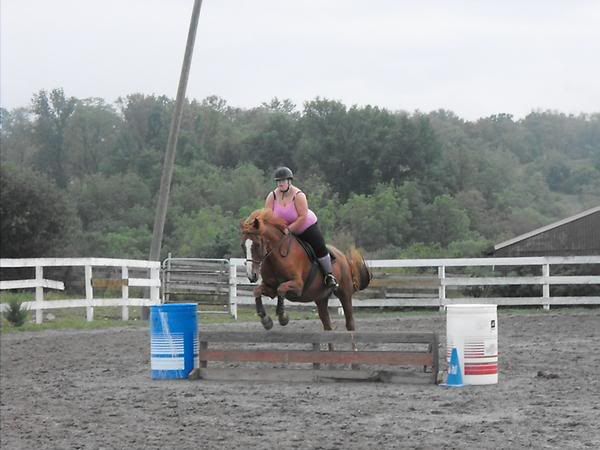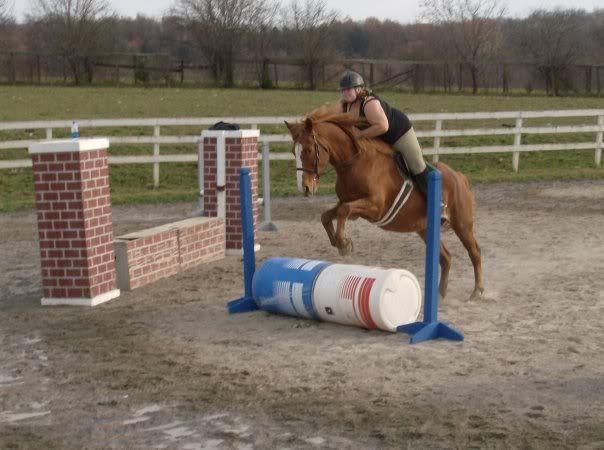 Videos:
---
♞ Horse Crazy. ☀ Animal Lover. ☺Jeremy Renner Obsessed. ✇ Photo Taker. ♫ Country Music Listener.
♥ Erotic Romance Reader. ✯ Witch.
a good idea
---
when you do your circle just before starting your jumps you should pick up into a canter and start the smoothness of the canter before you jump. This way it won't look like you're rushing the first jump. since you did straight jumps I'm not sure if you look at your next jump when you got to turn before the next jump. I use to let my eyes drop which isn't good so keep that in mind. your form looks okay to me though, only one of the pictures looked like you may have leaned a bit to far forward but the rest were good in my eyes.
---
"You have to stand for something or you'll fall for anything"
Okay so my computer is a bumfluff so I can only go by what I see in the pics, can't comment on the videos cause I can't watch them.

You lower leg is very unstable and it looks like your throwing yourself at the jump (I find that once you sort one out the other usualy comes right.)

I would suggest lots and lots of riding in a correct two point position, I personaly spend 15mins of every ride in two point, It will get your heel down and your calf agianst the horse in the position that your leg is the most effective.

Try riding around in two point concentraiting on your weight sinking through your heels with the front of your toe inline with the front of your girth and your toe turned slightly out, have a straight line shoulder knee toe and push your bottom towards the cantle. Do this in walk, trot and canter, change gaits and changes within gates (collected, medium etc) on striaght and do things like serpentines and other schooling excersises. Once you can do that being stable and your lower leg solid agianst your horse then bring in trot poles raised trot poles and little jumps and go in in your two point and just ride through, you dont need to change anything just concentrate on your position staying still and you will be fine.

Good luck with your show, your horse looks like a real trooper =]
No critique here but she is GORGEOUS!!!
---
Three things I see. Your lower leg is a bit unstable. Trotting in two point will go a long way toward strengthening it. Canter's too easy. Do it in the trot for a good burn. You'll have solid rocks for lower legs in no time.

Definitely pick up the canter before you finish that trot circle. Give him a little more time to get a balanced canter going before he gets to the first fence. It'll be easier to do in a larger show ring.

The release looks early(?) to me. It's like you're throwing the reins at him before he gets to fence and saying to him, "okay you do it". If he sees anything at the show he doesn't like, you'll have no way to ride him past his objection. Ride him right up to the base of the fence and only release as his jumping motion takes your body into two point.

Pretty horse.
I can't comment on jump itself, but on most pics you look like you are looking down. Very nice horse, BTW.
your horse looks lame in that vid? could be the shakey camera and inactive trot but yeah... i would suggest getting ur horse into a lively trot- that trot in the vid had no hind action or impulsion- and canter a circle before u head to the jump- the first jump you threw ur reins at him- the second jump was better after u regained balance from the first although you still released early! i agree with the above posts- lost of trot work in two point... but make sure that trot is active!!!! good luck for your show! :)
---