Jumping critique from the show
---
The thing that sticks out most to me, is his high head. I think you are pulling on his face too much.
To get a better result over the fences, do a couple big halfhalts with the outside rein to get him collected over the jumps :)
---
He knows when you're
happy
He knows when you're
comfortable
He knows when you're
confident
And he
always
knows when you have carrots.
Need more dressage. A lot of those jumps looked like accidents waiting to happen--you'll quickly kill the 'try' in your horse if you keep putting him in those kinds of situations.
---
Dressage in Jeans
- My blog with dressage tips for happy, relaxed horses, specifically for those who ride dressage in western saddles, no saddles, cowboy boots, or jeans. ;) Also now with cute pygmy goat pictures! :P
okay I didnt watch more then 35 seconds of that... you deff need a lot more work on flat, and I would probably work over lower fences for a while! Once of these days your guys just gonna crash through the jump....

He has talent with some work you'll be great!
dear god you pulled that first rail like 20m!!!!!!!!! firstly don't let him through your hands, make them softer and use seat... as it appeared that u were out of the saddle more often than not- try and relax in the saddle a bit more- let him round beneath you and establish a rhythm (ie. MORE DRESSAGE!). that will stop you have to drag and balance on his mouth to get corners and slow him before the fence.try a drop or the flash on a hanovarian to stop him gaping, will give you a bit more control too if he can't escape the pressure ;).
the fact that he pulled alot of the verticals is showing that he needs balance and impulsion behind. Impulsion doesn't mean faster, i would suggest lots of grid work... a great one for him would be ' ground rail, bounce, 1s, 2s, bounce' also ... just typing as i'm thinking here.... a few canter poles before and after a low vertcal fence (2'6ish would prob be a good height for him).

i'm under the impression that the last course on the vid is a topscore or similar so i understand speed is a major factor... but was that the last course of the day? because he was jumping much better after getting into a rythm and knowing what he's doing..

sorry if i was a bit harsh.. or offended you but mean well ;)
---
ok, firstly, I pretty much only do flat work lol. and when I do jump (only at pony club or show really.) Its schooling and grids. He does rush. its from what his previvous instructors did, I was wanting more position critique lol.
OHH!! and in that vid the first person is me the second one is josh and the 3rd is josh. I do ! allot! of flat work (no actually dressage, but flat work is dressage in a nutshell)
here is us doing flat work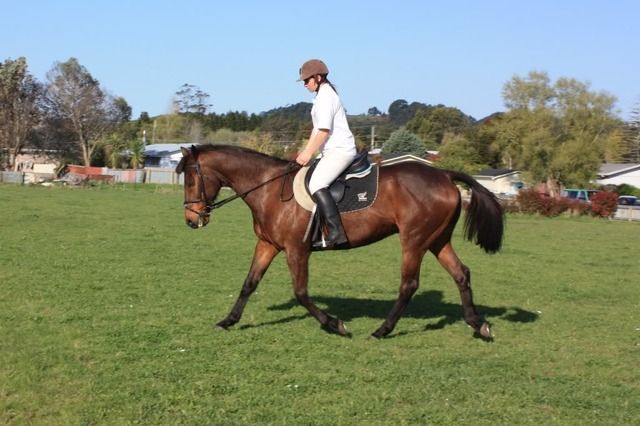 I probs should ahve said that I was only the first person in the vid, cause joshs horse is nuts as a doof.
oh and he is almost constantly on the bit, however it is when we are jumping that he is different, its gotten a huge amount better lol.

position critique please =]
You lean tooooooo far forrrrwaaarrrrrddddddddd!
well in that picture you are leaning forward and you need to keep your heals down. Eyes and head up. I haven't watched the video.
ok, we'll do position... i think your doing to much.. sit back a bit and drop your seat bones into the saddle, you seem perched. you need to work on releases and your hands- i noticed going around corners etc your elbows were sticking out and i could see your hands out of place (at 0:30 on the vid). and your lower leg slips back over the fences .. thats all i can see from the vid.. in the pic ur leaning forward and your hands are too low - u need to close the angle in ur elbow
---