Jumping and Flat Critique *Pics*
---
Please Critique only me and not the horse.
I'm gonna give a little background history on my riding... hope you don't mind. Anyways I started riding when I was 11, Jumping at the age of 12 til I was 13. I took a 2 year break form riding. I did 1 year of western Got back to jumping 2 years ago. I just felt like saying that cuz I get alot of comments like "did you just start jumping??" or "it looks like you're just learning to jump". I don't mind I just wanted to clear up that i'm not brand new to jumping. I feel I should be at a higher level for the time I have been riding but I know my position isn't good or stable enough to go higher.... anyways Critique away. Be 100% honest! I won't get my feeling hurt.
Thank You!!!!
Btw I'd appreciate it if you could point out things that i am doing right too.... but of course only if I am doing anything right. Lol...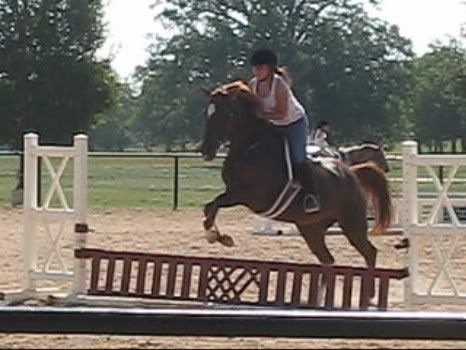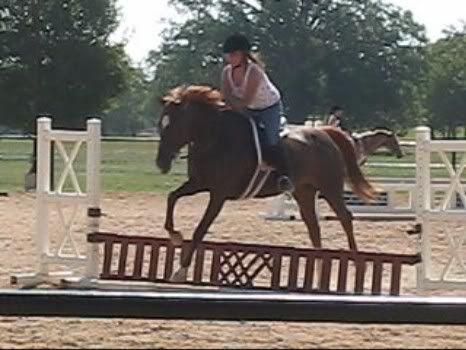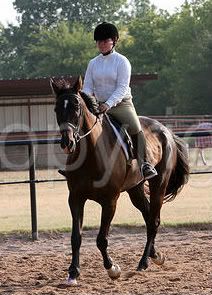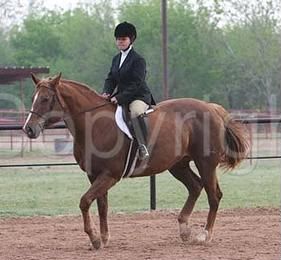 Green Broke
Join Date: Jun 2009
Location: Brokenheartsville, just north of Styxtown :)
Posts: 2,577
• Horses:
1
Hms.. 3rd photo leg slipped back.
I'm not the best critiquer
---
Most people are like Slinkies; they serve no real purpose, but they bring a smile to your face when you push them down the stairs.
When you come to the end of your rope, tie a knot and hang on for dear life.
Green Broke
Join Date: May 2009
Location: Winnipeg, Manitoba, Canada
Posts: 4,510
• Horses:
2
Unfortunately the angle of the pictures makes for a really bad critique. Mostly I see that you have a very weak base - you seem to be letting your lower legs just flop wherever they please and overworking your thighs and knees. I do like your release - a lot of people with a weak base have a tendency to hang on their horses face, and yet you seem to have a decent upper body with nice hands. However, because of the weak base, you're either over jumping (standing in your stirrups) or getting left behind because you haven't created your centre of balance with a solid base. I suggest lots of riding in two point, and also getting someone to lunge while you ride with no hands. No hands work (both flat and over jumps) is AMAZING for getting those legs working as they should because you're forced to use them.

With height though - it has NOTHING to do with how long you've been riding for. I've been in the saddle since I was born, off and on again jumping lessons since I was 10, been jumping every summer for the last few years without a coach. I'm 24 years old, and I'm nowhere near ready to go higher then 2'6", and even that's a bit of a long shot as I don't have great position yet. Oh sure, I know I could hang on and hurl a horse over a 4'0" fence and stay on, I may even be able to make it look like I know what I'm doing, but how is it beneficial to me at all? So just keep up the hard work and try not to worry about height!
---
Quote:
I hope God tells her to smash her computer with a sledgehammer.
You could use some core strength right now you're relying off of your toes, turn your toes in this will allow you to take your calf off of your horse and make you use your leg.
Your release is fine for the size of the fence, open your shoulders up you look like you're slouching a bit, you'll find it 10x easier to find the middle of your saddle if your shoulders are open.
Bring your butt back and bend at your hips right now you have the typical standing in your stirrups, your hip angle is hard to tell by the angle of the pictures however from this angle it looks a bit closed, you want to think about your horse's rhythm and how it flows as you are approaching a fence think about that beforehand, bend at the hips.