Jumping with a GOOD picture, this time.
---
Look, guys! I finally got a picture you can actually see from a pretty good angle!
We were working on strides after the fence-there's a ground pole two strides from this one.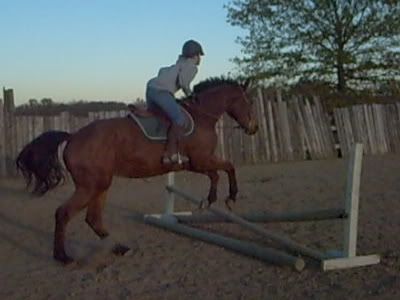 Yearling
Join Date: Jul 2008
Location: between florida and maryland, usa.
Posts: 759
• Horses:
1
You look like you're jumping ahead a bit, and you need to drop into your heels and reach up his (or her) neck a little. Otherwise, you look good!
And I have the same exact issues you do! If you lived closer, I'd say we could work on them together! Haha.
I agree that you are jumping ahead - let the horse jump and close the angle of your hips, don't jump for the horse, let him worry about that. Keep closer to your tack; with your position right now, if the horse stopped, you'd be over his head.
I would recommend shortening your reins so you can maintain contact with the horse's mouth throughout the jump - mind that does NOT mean pulling, simply that you don't throw away the reins over the jump. Right now to have contact over the fence you'd have to have your hands in your lap, which makes me think that the approach to the jump was on a loose rein as well.
Shorten your reins, and keep a light contact throughout your rides; do not interfere with the horse's natural movement - keep in mind the horse has to use its neck before and after the fence.
Your leg has also slipped back, your stirrups look a little too long, shorten them a couple holes and keep your leg under you as a solid base.
Keep your elbows closer to your body; this might right itself when you shorten your reins and employ a release though.
At this point little mistakes don't matter all too much, but if they continue and you move up through the heights, they will start to rear their ugly heads.
---
The lovely images above provided by CVLC Photography cvlphotography.com
I think its mainly the heels. When you ofix those, most of the rest is going to really fall into place.
Sink deep to make for a longer leg, then your seat wont fall so foward so quicklky. Keep your back as straight as possible. It looks king of like your shoulders a pinched a little foward (it may just be the pic tho...the jacket is throwing me off for that) Okay. Dont release your hands quite so soon, youve lost contact. Its better safe then sorry, but dont throw them away so soon. You dont need to release until farther along in the jump. Bring your elbows in..theres too much space between them and your body. when you pull those shoulders straight it should right that though.

you two look like youre going to make quite a team. you've got the basics down, now just work on those little things
---
ACCOUNT ABANDONED
---
Last edited by equineangel91; 10-25-2008 at

10:09 AM

.
Thanks, guys. (:
The thing with the reins though, I DO have contact with his mouth...We jumped in a kimberwick curb that day instead of switching back to the snaffle because of lack of time, and if I'd had much more pressure over the jump, we wouldn't have gotten along.
Other than that, I cna see everything else you pointed out.
Thank you.
I'm sorry, I don't see contact with the reins... which judges will mark you down for in the ring. I know you may not be concerned with that at the moment, but it's something to strive for. (To make your position perfect)
---
The lovely images above provided by CVLC Photography cvlphotography.com
Okay, so the last few times I rode we did pretty well, but of course I didn't have my camera on me.
Today, he was great over the flat-we could walk-trot-canter without stirrups and bareback-which we can't always do, but when it came to jumping...we were both a bit out of it. I have a picture, and I think we have improved, but I know that me reins are still too slack and other stuff is going on, but I think I look a bit better going over...?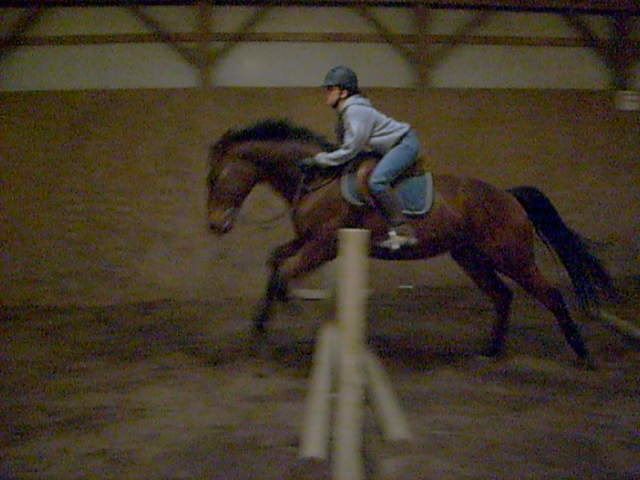 Way blurry.
What do you think? Any better?
---
Twende Haraka
"Twende?"
"Yes. Like 'Wendy'...With a T."
I (also) think that you are jumping ahead a bit- all you need to do is let the horse's motion lift you out of the saddle. I also think that you should get your heels down a little bit more. You have a really natural and relaxed position! Good job.