Green Broke
Join Date: Aug 2011
Location: Middle of Nowhere, Saskatchewan
Posts: 2,655
• Horses:
5
Jumping...? If that's what you wanna call it
---
So, I've always been scared to post pictures of this, but hey... someone else just did... so I overcame my fear!!!!
Would you mind giving me a little critique?? I mean, the bale jump... isnt really a "jump" but, hey...
Someday, I would like to try riding english and jumping... someday....
Aaand I recently sold this pony *tear* but if I eveer wanted to jump, I have a 15.2 hand 3 year old mare sitting around...
Also, these pics are old, like over a year old, so... yeah.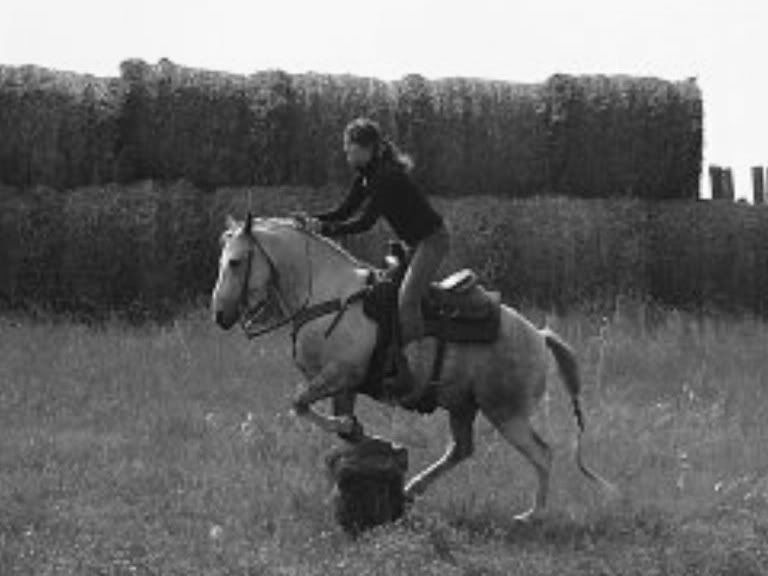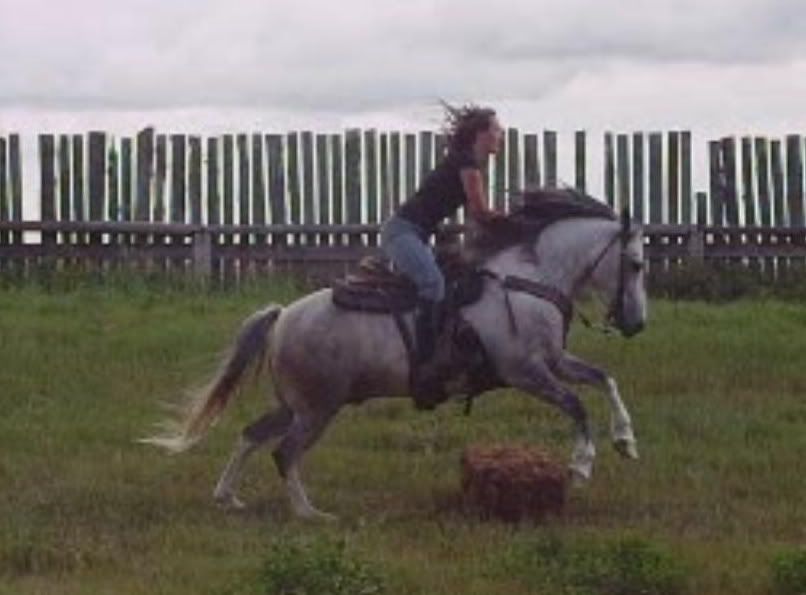 ---
your horse doesn't help you much with your position... laaaaazy front end. however i think you'd do well with an actual english saddle, as your basics are there. eyes up... very nice.

my horse recently tripped on the back side of an oxer and rolled on top of me... so... the whole no helmet thing that you folks are all partaking in while jumping a green horse over random objects, juuuuust kinda makes my stomach turn. Just sayin'.
---
Life seems mighty precious, when there's less of it to waste.
If you would like to ride English and jump some day, I would definitely get a cheap English saddle and practice that two-point. What I'm seeing here looks more like half-seat than two-point to me.

*Heels down.
*You either don't lean far enough forward (understandable in a Western saddle) or way too much (last picture).
*Your legs are sliding VERY far back. This partially comes from not having the muscles built up for jumping and I think partially from trying to jump in a Western saddle.
*You definitely have a release which is good.
I can't really offer critique because of my own lack of experience, just wanted to say I like the creativity of the *jumps* LOL! And one should never be afraid to ask for advice on how to better oneself, glad you decided to share with everyone :)

The best I can offer is that you don't look bad to me, I like how forward minded you seem in the pictures, if it counts for much *shrug*
I love this pony... I miss little guys like this.

You have the right ideas. Your upper body is pretty decent for someone in a western saddle. Other than the bareback pic, your almost right over your horse's center. The 3rd pic is perfect. At this height, you barely need to be out of the saddle, two point is a great starting place. For someone who doesn't jump or train, you have a great natural idea as to where to place your body.
---
If your horse says no, you either asked the wrong question or asked the question wrong

And God took a handful of southerly wind, blew His breath over it and created the horse