Green Broke
Join Date: May 2009
Location: Winnipeg, Manitoba, Canada
Posts: 4,510
• Horses:
2
Jynx update/critique!
---
Feel free to critique, more of an update since I always post her newest conformation shots as I get them, haha. These are a bit difficult I know because of the saddle, but it's so rare to catch her standing ALMOST square!
I'm glad she's looking a let less post legged then she did in some past pics - I know she still is, but some of her younger pics lacking all the muscle she looked really weak.
What does everyone think of her pasterns/angles? She's got pretty awesome feet, but I'm having serious problems with her clipping her front hooves with her back - and I mean BAD. She wears bell boots and she's fine after a trim, but once she gets close to due, she's actually cut herself open before from clipping.
Any suggestions?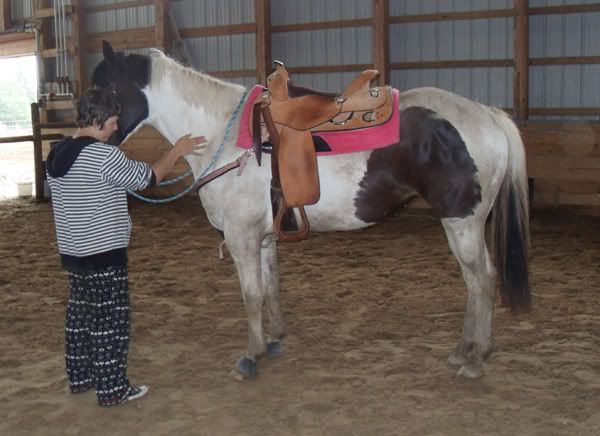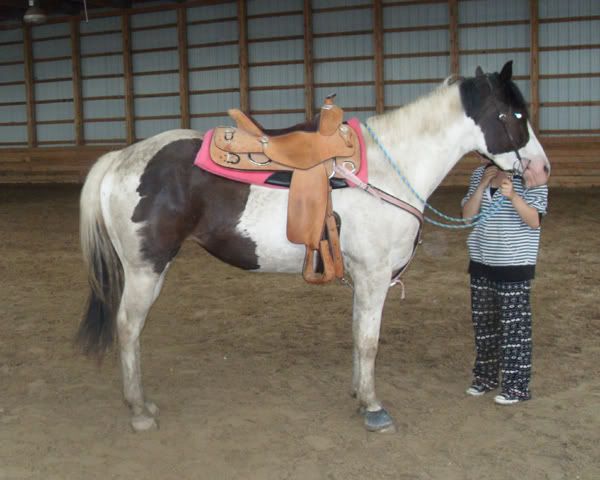 Please forgive how "dirty" she is - I always groom my horses, but with this rain, mud and clay, I have given up on bathing her an accepted that my white horse is GOING to look like crud for as long as she's penned within 40 feet of mud and/or water! Everything you see is STAINS.
---
Quote:
I hope God tells her to smash her computer with a sledgehammer.
In the second picture especially, her back pasterns look really upright, but it could be the way she's standing. Her post-leggedness is definitely looking better, as is her muscling.

Oh boy, do I feel for you. 2 of my horses are pintos, both of them mostly white, and with this rain and mud....arghh! They just don't stay clean!

P.S-- I love your saddle! The coloring is gorgeous!
Wildey over reached for a year or two when I first got him, and he was the same, would sometimes actually cut himself. I think it was just a symptom of him being young, unbalanced and not moving properly as he definitely grew out of it. I just used bell boots for a year or so and then one day took them off and he was good.

She looks really good - She is a lovely solid girl.
---
She looks good. Her back pasterns are a little bit upright but that is pretty common in association with post legs. I would also guess that the clipping is just her being young and green and still finding her balance. She looks fantastic in that saddle and pad and I still just cannot get over Alfred Hitchcock on her right flank LOL.
---
Always remember that feeling of looking at a big, open country over the ears of a good horse, seeing a new trail unwind ahead of you, and that ever-spectacular view from the top of the ridge!!! Follow my training blog:
http://robertsontraining.blogspot.com/
Green Broke
Join Date: May 2009
Location: Winnipeg, Manitoba, Canada
Posts: 4,510
• Horses:
2
She's kinda short in the back pastern to eh? Maybe that's what's causing her somewhat choppy gaits? It's not bad if she moves out slow, but the minute she picks up her trot or canter, it's rougher then heck to sit. Then again, when you're used to pogo stick Arabs your whole life, maybe the actual moving FORWARD instead of UP has me confused!
Thanks guys, I'm hoping she grows out of it - I always used to be like "OH PURTY EXTENSION" and now I'm like "Can you knock it off so I stop mopping up blood?" LOL She seems ok with her bell boots, and it's only when she's moving out at a super fast trot (which we do best to rein in, but she has such a lovely working trot out on the trail).
Lunging pic from last year, she'll have a lovely stride to manipulate if I can get her to slow down those back legs!
---
Quote:
I hope God tells her to smash her computer with a sledgehammer.
She's a good looking horse
If she mostly clips when she's due for a trim, maybe try a rider's rasp. I've heard good things. . .
i don't have anything to add, except she is looking really good
Looking at these pics compared to the first ones I saw of her last year when I first joined, she's come along really well.
---
"The ideal horseman has the courage of a lion, the patience of a saint, and the hands of a woman..."