Jynxy's almost 3, yay!
---
And here are some updated 3 year old confo shots! These ones should be nice and accurate - we're working on some showmanship training, so she's learning how to square up and behave like a nice respectable member of society
I apologize for her filthiness - I DID brush her, believe it or not. The snow is gone now, but it's still March and bathing is completely out of the option. Aside from her legs, it's all stains now. I also apologize for her mane - we are in the process of pulling it, but it's literally the THICKEST I've ever encountered, and she's decided she hates having it pulled, so we're doing it in baby steps.
Be as harsh as you want - I know what she is and I know what she isn't, and never purchased her with gold trophies glinting in my eyes.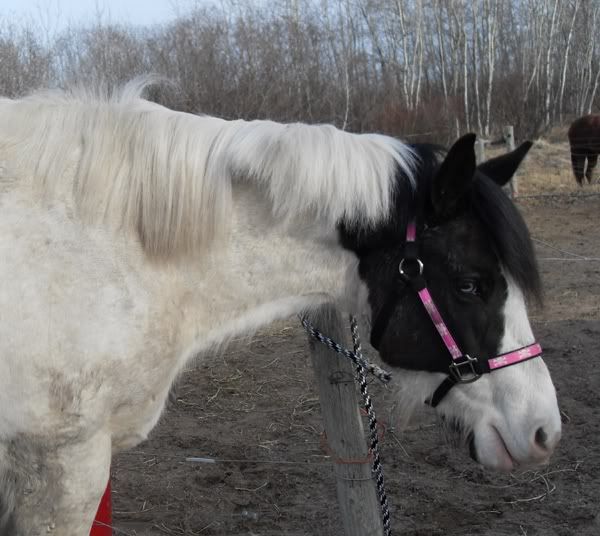 ROFL, just to show her godawful mane - that shortest chunk is what she ripped out herself, so we're pulling the whole thing to match that length right now. Shay-la got partially finished with her upper neck, and managed to quell a few tantrums so we ended on a good note. Silly goose.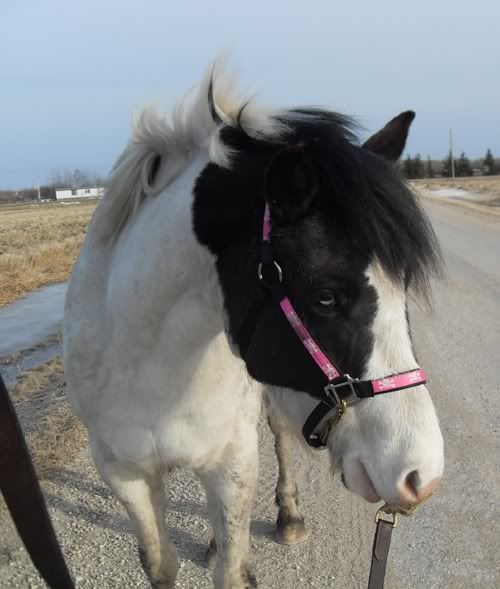 We're working on on this "you can't chew on your lead in class sweetie".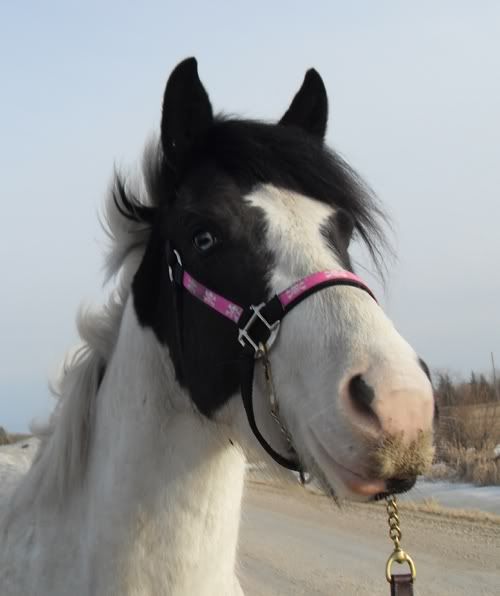 She could ALMOST pass as a show horse!
Confo shots! It's mud and water everywhere so we've been practicing on the road as the surface is nice and it's a great chance for her to see things and learn to focus on me.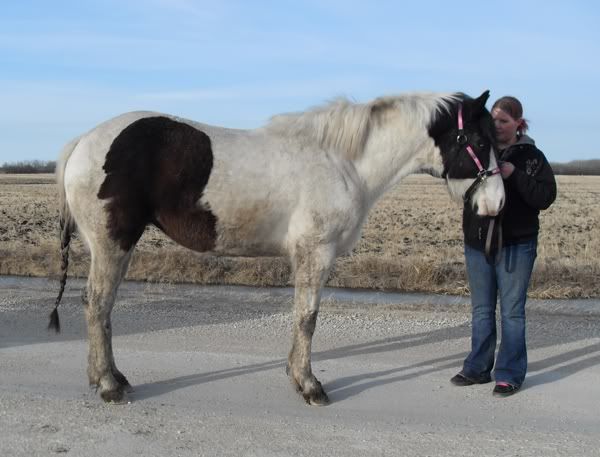 They're really all the same...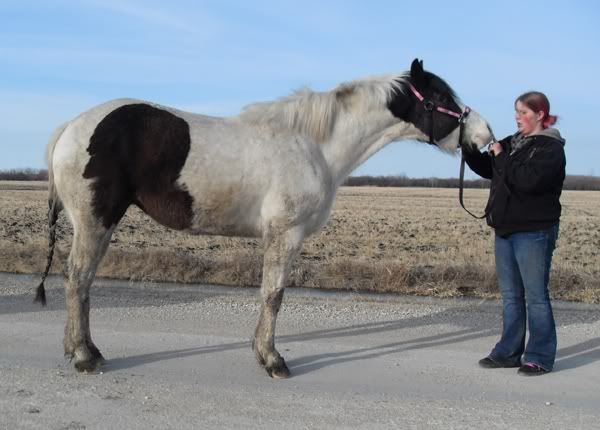 We have to work on the "my fingers aren't food" thing to.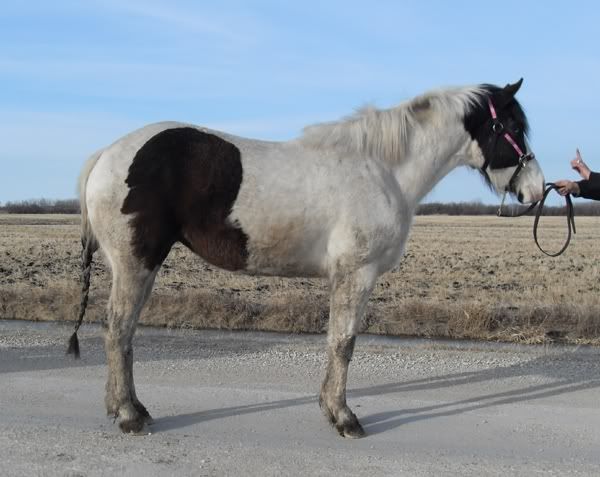 Attempting to make her stand and not walk towards me, haha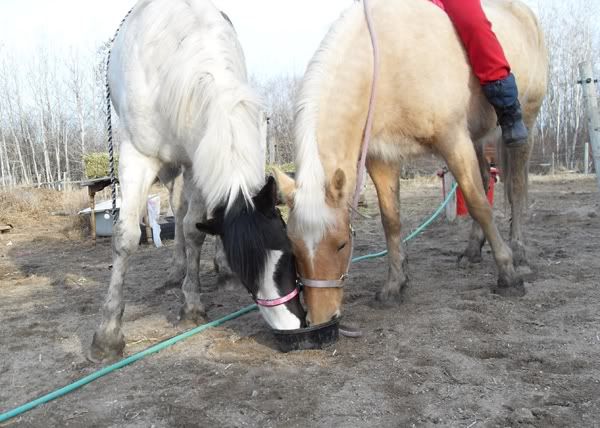 And just for fun, sharing noms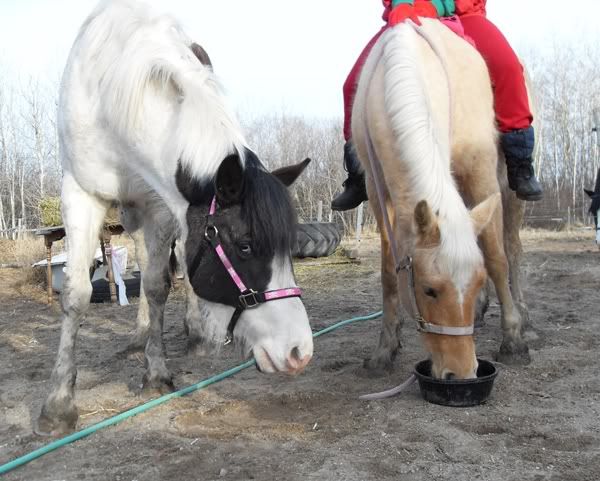 And noms being stolen...awwwwwz
---
Quote:
I hope God tells her to smash her computer with a sledgehammer.
First - thanks for getting at a decent shot to use!!

Her neck looks short and really underdeveloped. Butt high, but that's likely age related. Feet seem really small compared to the size of her body (that just may be the mud/dirt though). She looks like she may be post legged and maybe stands under a bit in the front. Her back looks short. Pictures from the front and back would be useful too.

I love her butt, nice round. Like her shoulder. Love her coloring.

She could use more muscling over all. What are your plans for her?
---
Unless it weighs a ton... it's just a horse.
Draft horse motto.
Yeah, I didn't even think of pics from front and back and I'm kicking myself for it, since she tends to like standing rather cow hocked (I know she is slightly, but she seems to exaggerate it a lot when she's being lazy). Oh well, just have to get her squared up again!
Thanks for the critique, all things I've noted as well except for her feet - I actually really like her feet and so does my farrier - he says if I'm interested in endurance, this is my horse. She's got solid feet that don't chip or crack easily, and I think they're actually a good size. I could be wrong though, I'm used to itty bitty Arab feet, haha!
Definately a little post legged in the back, though it doesn't seem to hinder her much, I'd get a second opinion before trying to do any extreme work like cutting or reining with her.
Anyone else??
---
Quote:
I hope God tells her to smash her computer with a sledgehammer.
Oh and sorry, not sure what my plans are yet. She appears to have some really cute movement, so I think we'll be focusing on some Dressage, but my Dressage coach's "boyfriend" (they own the stable together) is actually a cutting horse trainer (haha, we steal his cutting horses for our Dressage lessons) so I am REALLY interested in some Western with her to. I'm going to see how she develops and matures and see what she likes best - Dressage, jumping, reining, cutting, endurance or barrel racing, I love it all, so she can choose!
---
Quote:
I hope God tells her to smash her computer with a sledgehammer.
She's not that bad! A little close couped for my taste, and butt high - but that may even out as she ages. Her hind legs are a little posty, and something odd with the fetlocks up front? Maybe it's hair!

Her neck is short and a touch thick, but there's nothing glaringly awful about her - ESPECIALLY considering she's a black and white!

Ahem, so... How you liking that white? LOL! You have more than I do!

*Edit: And I LOVE that punk rock halter! >8D
---
I've got a lovely bunch of Neuticals,
There they are all standing in a row
Big ones, small ones, some as big as your head
I agree with what has been said about her confo. As for what you plan on using her for, she seems like she would be a great all around horse for you to do both english and western with! Have fun with her!
*giggles*
I have never seen my aunt (a proper English rider and ex-Pony Club Coach) have such a disgusted look on her face as when she saw that halter. She's putting money on them kissing the floor and thanking god when they finally found someone sucker enough to pay money for it. The minute I saw it I HAD to own it, and it's not even close to fitting Zierra, so I'm beyond ecstatic it fits Jynxy (I've owned it for 2 years already!)
Thanks guys, definately agree with the advice, I think she'll break out into a fantastic kid's mount as she gets older and something to really have fun on which is what I bought her for!
---
Quote:
I hope God tells her to smash her computer with a sledgehammer.
Mostly, I agree with everyone else. She's really straight in the back end, wouldn't be a good Cutter/Reiner/Working Cow but could EASILY go WP or EP.

She is butt high, but I'm sure that's age. Her bottom line could use some work, as her top line, but that'll come with training and learning to collect and work in the frame. It'll also help develop all those back muscles so she won't look "saggy". Neck is a little short, could be more refined in the throat latch area, and tail head set higher up (Okay, I'm going Arab on you now! :p )

Awesome hip, croup, and loin! Great shoulder, nice neck that sets will into her back and chest. Good sized head, nice length between her eyes and nostrils, and good width apart, too.

One more thing I don't like? Colour! Ah! *hides*

Over all, I'd say you got a really nice looking mare! Will be nice to see pictures as a five year old!!