Looking for confo critique for new TB
---
Some background info:
Eli is a 4 yr old TB. He's just under 15.3hh at the moment. He raced 21 times (yikes!), and his last race was this past Feb. A friend and I rescued him about 2 weeks ago. He went straight from the track and stood in a stall (literally zero turn out) for at least 4 months. I've decided to keep and retrain him. My plans for him involve lots of dressage for a year or so, hopefully followed by some jumping. I'd love to hear your conformation critiques, as I'm still developing my eye for it, and I think I'm a little biased
.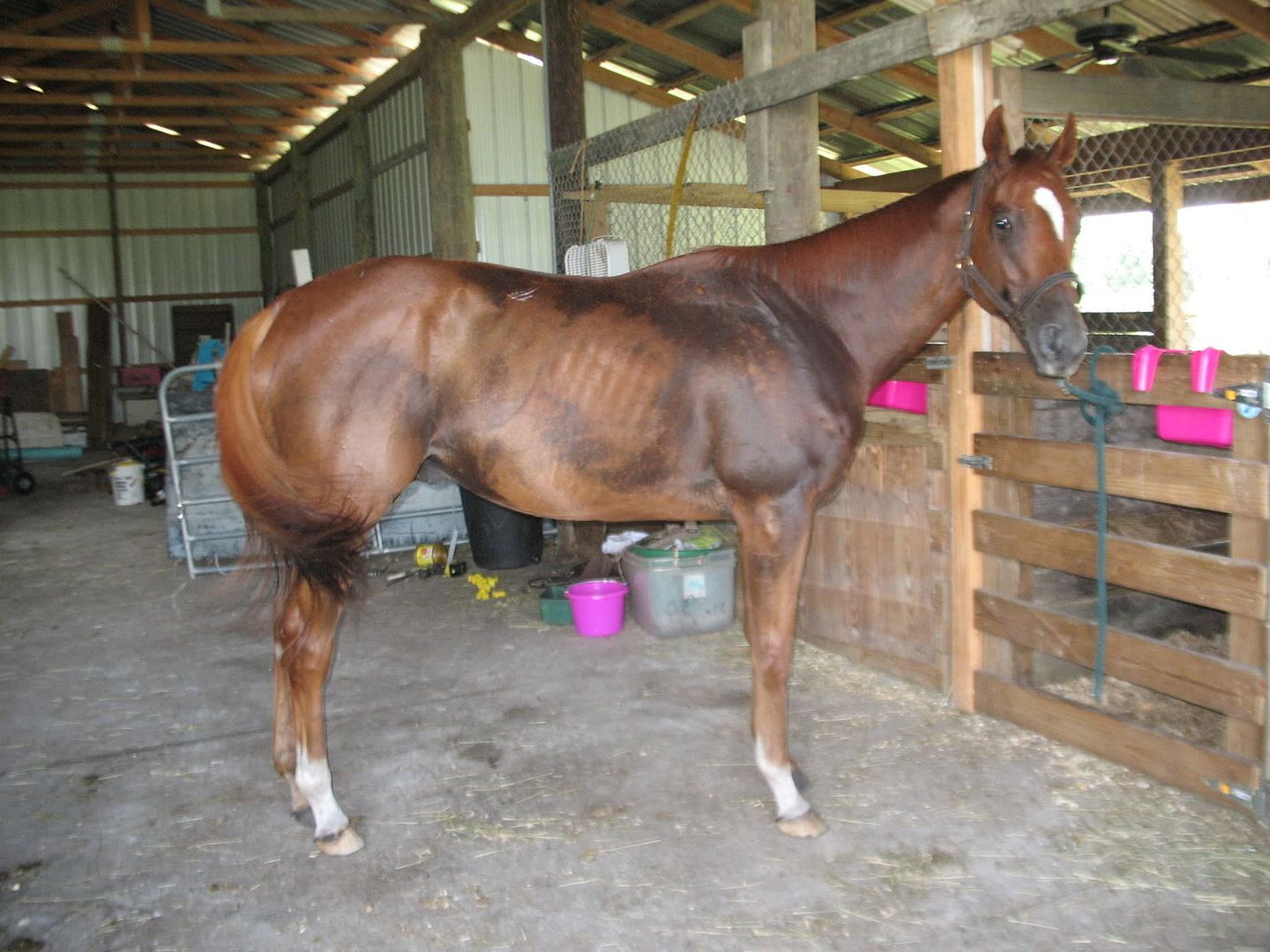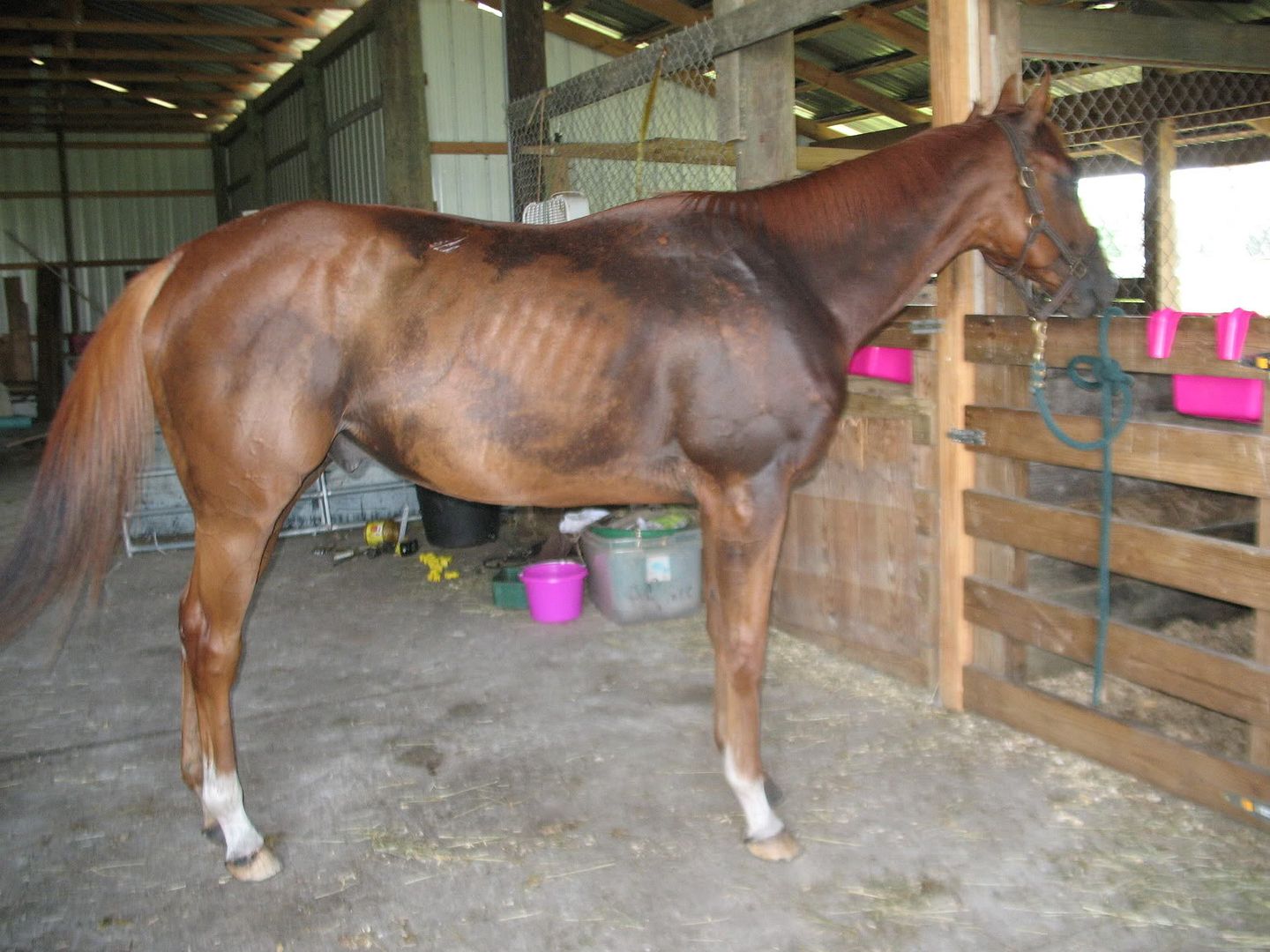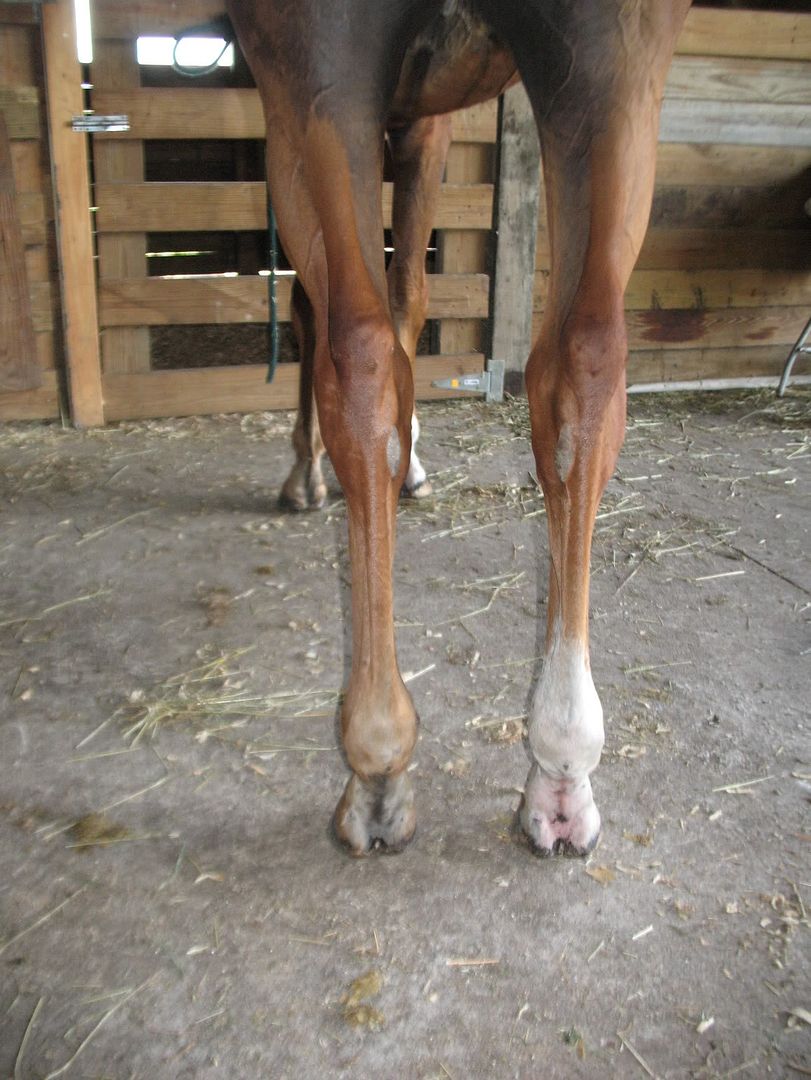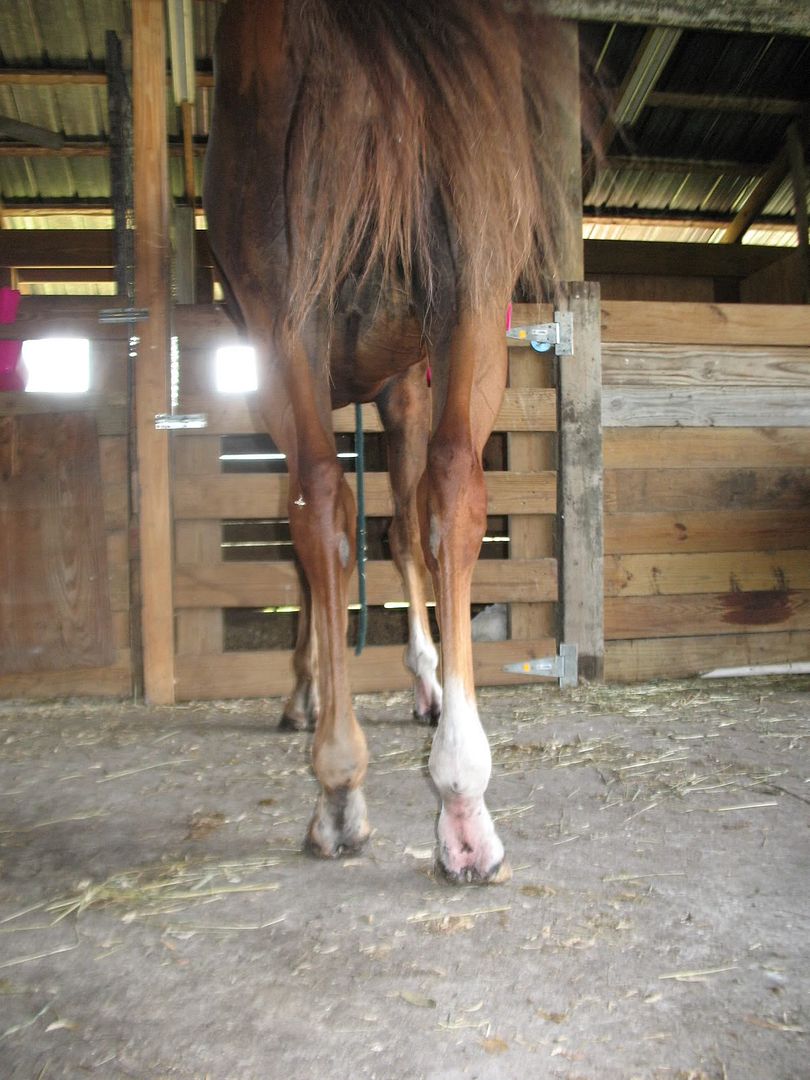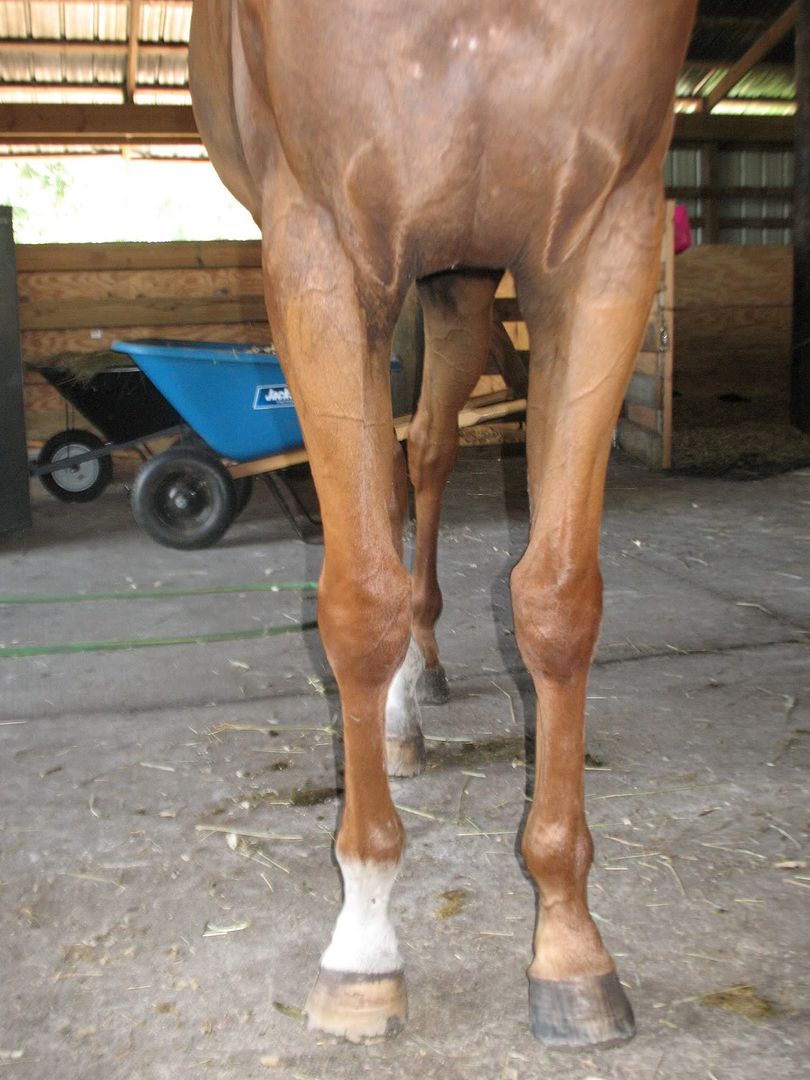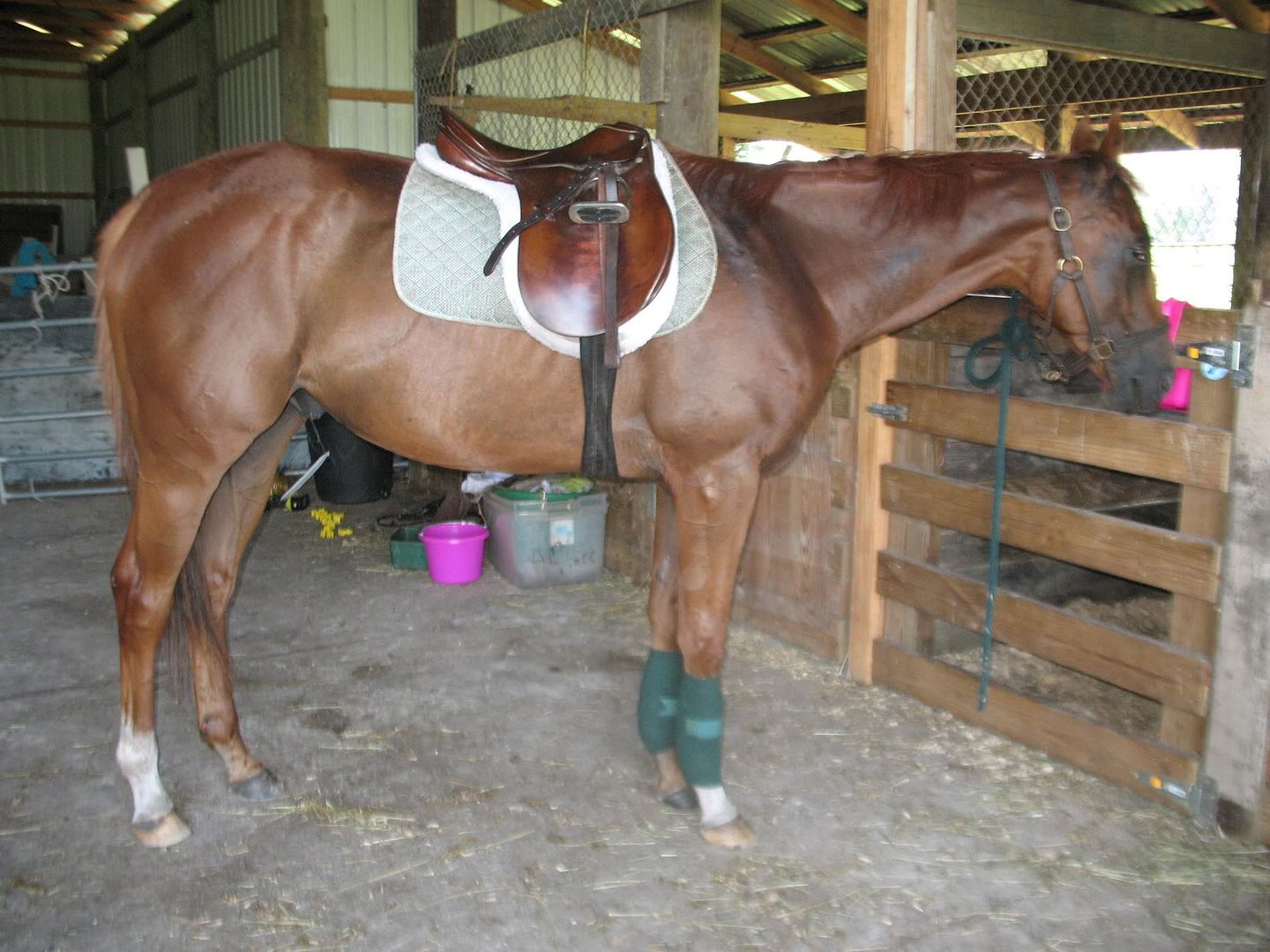 Showing
Join Date: Jun 2011
Location: Cariboo, British Columbia
Posts: 11,930
• Horses:
3
Some very small hooves & very long upright pasterns. He has a hunter bump and weak back. Neck ties in very high on his shoulders with shark fins withers. I am glad you rescued this horse and are giving him a better life. This is just my opinion & I am no expert, but this horse looks predisposed to lameness if used too demandingly. However you said he was raced 21 times & he's not lame so maybe it works for him, so who knows, I sure don't. He needs some farrier attention I would confidently say. He has lots of good points as well, don't get me wrong, his overall look is nice and has a very good heartgirth, attractive head, decent shoulder slope. Best of luck with him.
Yearling
Join Date: Jun 2010
Location: On my horse's back! Obviously!
Posts: 925
• Horses:
2
I agree with waresbear, those pasterns are loooong and his feet are pretty tiny! Overall, though, he is a very handsome boy.
Thank you for the responses so far! His feet were B-A-D when we picked him up (he still had one $&@#$* track shoe on from February!!!). We had a farrier out already, but they had broken off really ugly and need to grow out to be trimmed properly. I'm using Keratex on his feet daily. Please keep the critiques coming!
In addition to the long, upright pasterns, and small feet, both of his front legs are crooked (turn out and deviate) at the fetlock joint. Watch that carefully, and see if your farrier has any suggestions for corrective shoeing.
I agree with the first poster; long, upright pasterns. Perhaps their uprightness is what kept him running for 21 races, so he must be pretty tough. But they are long and upright. Also, his rear fetlocks almost look swollen, or could be the photo, which is a bit blurry and so large on my computer I cannot view it in one chunk.
He has great hind end, minor hunter bump, great shoulders and good elbow , good knees. Must have an amazing heart!