Looking at this guy what do you think?
---
5 years old, 16hh Hanovarian Cross gelding, solid in his basics, walk trot, starting to leg yield. Described as having potential for low level dressage, which is just what I'm looking for
These are the only pics so far, what do you think?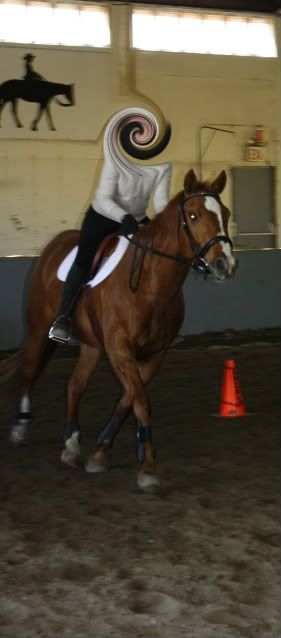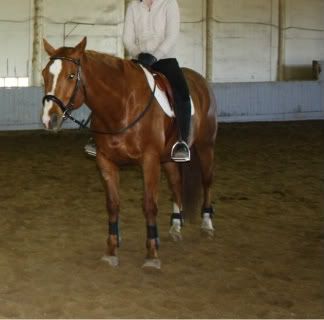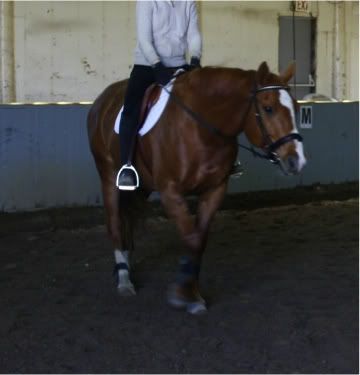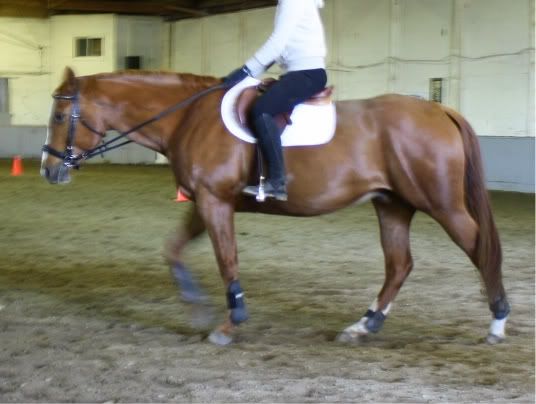 Very solid looking. Front legs a bit set wide and neck a bit blocky looking. But at 5 he isn't fully formed yet. ARe you gonna buy him and do dressage on him? What about Mr. G?
G Man will stay and work on his dressage, but I've been considering letting a lot of the others go and getting another prospect that is actually more suited to dressage.
He looks like a really nice horse. Kinda reminds me of Zimpatico's Zee.
Certainly for low level dressage and as a bit of an all rounder, but he won't be a world beater.
Thick short gullet which can impair the ability to remain in collection - can create some breathing difficulties in some horses when the head comes close to vertical. Shoulder angle is ok, a bit more slope would be nice. I like the hindquarters, he'd be able to sit and push off them. Possibly a little long in the back.

Overall, nice type, if you want a low level dressage horse then certainly worth looking at. Don't be blinded by the hannoverian tag though - you want something with a good, trainable brain above spectacular paces if you're just looking for a low level horse.
He has a weaker back and steeper shoulder. Akzent lines?
Check the hocks well in the pre purchase.

Looks like he would make a decent low level Dressage and hunter mount but I can't tell much without a confo shot. Good luck.

Kayty, hanos like this are dime a dozen in NA. It's not hard to find a good cross and most are super for a second horse to start getting competitive with.
Posted via Mobile Device
Interesting to hear that anebel - over here there are really not many hanno's at all, and most are decently bred with a big price tag. There are a few around of course that aren't anything too special and would be a good starter horse, but I think because Aus is still relatively new as far as dressage and breeding wb's goes, most of the hanno stallions here are imported so only go to selected mares.
We get lots of froz and then make a lot of our own stallions. Half the back yard ones imo should be geldings but they make for a lot of cheap, lower level horses. Trying to find one here as a weaner with gp talent and you'd be hard pressed to go under 30.
Toooons of lower levelers though.
It would be nice to have a better approval system here, seems like its anything with an extra hole gets bred to a wb stallion of some description.
Posted via Mobile Device
Quote:
He has a weaker back and steeper shoulder. Akzent lines?
I am thinking more from the "W" line
Very much like that here anebel as for breeding - however because the hanno stallions in particular here are quite limited and service fees are high, if they've got a horse with ovaries it'll go to some pretty coloured stallion from next door because it's cheap.
There are a few shockers of course, some of the home bred wb's are pretty hideous and probably wouldn't even make good geldings. But overall, the hannos are pretty well monitored and they're very strict on what can be registered. We have a member of the German hanno stud book come over each year to classify the youngsters. Of all the wb breeds here, the hanno's are the most strictly monitored and there's aren't too many around, the other wb breeds are a bit more 'willy nilly'.