Looking for some feedback...
---
So a little background: I know very very little about english. I ride adn train cutting and barrel horses. This is my 3 yr old filly being shown by someone else. Her training started our for a cutting horse (which is what I do). But did not like that. So I decided to show her english.She got 3rd in English Equitation and 2nd in English Pleasure. I need to know what she needs work on... These are pics from her first show and only the fourth time under english saddle.... im open for brutal honesty:
It was a cloudy day:
Trotting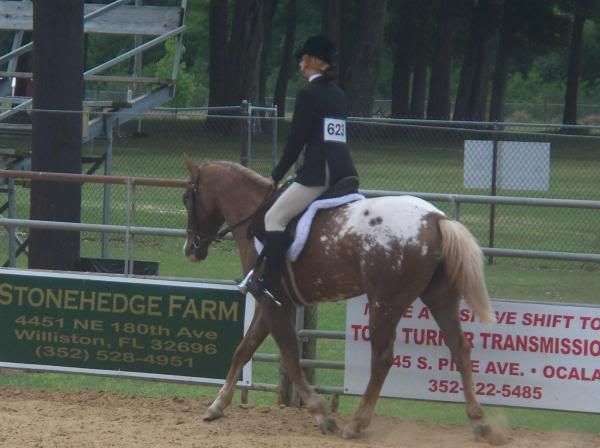 Cantering:
And the begining of the transition from canter to walk: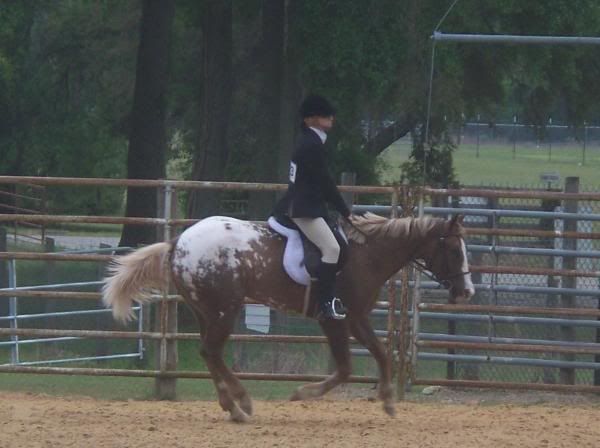 She looks really small for three, or maybe it's just me. I know nothing about appies though. How old was she when you started the cutting training?

She is cute, but looks like she needs more time to grow. :)
---
You can never take a Thoroughbred away from a horse crazy girl.
She is very on the forehand but maybe thats just me! At three i wouldnt be doing a huge amout maybe 3times a week for half an hour.
Firstly just do simple w/t/c transitions and circles untill she has all the basics down then maybe some light hacking with company just to let her see stuff. But at 3 its a lot more ground work and exposing them to things then actual riding.
---
To give a horse your heart guarantees a love that will last forever undamageable
She is already a bomb proof horse. She was ponied off other horses from the time I got her at a year old till I started her at 2. She w/t/c stops with no reins, will do slow reigning spins, roll backs, side pass. I start all my babies at 2 as long as they pass vet checks. And I have yet to have any problems.
And I dont know what "very on the forehand" means?
On the forehand means that she's fall forward into the rider's hands and not using her hindquarters for impulsion or self carriage. Basically she's not balanced. I haven't ridden western competitively in a long, long time, so I don't know how they should be moving, but english horses should be moving from back to front; using their hindquarters to push up through a rounded back into a light, balanced forehand. At 3, she won't have all the muscles needed for that yet, but she should be worked in a direction to develop them. Just making sure she uses her hind end to work forward will start to help with that. With proper impulsion she'll begin to be able to balance herself and get her hindquarters underneath her.
---
"Always be yourself. Unless you can be a unicorn. Then, always be a unicorn."

Yea. In western, we look for the same thing. Its hard to work a cow from the front end of a horse. I had her to that point. But she has been out on lease with people who dont know much about horses as far as cues. I should be getting her back in 60 days. And the girl on her in the pics is wanting to lease her for show season... So Im trying to figure out what areas I need to work her in....
Id say if she was mine id be doing alot of hill work and transitions to get her hind quarters built up and solid for carrying herself correctly. If you have never ridden english id do the basics myself as in schooling on circles trnsitions etc and trot poles myself then get a trainer for jumping. she is nicely built though and with correct training she looks like she will turn out to be a nice pony.
---
To give a horse your heart guarantees a love that will last forever undamageable
BUMP! Does anyone see anything else... other than her working on the forehand?
I honestly don't see anything else other than her working on the forehand either. Maybe if you posted a video someone could find other things. Other than that flaw, I'll add that she is a very pretty girl, and I can't wait till you get her back and get her working from the hindquarters again!!

Nikki
---
- If today was your last day, and tomorrow was too late, could you say goodbye to yesterday?