Looking at some horses.
---
I've been bitten by the horse bug, and since I can't buy my own until next summer I've been keeping myself busy looking up rescues and other places I would like to get a horse from. Stupid me, I happened to find a mare that I think looks so sweet and I really like.
I MIGHT be able to afford her sooner but I keep telling myself to wait. Would any of you mind giving her a conformation critique for me so I can see if my hunches are right and I need to wait and find another horse?!
I'd like to get a horse mostly for trail, or endurance, MAYBE some trail classes. This one is still really young around 3-4 so might still have a little bit of growing, And she is from a rescue so she isn't conditioned and to my unskilled eyes I think she might look better with some more muscle on her.
I see she has a pretty straight shoulder but in some pictures it looks worse than others. In the ones I'm showing it doesn't look too bad. Also she appears somewhat ewe-necked but I can't tell if it's no muscling, her pose, or an actual ewe neck.
What do you all think?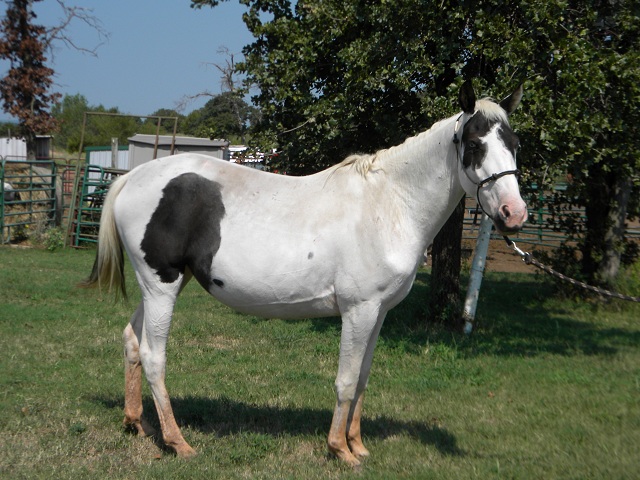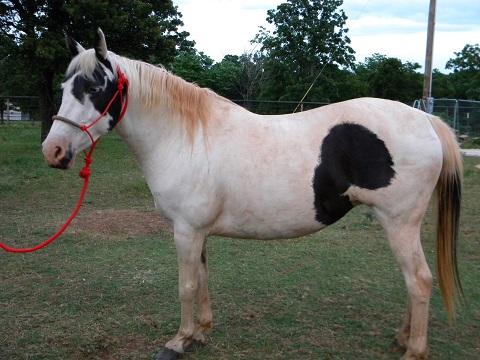 I'm not a conformation guru.... and I'll leave the critique up to others.
But I would pass. She has too many flaws for me.
I agree. She has too many issues conformationally for me.
I'd keep looking.
---
I give myself very good advice, But I very seldom follow it
Quote:
Would either of you mind elaborating?
I will try :)
What I see is:
long back, weak hindquarters and high set tail... I don't like her front legs. Her cannon bone is so short... and I don't know what to call it, but I don't think I like it. Her neck is funny, too, but I'm not sure thats not from under-muscling.
That's all I can critique on, as I'm not very good at talking conformation.
Hopefully you'll get some good critiques from the conformation guru's on here :)
Thank you, you just confirmed what I was seeing, I wasn't sure if some things were just from her not being worked and in a rescue situation or if it really was a bad conformation. Maybe some other people will be able to give me some more insight.
I think if she was solid bay or chestnut she'd be one really ugly horse. She's got an extremely weak looking hind end. She's ewe necked and her head ties in to her neck funny. The only thing I see that I like is her color and she looks sweet natured. As a trail horse she'd probably do fine.
---
100% Anti-Slaughter and PROUD of it!

Isn't the weak hind end somewhat fixable if she was put on some hills with a good deal of conditioning? I do agree that any other color would make her look way worse, but surprisingly she's the best looking horse out of the lot they have right now. Not including her color.

Also I have no idea what to make of her cannon bones, I do remember reading somewhere that on a horse with a straight shoulder a short cannon will allow for smoother movement.
---
Last edited by Coyote; 10-23-2010 at

06:50 PM

.
I completely disagree!
---
I see a mare that has a distended belly due to a gut full of worms. Her tails IS set on high but she is not weak in the hind, just average. She has a very long gaskin (mean can step well under herself and "engage"). Her canon bones ARE short; means they are STRONG! Her neck IS ewed but not to the extreme and I think it is primarily due to lack of correct muscle usage. Her legs are straight (from the angle that you have provided. We could use a head on shot, too). Her back is proprtionate to the legs in length. He head is not too big or small.
she is not my idea of pretty (I don't like blue eyed horses by looks) but there is nothing that disallow her to be a good pleasure or trail horse.

Ask smrobs, and Mom2pride, they know trail/pleasure horses.
I don't have any head on or back end pictures (because none were provided on the website.) However if I decide to go take a look I will borrow my friend's camera and get plenty of pictures.

Thank you Tinyliny. It's good to know she might still be a great trail horse despite looking kind of weird. =)