Match my Mare
---
I'm in the process of potentially selecting a stud to breed with my mare this upcoming spring and I would like opinions on her conformation. I know that it's important to keep potential "flaws" in mind when matching a mare with a stud. I must admit however that in my potentially very biased view, our mare doesn't have any glaring faults.
Let me know what you think of her conformation, and if you have the time to look at them, which of these two studs would you select for her? (The links look the same, but they'll take you to two separate studs' pages.)
Quillane Apollo : Welsh Cob Sport Stallion
Quillane Apollo : Welsh Cob Sport Stallion
This is our most recent image from last summer. I realize that she's a little pudgy. It's tough keeping her trim!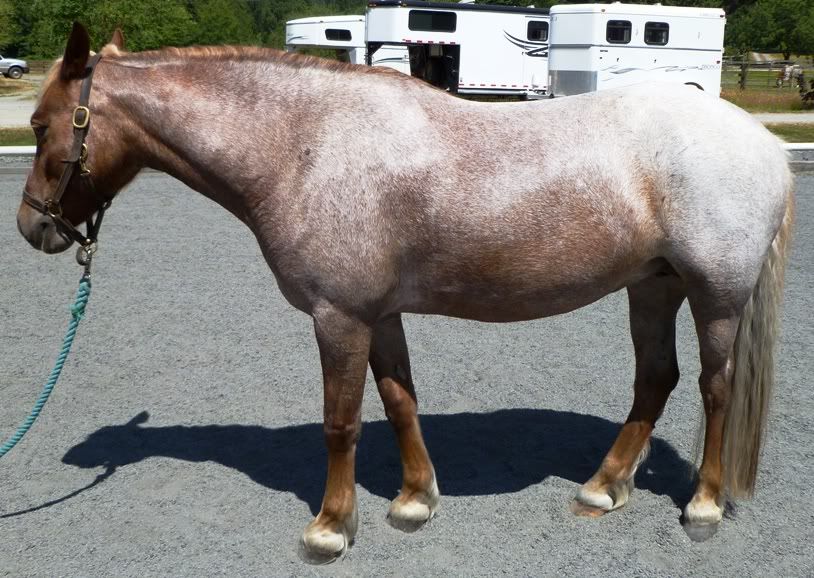 I like them both...but if I were going to breed I would probably go with Apollo. He is proven as a competitor and stallion. Just my opinion...BTW I LOVE YOUR MARE!!! She is BEAUTIFUL!!!
---
"Don't Hate Me Because My Horse Is Fast, Hate Me Because Your Horse Isn't Fast Enough"
I prefer that second stallion, he is lighter and will bring refinement to the foal
I like Gallod Auryn a lot. Not just his color (though it is lovelllly) but his overall body and everything! They are both seem like nice studs though.

P.S those dappling? spots on your mare's barrel in the second pic are SO cool!
---
Is all that we see or seem
But a dream within a dream?-Edgar Allen Poe
yep. i picked stallion #2 immediately. i also think with the two colorings (your mare and the stud), you will get a really flashy foal.
Personally I like stallion number one the best, I have a thing for horses with lots of chrome, and I like the way he is built. However, I think the best choice would be stallion number two because he has a proven show record and quite a few babies on the ground and under saddle all ready so you know what you will be getting.
---
RH Queen O Anywhere "Sydney"
2009 Sugarbush draft
Thanks for the input!

So am I getting agreement for the most part that my mare doesn't really have any "faults" that need making up for? It's more a matter of personal preference as to which stud?

I'm also preferential towards Gallod Auryn... I'm glad that several of you agree, despite his not being quite as proven.
I don't like how your mares neck ties into her body. There's little definition between the neck and the chest. Also, her hind end looks a little weak (however that may be because of the angle)

Both stallions will give you that, but yeah, I like the second one more.
I like the first one better. :)
Posted via Mobile Device
Before I answer which stallion I like better, I'd really like to hear your "plan". Every breeding should have a game plan behind it - not just because you love your mare and think she'd produce the most awesome cuteness of a foal. I'm assuming you have a valid reason to breed, or you wouldn't be posting here, but you didn't share it... and that game plan can alter which stallion you'd choose.

What do YOU hope to get from this breeding? What is your plan for the foal, what points do you feel should be improved in your mare (and don't say "nothing"... EVERY horse has a weakness that could be improved conformationally - and neither of your photos of her are great critique shots). Be critical of the stallions too - what weak points to they have, make sure they don't mirror your mare.


Next up, what has she got going for her to make her broodmare worthy? Has she competed and done well? Is she registered? Even if you plan to keep the foal "forever and ever" it's a good idea to make sure your butt is covered if you ever should have to sell. It's never something we want to seriously consider when we plan to keep a horse forever, but things happen, and sometimes personalities really don't mesh - so keep it in mind, and make sure you're giving this foal the best chance to be "marketable", for the first 3-4 years of it's life the ONLY thing going for it will be the successes it's parents have had.

In the second photo it looks like she has something hinky going on with her knee - is that an old injury... or an optical illusion? In the first photo, I initially saw a pony who needs to lose weight (make sure that's gone before you breed her! There are increased risks to breeding an overweight horse), the second thing I immediately notice is I think she has a longish loin (so pick a stallion with a short, strong loin - regardless of what you want to do with the foal) - the photo isn't good, but I don't like how she stands behind in either photo, and I have to wonder if a totally straight shot would show us some weakness in the hindquarter.

I'm not crazy about her neck, but that would probably change a bit if I saw her less overweight. The crest on her is not doing her any favors in terms of being feminine... it actually makes her whole neck look short and thick. It's also making it looks like she has poor neck/chest, neck/shoulder attachments.

So... to sum it up, with these two photos I don't see any glaring faults that would make me say "don't ever breed that horse"... but I also don't see a lot recommending her as a broodmare either, and honestly, some of that information will need to come from you in placement of better photos.