Mikey - confo critique
---
Ok, so WHEN i leave university, I'll be looking to get my first horse. I've been thinking about this for a long time so I've put a lot of consideration in and have a good idea of what I want. So far my breeds of choice are along the lines of British native breeds, particularly welsh cobs (I fall in love with them). I want a good sturdy horse capable of doing low-medium level showing in ridden show classes, dressage, showjumping, Xcountry and possibly in-hand classes. I'm very willing to get a horse who isn't quite up to this standard and working togther to improve him/her.
My YO (where I work in the holidays) has one that she's currently looking for a loaner for. If he's still up for loan in the summer I could take him for 3 months. I get on with him really well and he is
exactly
the sort I am looking for. Out of interest I'd like a confo critique on him. Remeber I'm not looking to buy HIM right now, although I wouldn't turn him down if he's still around in the future.
I know he's not perfect, but I think he's quite good overall!
He is a registered Welsh Cob (sec D), but was sold by the stud that bred him as a 'breeders cull' without his papers.
He wasn't gelded until 4. He's rising 7 now.
He's 15.2hh. Or at least he was sold as that - haven't measured ourselves.
I think he won a few M&M in-hand shows - or at least placed well - when he was younger. Nothing serious though.
He isn't in a lot of work and nothing serious. He gets schooled a few times a week and hacked on weekends. He is VERY green about jumping, and the girl who rides him most often isn't keen, so his schooling isn't advancing in that area atm. He's had a long time without being asked to do anything serious and that, coupled with him being so young, means he's got a bit to work on (i.e. cantering on the left rein without bucking because he's unbalanced). He doesn't have an awful lot of muscle right now.
ANYWAY, pictures!
last april:
last august: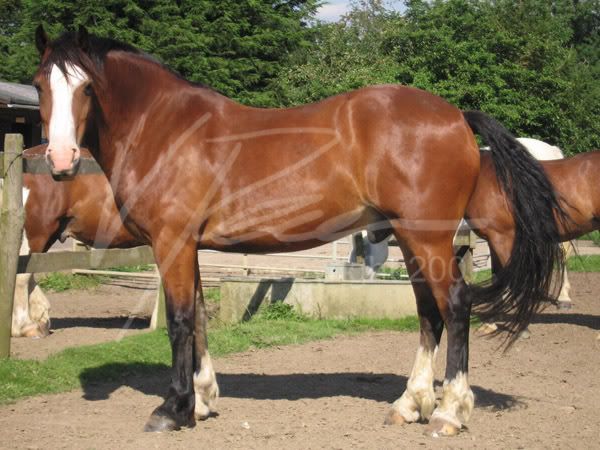 (I miss summer and shiny horses...his muscling's improved since this picture - his legs look like sticks here!)
Bum shot: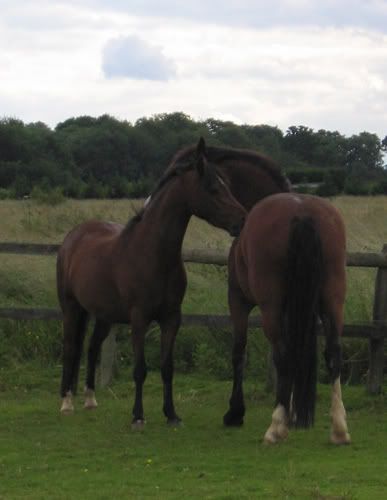 (he's the bigger one, obvs. the other one is his 'mini me', a 13.2hh new forest X)
Headshot: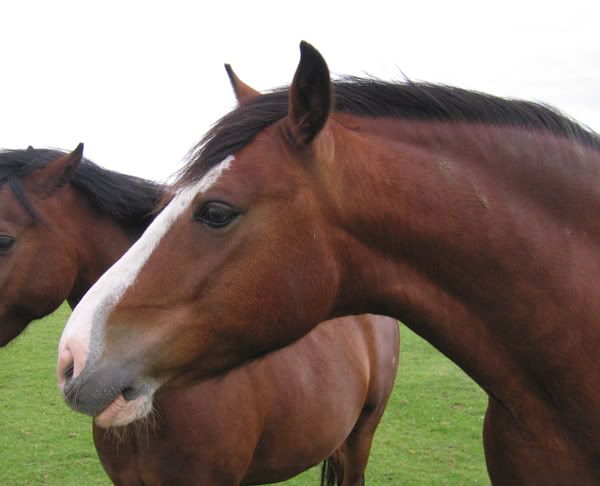 (he doesn't really have the desired welshie head - far too much of a straight profile - but I think he's very handsome nonetheless!)
What do you think of him?
He is very attractive. I like his ears, eyes, color, rump...

Is the shape of his crest a typical breed characteristic? It looks quite fat, but I don't know if that is breed, where all his extra fat goes, or maybe just him? I know that is straight where the fat goes on some horses.
OMG IS THAT MY OLD HANOVERIAN?? haha just kidding, but he looks exactly like my old Warmblood. He looks lovely. Very nice and kinda stocky, which is good lol. But seriously, when I saw the last picture I really thought it was the hanoverian I am trying to sell. But yeah, very nice. Nice Bum-Bum too lol
He's very cresty.. has he foundered at all? I'd be concerned about that... or maybe it's just how he's been bred?
His hindquarter looks a tad higher than his wither.

Other than that, my goodness is he a cutie!!!
---
The lovely images above provided by CVLC Photography cvlphotography.com
As has been said, he's kind of heavy in the neck and thick in the throatlatch, but I really like his body. Looks like he'd be a good all-around for you.
Very cute boy.
---
Proud ownser of..
Valiant Leader, 9 yr old 16.0hh OTTB gelding..
Yoki, 5 month old 27 " miniature stud..
I like him.
---
"Doing what you like is freedom, liking what you do is happiness."
I really like him. A little too wide on neck, but has nice body for sure.
He is gorgeous! The only bad thing I can see about him is his neck, it is a bit short and thick. It will probably look better if he lost some weight. I'm not a welsh cob expert so I can't be too picky. He looks nice and sturdy. Like justdressageit said, check and make sure he isn't foundered, the way his weight is and everything there is a chance.