Miss Dent
---
Ok, now go easy... she is quite fat at the moment....
what do you all think??
She is stading on a bit of a hill also..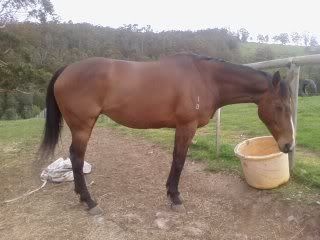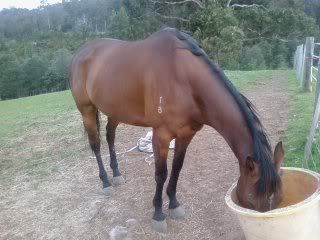 I am not much for critique, and the pics are kinda hard to tell.

But I think she is beautiful! how old is she and how long have you had her?
thanks.
she is 9 and i've had her almost 2 years...
she looks much better now...
What I can tell from the photos is that she has a nice head, nice neck, decent neck-to-shoulder connection, steep shoulder, good length back, a long loin (her middle to backend connection is a little weak). Since she's standing on uneven ground, I won't venture the angles of her legs; she looks really crooked in these photos. Her pasterns look to be good length with a good angle and she has nice strong-looking hooves. I wouldn't say she's fat either;)
Thanks sara.
She is standing crooked and on uneven ground.
She is a t/b and was graded to be a foundation mare for the warmblood book here in tasmania. Out of the whole state she received the heighest score!
But she now has a nasty scar on one of her back legs...

its good to hear what people think and i will try get some better pics this weekend on flat ground to put up!
Foal
Join Date: Jul 2007
Location: In my horses stall, feeding him cheez-its
Posts: 109
• Horses: 0
She looks great. Her bottom is not proportion well to the rest of her. And she's a TB, so I would like to see her a bit more trim with more muscle than fat. She looks a little chubby. Other than her weight, as far as I can tell the rest of her looks very nice, good feet, legs, and a nice neck.
thanks jumpitt-
I would like to see her with more muscle and less chubb also, but unfortunately as i leave for work at 5am and get home at around 7pm in the dark...in the winter it leaves no time for riding!!
when she is in work tho she muscles up very nicely in her bum bulking it up better!!

but with the bit of a drought we have had here, i am glad to have fat horses and not skinny ones!! i've been lucky to have ahorses that hold weight very well..