Montana - 8yr AQH
---
I'm considering sending Montana to my trainer to work on his canter. (He's never really figured out how to balance with a rider and turn at the same time. xD) We bought him when he was 5/6, never been ridden, and my dad did all the Parelli stuff with him and got him to where he is a quiet trail horse, walks and trots fine, but his canter needs some work. So, I'm thinking that after he gets his canter fixed I might possibly want to dabble in reining with him. I don't expect us to get very far with it, just open shows and all that.
Anyway, I was wondering if you guys could critique his conformation and if you see anything wrong with him. I already know he's got a high tail-set and has a parrot mouth.
He's an 8 year old AQH gelding by Lynx Buck Olena out of Braggins Impressive.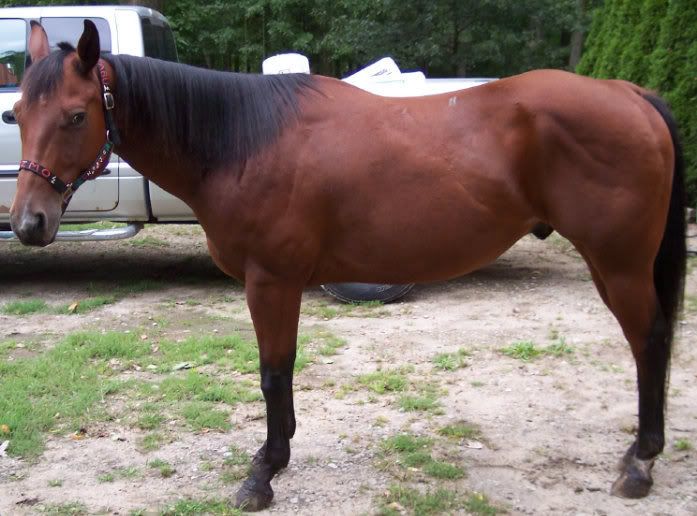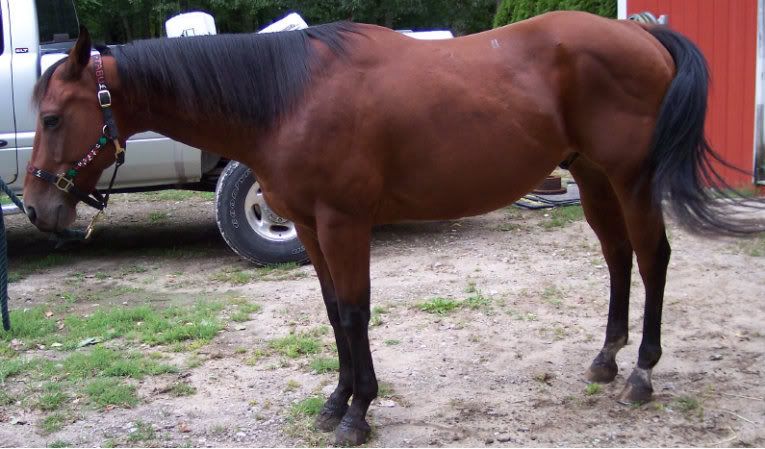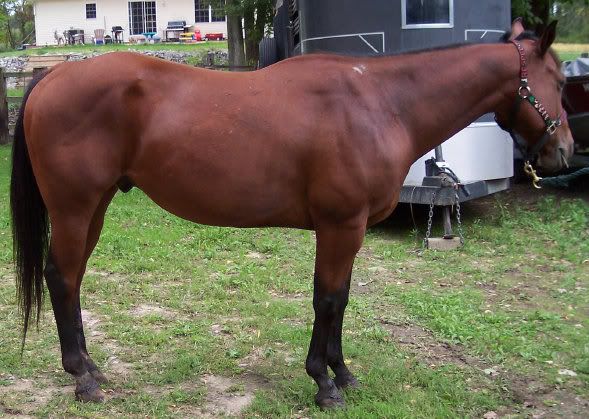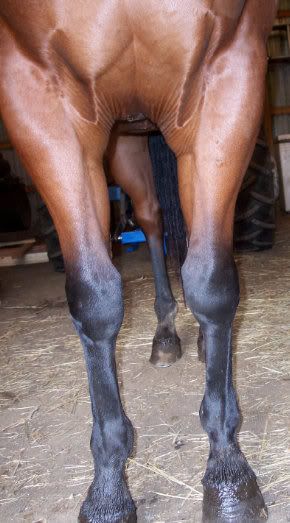 i would say that probably the problem with the canter is because of how he is built. he has a long neck for his body and seems to be heavier in the forehand. so it would probably be harder for him to collect himself, balence and push with his hind quarters. i would also say that he has a slight ewe neck and a fairly steep shoulder. which could make is stride shorter and chopper. although i think he is a very pretty boy and with some training on collecting and balence at the canter could turn out to be a great reiner!! good luck
---
Love to laugh, laugh at life, live to learn, learn to love
I think he's really cute!!!

My new horse's name is Montana too!
I'm no expert, but he looks a little downhill. My horse was the same with cantering. She couldn't balance herself and her rider so she just kinda ran and it was almost impossible to make a small circle. Recently my trainer rode her three times and her canter has improved so much! I also take lessons on my horse and now I know how to help balance her as well. It's so awesome having a beautiful, well-schooled canter.
Quote:
Originally Posted by appylover31803
I think he's really cute!!!

My new horse's name is Montana too!
Did I miss something; you finally found a new horse?? Yay!
Thanks guys! I can definitely see everything you've all pointed out. :)

On a side note, I took him along to my trainer's house today for my lesson on Gizmo. My trainer decided he wanted to ride Montana so he got on him and I got on mine. It was very interesting. xD He trotted Montana around a bit, got him to soften up and all that. When he asked him to canter, we had a mini rodeo. lmao He was bucking and going all over. Of course my trainer ended that real quick and wow was there a HUGE difference in Montana from the beginning of the ride to the end. (Only rode for about an hour and a half). Montana doesn't know his leads very well, not even on the lunge. By the end he had him loping circles to the left, stopping and turning, loping off to the right. Twas amazing! He even tried a little bit of a sliding stop and Montana gets his butt up underneath him but the actual stop is still a little rocky but wow. In just that little bit of time he's learned so much.

So, we left him there and he's gonna stay for 15 days for now, but within the next two weeks my mom's gonna try to budget the money so that we can just pay the rest and keep him there for a full month. We'll make a reiner and speed horse outta him yet. xD
Mira - Could you please private message me? I recently purchased Montana and I wanted to talk to you about him. Thank you.