Amazing what LP does to a horse's color. Part of the reason I really, really don't like guessing on appies.
Totally off topic (don't sue me, ok?) but the horse in this picture has the bridle on wrong. The drop nose band should not go over the rings of the bit.
Shore does. Wonder if they did that on purpose, with the intention of some form of convulted "training?"
Very interesting.. but again, I like the prepotency and the over all type that they have.

Too bad I am currently not in a position to own a horse.. it is a buyer's market and there is some good stuff out there (currently.. means I ain't dead yet and ain't givin' up yet.. and am still crazy enough to train a young one from scratch).

When the day comes and I 'accept' that I won't have a horse again I figure I will probably be pushing up posies. :)
---
There is something about the outside of a horse that is good for the inside of a man.
~Winston Churchill
(or woman!!!!
) Dinosaur Horse Trainer
Quote:
Well that there crap is the Lp at play, I'd say. It does funky things to the base color. I think some people call horses like that "peacock leopards" due to the multicolored spots. Genetically, I'd bet on him just being a plain Jane brown or bay for base color, but as for how the pattern is affecting it...

If you look, though, you can see that the leg spots are dark, as they should be on a brown, while the "points" are lighter and more fawn (in the flank/rump/nose/eye area, again like a regular brown). And all of the body spots appear to be the same shade, though some are more roan than others, making them appear lighter.

It's not horribly unusual to see dark spots on the legs like that in a bay - just reflects the base color of a bay's legs. It isn't the "norm" though, if there is such a thing in Appys. The norm is the bay mane, tail, and points turn brown, with a few black hairs intermixed, and then whiten out.
Here is Rambo as a yearling (on the right)...notice the black mane, typical of a bay...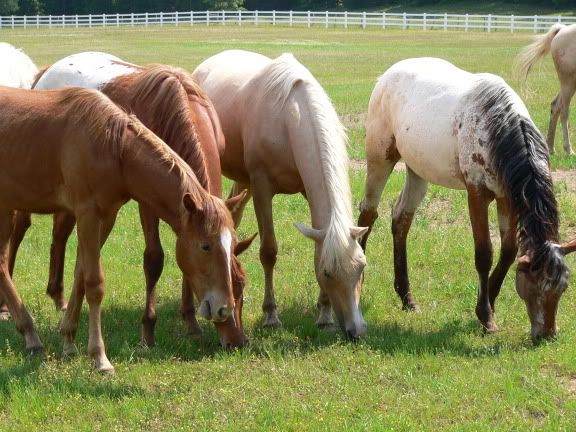 Then here he is a year later when he had his corneal ulcer...notice how the mane has changed from black to brown. From a distance where you couldn't see the black hairs intermixed, you would not even know he was a bay...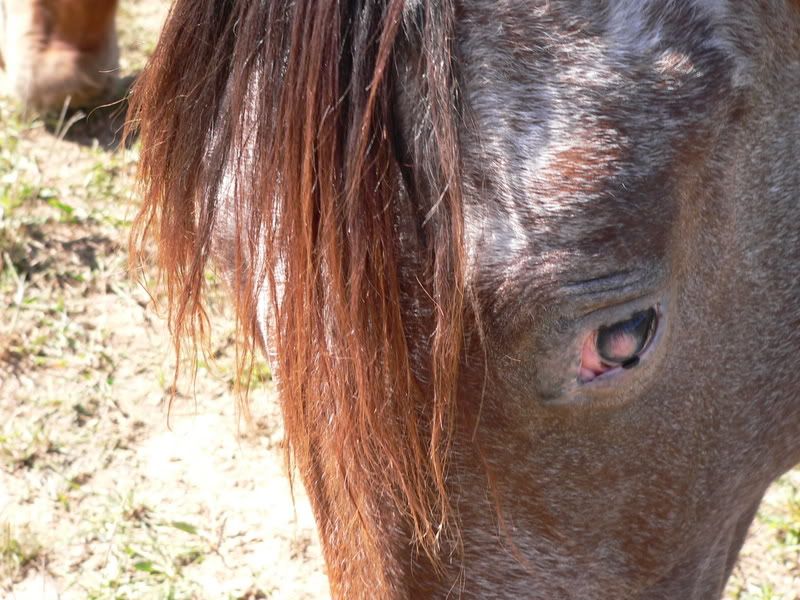 I don't have a picture of him now - I sold him a couple of years ago, but his mane and tail are mostly white now, typical of Appys, and his dark legs have lightened as well as mottling out.
Anyway, that is the "norm", but some Appy bays hold their black longer, and I suspect that's all the dark spots on the legs are.
As for the different shades of spots, that is pretty common. Many of them will have some darker shaded spots and some lighter shaded spots. I don't really know why - usually it doesn't have anything to do with the "roaning" - they are just a different shade...same color, but just lighter or darker. I don't know anything about Paints, so don't know if the different shaded spots is an Appy thing or if Paints exhibit that too.
And speaking of Paints, don't forget many Appy lines have Paint in them, which complicates things even more...
Quote:
I call my horse a sausage on 4 legs. Is that offensive to her?
You know I have alot of people who say Dusty is ugly or he looks like a mule and they'll say this in front of him I swear I see his face drop he'll look at me and I'll rub his face and tell him how they dont know anything because he's so handsome.
---
[SIGPIC]Mel and the AQHA gang , Dualing Lil Highbrow, Light Hershey Kiss, Sugs Sweet Playgirl, Oh Cay With Gunplay, Lena's Smart Ichi Cat, Mia Peppy Freckle
Quote:
Yes, the horses I posted are built overall quite well--built to fly--and they were champions. Yet, if you look at the first one, or if I did and knew nothing about it, say being asked to give a conformation critique for a potential purchase....I might just hone in on front legs and question their strength. Yes, it's a young horse, but still the bones are long, lanky, and fine, and the pasterns seem somewhat weaker than I'd like. The first horse is Eight Belles.

The second horse is Big Brown. Unless it's his coloration, or an optical illusion, you can see the glue holding his front feet together....
Big Brown imo was a train wreck as far as feet go its sad that they felt breeding him was a good idea..passing on those crappy feet.
---
[SIGPIC]Mel and the AQHA gang , Dualing Lil Highbrow, Light Hershey Kiss, Sugs Sweet Playgirl, Oh Cay With Gunplay, Lena's Smart Ichi Cat, Mia Peppy Freckle
Quote:
I believe I'm entitled to have an opinion here.
This forum, much like EVERY other horse forum, is full of people with their opinions.

And since I don't actually EVER have ANY intentions of owning,
nor breeding, nor showing a stallion,
Its really inconsequential to me personally,....,

But, the 'rumor mill' has pounded into my head, as well a few others (heads)
that if you choose to own a stallion, that it should be 'proven'.

I look for certain 'specifics' when I horse shop, and a part of it is lineage.
I happen to be a QH fan, and an 'Investor' fan, because I find those horses to have a great 'work ethic' and are highly trainable, and GENTLE.
It may be pounded in but imo I did my research I am paying the fee and its my decision and no one elses.
---
[SIGPIC]Mel and the AQHA gang , Dualing Lil Highbrow, Light Hershey Kiss, Sugs Sweet Playgirl, Oh Cay With Gunplay, Lena's Smart Ichi Cat, Mia Peppy Freckle
I like your mare Bubba nice looking girl esp her serious mare face. Theres a really cute sorrel cayuse at the Kentucky Horse Park only one I have ever seen up close in person not many around here.
---
[SIGPIC]Mel and the AQHA gang , Dualing Lil Highbrow, Light Hershey Kiss, Sugs Sweet Playgirl, Oh Cay With Gunplay, Lena's Smart Ichi Cat, Mia Peppy Freckle