My Horsey!
---
I thought I would finally post some pics of my mare just to see what some more experienced horsey people think of her. (don't worry I won't get offended. I'll love her just as much as I do now! lol)
Info:Her name is All My Hope aka. Mandy
She is a 12 year old Hanoverian and stands 17.1 hands tall. (love it!)
I realize she needs more muscle and I'm currently working on that. Also, I have been told that she needs to put a little bit more weight on but she is not underweight either. (just wanted to know what you guys think about her weight.) Anyway they are not the greatest pics but if you guys can see anything from them that would be great.
Front
Back (sorry for the weird angle. for the life of me she would not stay still or square! if you can't get anything from this angle that's fine.)
Side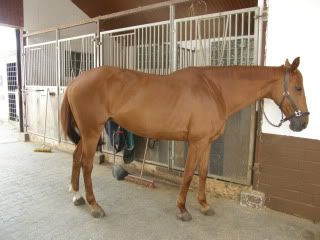 Other side
Thanks!
Started
Join Date: Mar 2009
Location: Middle-of-Nowhere, Illinois
Posts: 2,225
• Horses:
1
I think she's lovely. Nothing really jumps out at me. You're right, she could use a lot more muscle, and I bet she'll look gorgeous after that. She looks a tad bit goose rumped, but I think that's the lack of muscle, which can be fixed. Very nice horse.
---
"A musician must make music, an artist must paint, a poet must write, if he is ultimately to be at peace with himself.
What a man can be, he must be." Abraham Maslow, 1968

Thanks for taking the time to look and the compliment!
is she an arabian she as the distinct features of an arabian the dished face and the slidder fragial body?
No she's a Hanoverian that unfortunately lacks a lot of muscle!
Nothing really jumps out at me either, except what you already said, muscle and weight. She seems to have fairly straight legs and I like where her neck ties in. She'll be really gorgeous once she fills out a bit more.

I think she's quite pretty, very sweet face! :]
The only thing I notice that has not been mentioned yet is that her shoulder seems a bit steep. In that pic of her left side, it looks like she might have a slight roach back but that could also be the way she was standing. Very pretty horse and her face is so sweet.
Thank you for your comments! I do have one question though. I was told by a saddle fitter that she would never have the muscles she would have had if she were younger. Is this true? (I'm trying to buy a new saddle and she has high whithers and slim shoulders. lol)
oh she is just beautiful!! I love her, youd better watch her...she might be missing in the morning....hahah
---
Humans are like Slinkies. Practically useless, but still fun to push down the stairs.
she has quite a long neck and not the most refined head. she seems a bit camped out behind and she could use lots more muscle.
but she is very very cute and i think she would make a great jumper. gotta love those redheaded mares!
Similar Threads
Thread
Thread Starter
Forum
Replies
Last Post
My horsey art ...

Piper

Horse Artwork

7

02-01-2011

10:36 AM

my NEW horsey!!!

duquessa

Horse Pictures

12

01-21-2011

04:59 PM

Horsey PMS?

Hoofprints in the Sand

Horse Health

19

12-04-2008

06:24 PM

My new horsey =]

We Control The Chaos

Horse Pictures

8

09-26-2007

09:22 PM

I like the horsey

nazmdeh

Meet the Community

0

01-02-2007

07:45 PM