My Man Bo
---
Hey guys its been a very long time since I have been here but im back haha any way I got a new horse in march and just wanted to see what you all think about him
I haven't gotten very good conformation pictures of him yet but they are coming! His name is Bo after John Wayne's horse in True Grit Cuz he looks like him. Bo is a 4 year old QH. When I got him he wasn't even halter broke. His owners just stuck him out in the pasture when he was a weanling and never did anything with him. I really couldn't ask him to be any better then what he is like and im so happy that we bonded so quickly and that he trusts me. I have ridden him about 10 times and he hasnt offered to buck and im already riding him over tarps
Enough of my blabbing! Here he is!!! Oh and i was wondering what you guys think that he would be good at. Im hoping to do WP with him.
He screams cutting or reining, but really, I think with his confo, you could probably do a little bit of everything. Nice short coupled body, very muscular, kind eye. He's a bit downhill built, but with proper training to teach him how to work off his hind end, that shouldn't make too much of a difference. He's got nice legs, and I love all the chrome! He's gorgeous!
---
"The ideal horseman has the courage of a lion, the patience of a saint, and the hands of a woman..."
Thank you! :) I should have said that he was standing on hills in most of the pictures so its harder to see how he stands :)
ya know i totally agree w/ mom2pride, the first thing i thought when i saw him was "reiner!!!" he would do great with it imo, but its really up to you 2 to figure out what you want to do as a team, hell tell you when he finds something he likes! he looks alot like my old horse buddy.... cant find a good body shot but he looks alot like him! hes purdy(bo that is!)
---
Ω Horses are a projection of peoples dreams Ω
Aw he does look like your horse buddy!
My man's name is Bo too! =] Yours is handsome!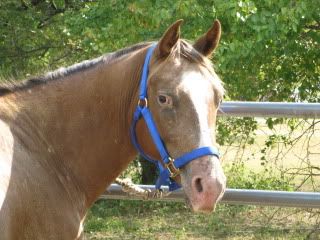 This is my baby boy =] (I know his halter is too big! That made me so mad! I had to take it back)
Thanks! And if WP means Western Pleasure, I would say go for it! I LOVE his build! My Bo is a year and a half younger than yours, so he still has muscle to go =]