My new lease! Pics!
---
This guy will be my new lease starting monday. I'm sooo excited. He is such a sweet heart, like really he is so honest and loving. We just clicked on the ground and we're working hard under saddle but he is only 5. I'm learning how to ride him and I'm ok with that. He has done the meter classes at Bend, Oregon, Del Mar, Wilsonville, Evergreen classic, Thunderbird, Scottsdale and Las vegas. He has places in all of his classes. Ok on to him.His name is Mclovin, his barn name is Mac He is a gelding. He is 5 year old and he is some type of European TB. He is 15.3 1/2. I know a half haha. Ok on too pictures! These are not the best pictures I will be getting more soon!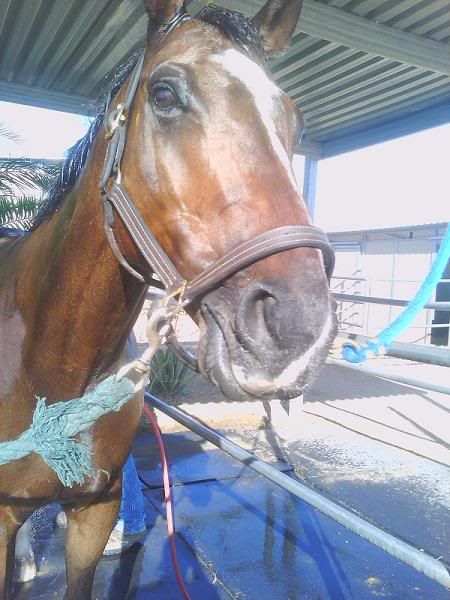 I know they're not the best pictures but tell me what you think.
Green Broke
Join Date: Aug 2010
Location: Southwestern Ontario, Canada
Posts: 3,324
• Horses: 0
Were you wanting him critiqued?

If so, the pictures really aren't useful, other then to say he has a decent looking head.

The bar through his body makes him look slightly distorted, as you can not see his body clearly.
---
It is impossible for a man to learn what he thinks he already knows. --Epictetus

I know the pictures aren't great. I'm sorry. I'm just excited.
Love the second picture haha!
Congrats on getting a new horse :) What are you planning on doing with him?
All I can say is he has a pretty face congrats
---
My two horse Apache and Sammy are my world
along with our dogs Patch and Bear.
But I will always love you Jimmy R.I.P
Banned
Join Date: Jul 2009
Location: In a land far far away, or so I wish.
Posts: 12,825
• Horses: 0
*taps finger on desk waiting for better conformation shots of the new guy.

Congrats on finding a lease!
Congrats on your new lease. You guys will have lots of fun together.
Always- I should have new pictures soon like next week soon.
Thank you everyone I really like.
Cloud- I plan on doing the hunter jumper or jumpers on the A's. Right now were just getting to know each other.