My rescue...**warning heart-jerking pictures!**
---
Ok all...This is "Heidi"...she is a 6yr old 16.2 hand bay mare. She was rescued from a "rescue" where they starved her and 8 other horses. They were confiscated by the Hernando County Sheriff's office 2 weeks ago. 2 of the horses were so emaciated that they had to be put down at the scene. I adopted Heidi this past Sunday. I am no longer allowed to ride right now because of some medical/joint issues that I am going through so I had to give up my riding horses. I couldn't live without a horse, and she is as able to ride as I am...which is not :) We decided to name her Heidi after Heidi Klum...because like a model, she is 'tall & thin'. She has the sweetest disposition, but lacks about 400 or so pounds. I am actually happy that she is so hairy right now because it makes her look better!! Obviously this won't be a very good critique...but I wanted to show you my new treasure and introduce her to you guys :) I will be keeping track of her progress as she coems along to share. She has already gained about 100 lbs where she was stating so now we just gotta pump up the rest!
I hope you all can see through her condition to see the gentle and kind soul that she really is. She has a forever home now, with lots of food an love :)
Here's Heidi!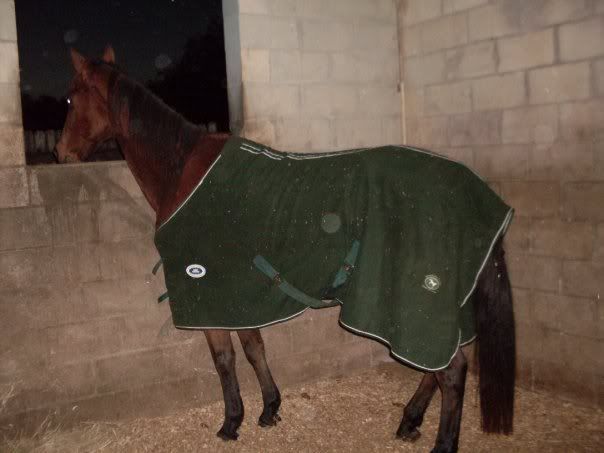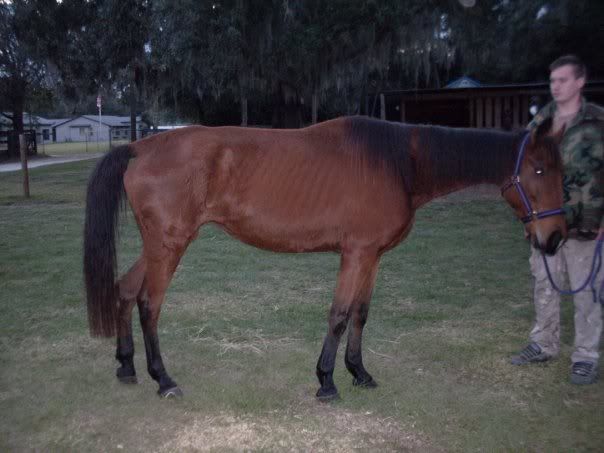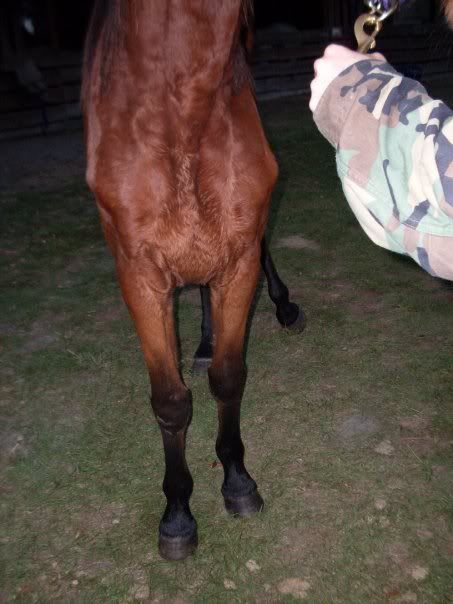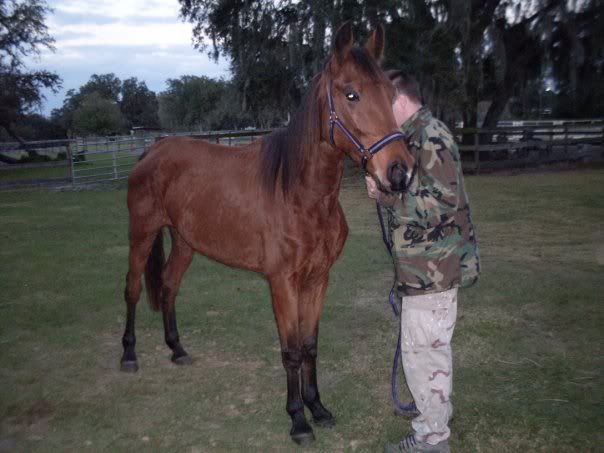 She's going to be a beauty when she gains weight.
Aww! She looks so sweet! I like the one pic of her head in the guys chest. My mare does that too.
She is a beautiful color! Yay for you! I am sure this will be a really wonderful experience with a happy ending.
So sorry to hear of your joint issues. I have had my fair share of injuries and surgeries so I feel for you!
Keep us posted on your progress
HP
Thanks :) She's a gem! That "guy" is my hubby lol! He had his grumpy pants on that day...which melted away when Heidi started loving on him and licking him like a dog :) My husband even likes her (NOT a horsey person lol!) and he likes that she's tall, since he's 6'4 and can now see "eye to eye" haha!
Thats funny.
My mare is a sweety too. Does heidi like to have ears and face scratched? My mare just melts when you do it! Hehe!
I am so glad you have the mare. She is really going to be a looker when she fills out! Thank goodness she now has a second chance to flourish!
HP
Yes! She loves to have the front of her face rubbed, she starts falling asleep :) She absolutely loves to be groomed too! The only thing that she is scared about is picking up her feet. She has so little muscle or anything so if she does pick it up she gets scared because she starts loosing her balance and then tries to walk to catch herself again. I feel so bad :( I just make sure she at least picks them up for me so I can check if there's anything stuck and then don't press the issue. Once she's stronger I'm sure she will feel more secure about it anyways!
She's an adorable little gal. =]
I can't wait to see her all filled out and shiny! Keep us posted, she looks like she could really turn out to be a beauty. I love those words, btw... "Forever home." All animals deserve that love and attention.
Awww! I'm so happy that she has a loving home for forever! Can't wait to see her looking great again!! congrats on taking her in
She is a beautiful girl! I can't wait to see the "after" pictures! :)
---
Britni & Halo (2009 QH filly)
She's is going to be one hell of a looker.

Can't wait to see after pictures, and good on you for giving her a second chance. Poor thing. At least she is in a great home now...be sure to give us regular updates!!!