New (rescue) Horses
---
Yesterday a coworker of mine asked me if I wanted a few horses. I said no, but I went out and looked at them. I HAD to get them out of that place. The lady thought she was saving the two emaciated ones from a client of hers, but she is no experience horse person. She aquired the stud from a neighbor.
I'm asking for critique on the paint stud, I just thought I'd share the others and ask a few questions. I got them today and I going to get the vet over here asap. They all need a strong deworming (has anyone ever done a tube deworming? I was told about it through a friend and I thought I'd ask about it), they need their teeth floated, a current coggins, vaccinations, and a pedicure or two.
This is the paint stud, name suggestions? I was thinking something expensive sounding like Armani. He can be registered... I just need to track down his papers. He's supposedly almost 3 years old. He's in decent condition and his groundwork will start when he gets settled in just becuase of his lack of respect or handling for that matter. He's pretty small and I really want him to keep growing. Do you see any show potential in him? Maybe WP?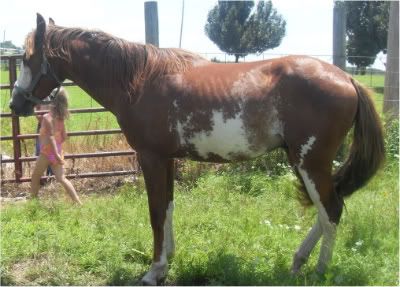 He was standing with his leg cocked; which is why his hocks are touching.
Note the white eyebrow :)
Now, the horror-story pictures. The first is a paint mare... I have her papers I just need to send them in. She's 4 y/o and really small, probably cause by malnutrition. She is one of the sweetest horses I know, despite her condition which never ceases to amaze me. Name suggestions (barn & reg.)? Her mother is
Shes Modern Art Paint
and her sire is
Choose Choice Quarter Horse
. What would you call her color? I'd say buckskin but is that true since she doesn't have a dorsal stripe?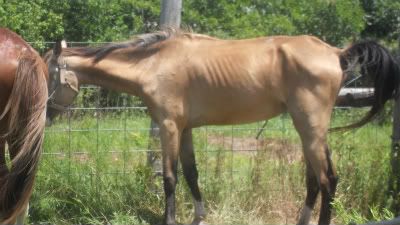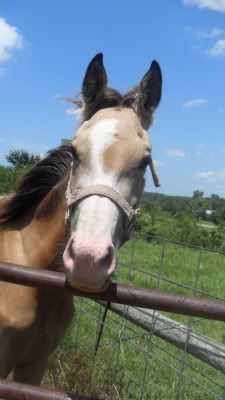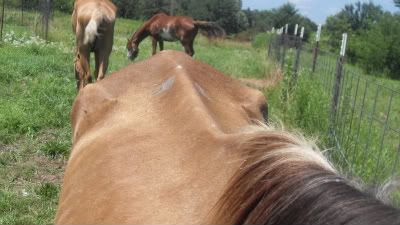 And this is Hank, I'll bet you he's a Belgian draft cross but there's no way of knowing for sure. He's supposedly half-broke, and I'm guessing his age to be around 4 or 5.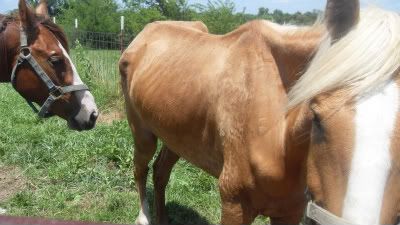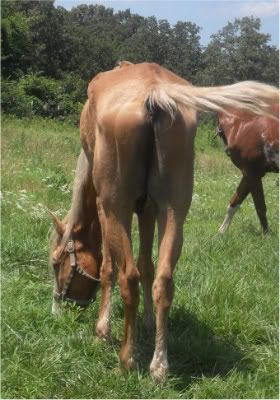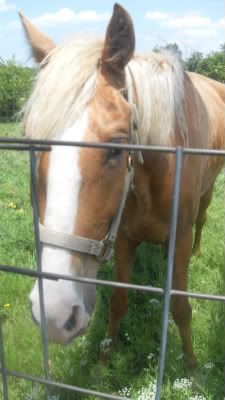 If you have any tips or information I'd be glad to hear it!
---
Every great dream begins with a dreamer. Always remember, you have within you the strength, the patience, and the passion to reach for the stars to change the world. ~Harriet Tubman
The paint has a nice looking head, If you can track down the papers the name should really be something to do with them like mine: Day Dream Sagiran X King David Yazi = Dream Girl Sagiran. Just a suggestion
If not how about Louis Vitton (because of the brown) "Louis" for short?
For the mare how about:
"Sheza a modern choice"
Good luck
I was thinking Sheza a Modern Choice too! Or just Modern Choice. She sure looks buckskin to me, but I am no color guru.

You will have your hands full for sure. Lots of groceries needed on the last 3. If you need help/advice, you might talk to Lisa from Frog Pond Drafts in Ohio-she may be able to help you put the pounds on the Belgian Cross (he looks it to me too.) She is great, and very knowledgeable and talented.

I also llike Louis Vuitton, for the paint, if you can't find his papers.....Prada is another possible, but may be to girly. Not being much of a designer person, my knowledge pool is pretty limited. :)

Good luck!
---
Signature undergoing edits. Please standby.......
Great minds think alike
franknbeans:
Thanks for the info about Frog Pond Farm... I'll definitely look into that!


I like both names you all came up with.... I think I'll use that one for the mare, but maybe Miss Modern Choice? I like the name Louis Vuitton too.
---
Every great dream begins with a dreamer. Always remember, you have within you the strength, the patience, and the passion to reach for the stars to change the world. ~Harriet Tubman
They're going to be gorgeous once they put on some groceries! I wouldn't have the stallion and mare together (maybe it was just temporary?) because they will still breed in bad conditions. Also, the mare (who I think, BTW, is gorgeous!
) is a buckskin. Buckskins don't have dorsal stripes, those are duns :]
Best of luck!
---
There is something about riding down the street on a prancing horse that makes you feel like something, even when you ain't a thing. ~ Will Rogers
Keep us posted on their health and happiness :):)

Good lluckkkk
Frog pond is also on Facebook, and sometimes Lisa will post horses for adoptions elsewhere if it comes to a point where you ca't keep all of them. I am pretty sure she is full-I know she has 2 more coming from last wed. auction in NJ. But, she is a fount of info. As I said-good luck and thanks for doing the right thing for these horses.
---
Signature undergoing edits. Please standby.......
ahah, im no expert in fashion names either !
so, you ended up taking all of them? that is so nice of you. are you planning on keeping them all?
the belgian cross is gorgeous and the mare is def' buckskin. didnt know they needed the dorsal stripe though to be truely called buckskin?
anyway, i ll have to think about names