Nova-8yo 16.2h breeding stock paint.
---
IGNORE her HORRIBLY bleached out coat. haha.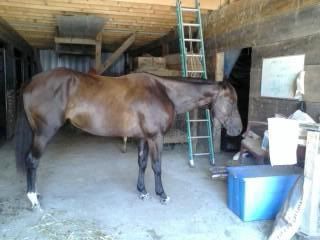 Let me know what you think :) I know she needs a lot of neck muscle but its better then what it use to be!
I cant really tell, we would need beter pictures... but from what I can see...
-He is really downhill
-And he has steap pasturns.
but thats all I can really see. i like his coolor, lol :)
---
If there are no horses in heaven... im not going.
Yes she is extremely down hill.
Idk if her pasterns are actually that steep or its the way she was standing cause I was trying my best to get her to square rather then stand under herself.
lazily walkin around on lunge after being worked. :p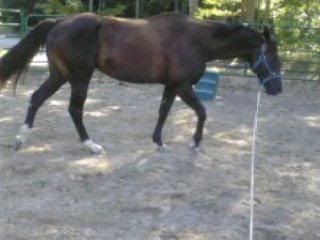 Ill try and get some better pictures.
Post better pictures for a good critique.
---
Unless it weighs a ton... it's just a horse.
Draft horse motto.
Banned
Join Date: Jul 2009
Location: In a land far far away, or so I wish.
Posts: 12,825
• Horses: 0
Maybe it is the photo, but her neck looks like it came from another animal. IT does not fit her head and her body.

It does not look so bad in the lunging photo.
She does look downhill. I think her neck looks longer than it is because its thin. It is actually more ore less normal length :) I only think it needs a bit more muscle on it. She looks like she has nice short pasterns in the front. Good hind legs from what I can see (those photo's are a bit low quality!)
Too hard to tell much about conformation from these pics. In the first pic - how on earth did she get into the attic?!
---
All horses deserve, at least once in their lives, to be loved by a little girl.