Nova and I jumping 3' First time in 2 months.
---
Nova and I have been working on mostly dressage for the past 2 months. Just recently got back into jumping these past few weeks. Mostly been schooling her over 2'3. Before we stopped jumping she was at 2'6-3'. But nothing all the consistant..
But for the first time in a while how do we look?? I know I need to bring my heels down more and straighten my back but what else??
thanks in advance.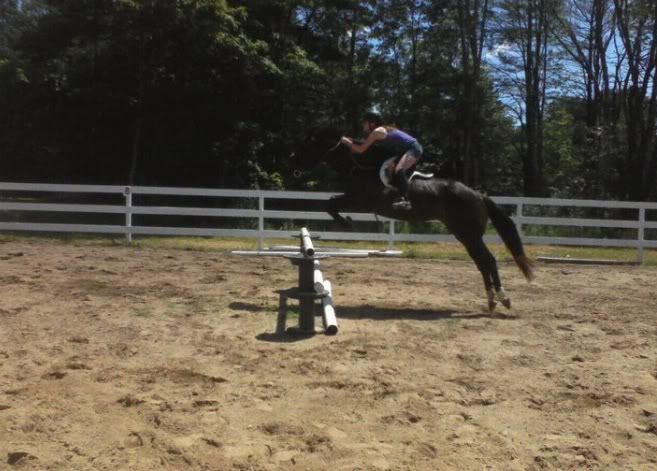 Subscribing to reply to later. Glad to hear you took some time to concentrate on the flat. =]
Posted via Mobile Device
It was extremely beneficial. Nova went to a show a week ago... and got 2 first places and a 2nd. All flat/eq classes. I guess Nova and I beat out one of the show barns that always get blues.. Haha I got some looks from them I can tell you that :P I was shocked when I heard that.
*facepalm* I thought it was a video, haha.

I'm not a jumper, so I can't give too much of a critique. From my experience though, she looks balanced and forward, and you look better than I would, haha.

Just from this picture and the one in your picture thread from the show, I can tell how much she's improved. I told you that girl had potential! I'd love if you could get more pictures/videos of you two so I can really see her move. And I'm really glad you decided to keep her on the flat for awhile.

Congrats on the show placements, too! That always feels good to know your hard work has paid off! =]
Posted via Mobile Device
Can I just say, I LOVE YOUR RELEASE.

Sorry for the caps. It's just a pet hate of mine to see 4'+ jumpers with absolutely no release at all, leaning on their poor horses' mouths (in dutch gags, no less). You won't be one of those people. GREAT. The world needs fewer of them.
Haha good job Ricci.. You must feel smart. :P

Thanks by the way! I can deffinately get some videos and such for you. Shes a very flashy mover. Very fancy.. I always get told to never sell her. I had an offer at her at the show.. the woman was like if I was to get another horse I would buy her in a heartbeat. Talk about a compliment!

Blue eyed Pony - Thanks! Im the SAME way with releases. Even if I manage to get left behind on a jump, Ill throw my hands out infront of me just so I don't catch her in the mouth. I don't need my horse comparing jumping to pain...