Ok Critique all you want
---
Here is my Horse Oska Toi. 9 Year old TB Mare.
Here she is at my place
Here are some bad pics of me riding... I know there is lots wrong with these pics :)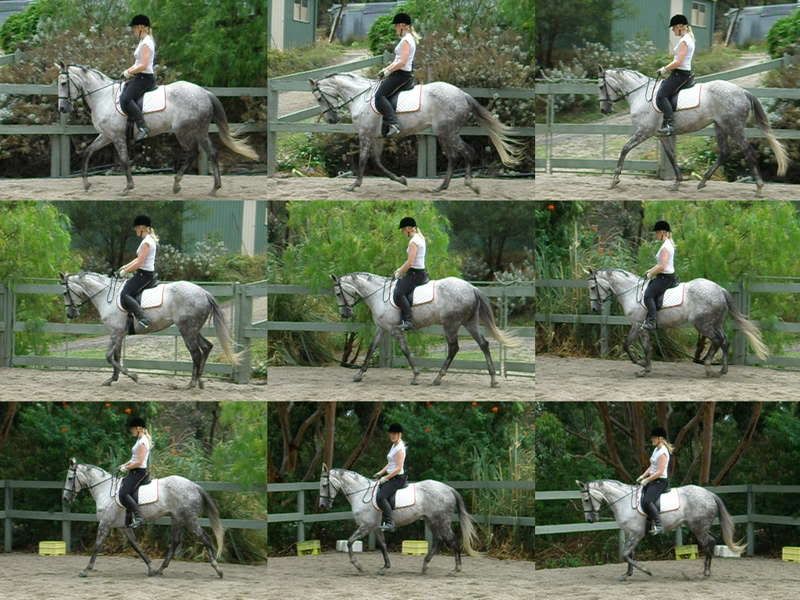 Hi, your place looks gorgeous. I love tb's, such pretty horses.
I dont normally like to critique :roll: but I think your best position is in pic number 3 (on the nine that are together)
Your hands look alot softer, where as on some of the others you look to be pulling back alittle towards your tummy. You have good leg position too on this pic. You look good and relaxed
She looks to have nice paces.
Yes I totally agree with the 3rd pic. I have heaps others if your interested.. Of the different movements.
She has a nice trot, but Canter is something short of a disaster...ha ha
Here is a cantering one...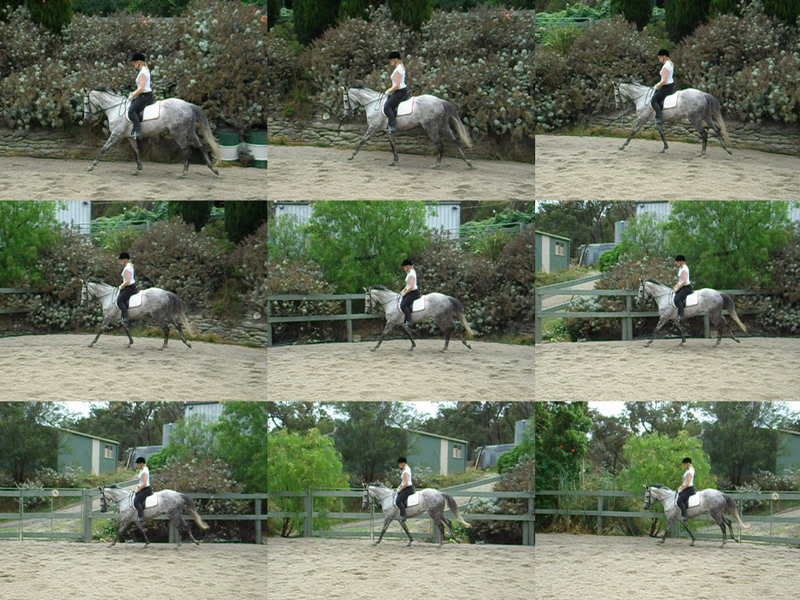 And another one, where i'm in 2 point position for most of it.
Your position looks excellent and relaxed on the top set. Her canter looks good, I'd say you looked more of a team on that set than the trotting ones. Your hands look a little close to your tummy again, but overall I'd say loads better.
Two point position again looks good, I think you have a habit like me, I tend to widen my hands, especially when trying to get her on the bit and in a good outline. :) But your hands are again softer looking.
Aww Thanks..
I cant find the really bad bad pic of her cantering. She is built slightly downhill, so her left rein canter is shocking, very very uncomfortable to sit.. she pings you out of the saddle. So now i've broken my canter sessions down to about 5 to 8 canter strides back to trot, and so on, to keep her more up instead of leaning and being so down of the forehand. Very frustrating, but i'm trying to do the best I can. :)
Lol, My mare is exactly the same! Absolutely terrible on the left rein, and her canter :roll: impossible to stay sat on the saddle!!!

Right rein is totally different. I try to work her a little more on the left rein, but its not making much difference! :) Only time will tell.
Is your horse an ex race horse too???
Its so uncomfortable.... But i'm finding with Lunging her, and then doing the short bursts of canter, its really helping her so much, and tonight I could actually sit to her... :) Its a great feeling...
No, she's a tb x Dales. I've lunge her a couple of times a week, she is improving, but only slightly!!
I did have an ex-racer, he's on permanent loan now. I had to take him right back to basics, This is him below
Hi there, its hard to do this from pictures but il have a go.

You look a little tense in your upper body? Is she strong at all, or does take a pull as you look to be bracing yourself against her slightly?
She is a very pretty mare and you do well to keep her so up and forwards with her way of going being a little down hill.
Do you have lessons on her at all?
Also with the lunging sessions-have you tried using a passoa (type) training aid? My mare was also down hill in her way of going and it has done no end of good on her!! Also getting her into canter on the lunge on a larger circle (easier for her) and then gradually making it smaller and then larger again (before she breaks back into trot) will help her learn to stay ballanced.
Does she fall out of canter much? Or pick up her the wrong lead often?