ok here are my loves
---
i dont know why im doing this other than i really would like know what someone else sees when they see my babies.
i love my girls very much and my new little man maybe even more
so here we go...
ok this is when she was prego, my avatar is here the week i got her bred. she is a bay fqh. and she is sticking her tougne out to all that dont like her lol
her name is Starr and she was my very first horse ever. here is another pic of her and OUR new colt. lol
and a couple more of Starr a Rip[IMG][/IMG][IMG].[/IMG]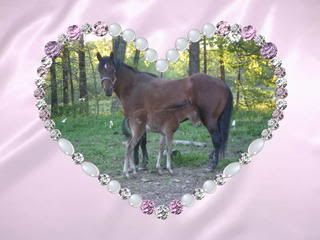 [IMG][/IMG]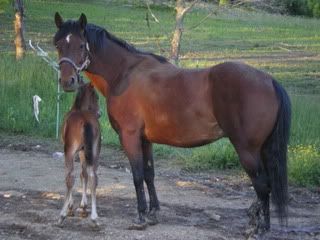 now my other girl is a grade horse, but the best darn grade horse in the world, IMO. she doesnt like her pic taken so i cant get too close with the camera or she wont hold still. lol
but here she is.
i think i might have forgot to shrink that last one. her name is Girlfriend and no i didnt name her, my brother did, she used to be his horse.
and i want to know the truth, but in a nice way
---
My Horse=My Theripist
I can't really critique since the pics are kinda small & not a lot of square side shots. ;) But they are all verrrrry cute!!
From what I can see...
Starr a Rip:
-Short neck
-Short back
Girlfriend (hehe cute name! lol):
I'd like to see a shot of them not looking @ the camera...it'll make it easier to critique. ;)
-Also has a short back, but she's reallly cutee!!
---
Ride more, worry less.
so a short back is not good?
i know Starr is a rough ride until she gets into her canter, i was told that was because of her short back.
Girlfriend is a bit smoother of a ride.
i really dont know a think about conformation at all.
so please bare with me while i learn.
i really didnt want to use this one of girlfriend but its the only one i have that she isnt looking at the camera, i think she thinks its gonna get her or th
at she was an indian in a former life. lol
---
My Horse=My Theripist
Back lengths are a personal preference. I like a shorter back because they can collect up easily, and work through their backs more. Having said that, you want a balanced back; a short back with a wither falling in the middle of the back is good, any further back or further forward throws the balance in front or behind the center of the horse.
A long back is generally more comfortable to ride.
---
The lovely images above provided by CVLC Photography cvlphotography.com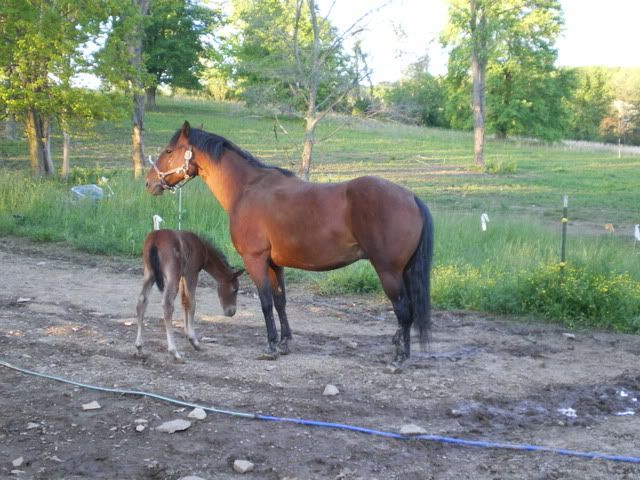 and this is Starr
i dont know why it pasted two of Girlfriend.
JustDressageelt---thank you for the info, but you didn't say anything about my horses. prolly dont have anything go to say so you wont say anything huh?
its ok though
how am i gonna learn about this stuff if no one tells me lol
---
My Horse=My Theripist
Sorry no I didn't mean that at all, I was just answering your question about back length.
I haven't said anything because all the pictures are too confusing for me
I don't know who's who...
---
The lovely images above provided by CVLC Photography cvlphotography.com
Personally I don't think they're breeding material. Neither mare is built well in any aspect of their bodies. They have short backs which are a bit better than long backs but still not desirable and they'll pass that onto offspring. Girlfriend needs a good farrier to spend some time with her as her hooves need some trimming and reshaping. I can't comment on the Bay mare as her legs/hooves are muddy.
well irish im not breeding for anything except for myself, i only trail ride i do not show any of the horses.
i just had the farrier out to trim the girls but Starr(the one with the baby) wouldnt have any of it so he is comeing back in a few weeks to see if she will stank still for it.
i have my horses for one reason only
i love them, always have and always will.
i know some people look at horses and only see what they can do with them to make a profit of some kind but not me.
i wanted to raise a baby just once so i bred Starr and now im done.
as for the mud on Starrs legs and hoofs, im not rich and i dont have the perfect facillities to keep my horses out of the mud and it has rained alot here lately.
but i appriciate your thoughts. ty
---
My Horse=My Theripist