OTTB--potential buy?
---
I went to see the previous horse I posted (
Another possible buy? Critique please :)
) and unfortunately I couldn't get the price I wanted and he wasn't worth what they were offering. From now on, I'm going to stick to prices I know I can afford from the bat because it's really disappointing otherwise :(.
Here's my next prospect:
16.2HH 4 y/o TB. Off the track due to lack of winning, not injury, clean legs and no vices. He's $1000. The pictures are outdated and he's just off the track and apparently he doesn't look quite so "racefit" currently. He's broke to ride, WTC and a lovely long stride. He would be a hunter/jumper prospect.
What do you think? I'm not very good at critiquing, so all I can say is he's got some mighty long legs!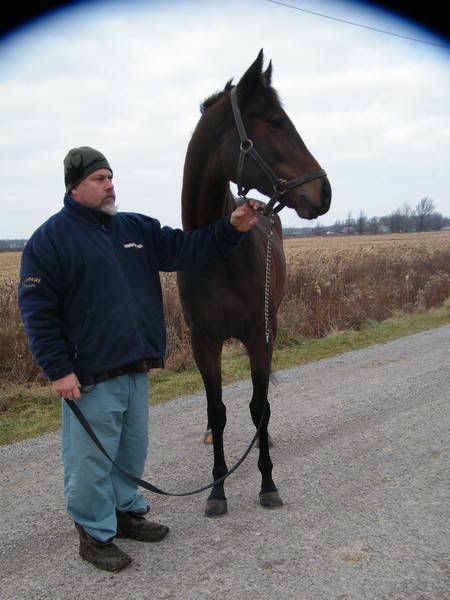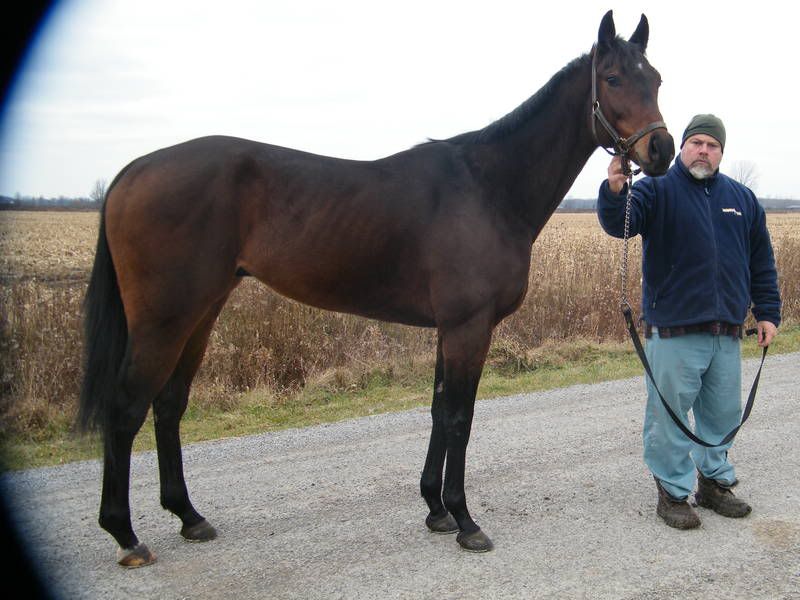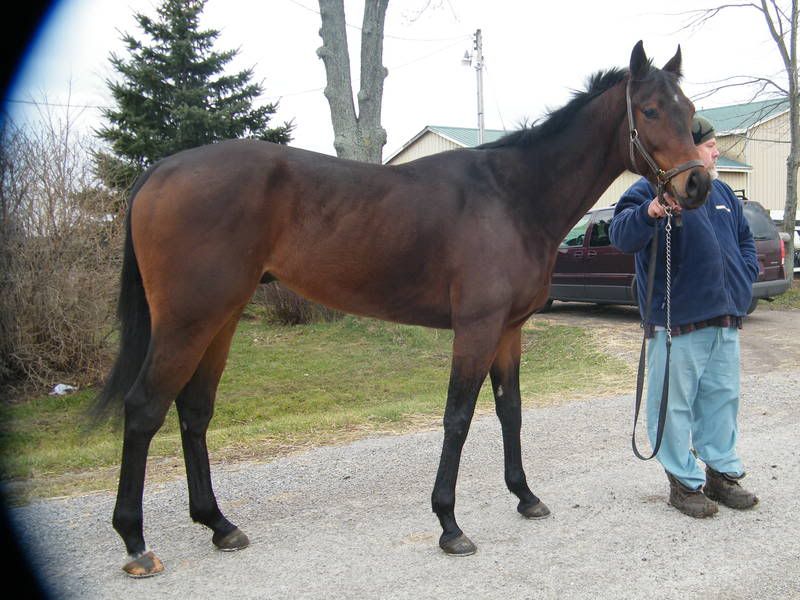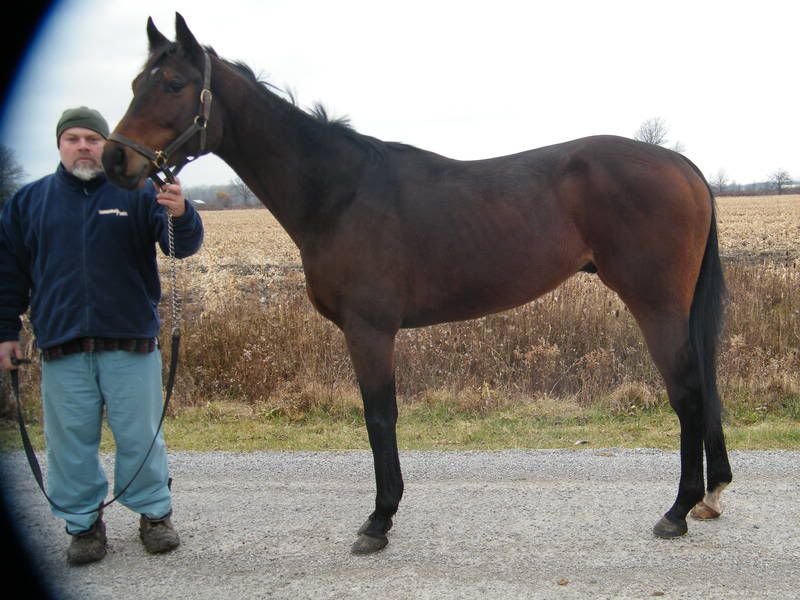 He looks great, i would definitely be interested if i was you...ask if you can ride him just to see what he rides like and what strides he has...The only thing that could possibly be the reason for them saying he's not so racefit looking is that he has a little bit of weight...but that wouldnt take long to get back off him again!! i would just ask if you could ride him to see what he is like in a ring and on a hack. Has he got any vices? AimsX
---
He knows when you're happy, He knows when you're comfortable, He knows when you're confident, And he always knows when you have carrots.
X
$1000 is awfully high, especially if he's had little to no training off the track.
He has pretty long pasterns, thats a concern I saw right away, my TB mare has long pasterns too, just haveto be extra careful with them. I have had no problems or soreness and or lameness issures with her and i have had her for 2 years. Just somthing ti be aware of. I have my mare on a Joint suppliment Glyco flex through smart pak and it seems to work. You might find he gets arthitice a little ealier in life then a horse with shorter pasterns. Just somthing to look into and be very aware of. Other wise Id say she is amazing, very very pretty. You show him and you will for sure have the judges eye on you! Good find! Good luck, hope you get him!
He's definitely worth a test ride. I like the way he's built. It's really more what type of brain he has at this point. If he's one of those sweet ones, grab him!
---
You just have to see your distance...you don't have to like it.
Thanks for the replies! My concerns are his pasterns as someone already mentioned. He also seems under himself at the front and really straight at the back. That could just be me though? I'm new at the conformation thing, so I don't know how major these flaws are.

I'm going to see about paying him a visit and hopefully he's sane! He has a super cute head and I bet he'd look very nice with some muscling and a good bath! Depending on his training, I may try to negotiate price as well.
The pasterns aren't overly concerning to me, they are long, but so are Riley's and I've had him 5 years in solid work and have never had a lameness issue at all. Like Klassic Superstar suggested, if it concerns you a joint supplement of some sort wouldn't hurt.

He's super cute though, and I can't see anything that would turn me off buying him, especially not for such a steal! My only concern is in the front on photo, you can see his near front seems to bend in slightly at the fetlock. It could just be the photo angle but if it does you would have to make sure your farrier didn't trim the insides too short.

I'd definitely suggest a pre-purchase vet check and possibly x-rays if you can afford it on his legs, just to be sure there's nothing amiss there but if he comes up clean I'd go for it!
---
Thinks her father has realised she will never outgrow horses for boys
He looks to be built very downhill, but he is super cute!
He looks great. Maybe a little high, but not too bad. He is a purebred Thoroughbred. Love those long legs for jumping though. Especially his back ones. I would definitely test him out. But you wanted a prospect anyways didn't you?