Painter
---
What do you think of Painter? I just bought him Monday! I know his head is too wide, but other than that I know nothing about horse conformation. Sorry for the bad picture, I just took a quick one for his insurance.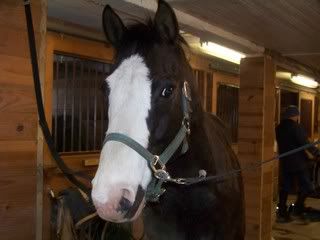 He's built downhill. I do like his color though.
---
"Doing what you like is freedom, liking what you do is happiness."
Sorry to sound stupid, but whaty does being built downhill mean? Like I said I know nothing about conformation
His butt is higher than his withers.
Basically like his hind end is higher than his front end. But thats just what it seems.
---
"Doing what you like is freedom, liking what you do is happiness."
he is definately built downhill from what I can see
there's something about his neck that I do not like, but I can't see what

He's really pretty though!!! I love his markings...and his face
I actually think he looks nice and I don't see much wrong with his head at all. Beautiful boy!
---
WHATS REALITY?
Thanks! I think his neck looks off because of the way he's looking at the camera. He's got a great trot and canter when he does it right. I just started him over crosspoles, and he jumps HUGE
! I think he'll be great with training though
Head too wide?? Just means he has a bigger brain
Started
Join Date: Apr 2007
Location: Australia-The best Country!
Posts: 2,192
• Horses: 0
Do you feel awkward when you ride him? Other then his head, he looks OK to me.
---
Rach
WE ARE GEELONG! THE GREATEST TEAM OF ALL.....
What a cutie! I don't think his head is too wide! I love big heads.
I'm guessing by his name that he's a Paint, correct? How old is he?
At first glance, I thought he was a little downhill too. But then, look at the white beam (on ceiling) above him...it's also "downhill." I think the camera angle is just a little off. If you were to rotate the whole photo 1 degree counter-clockwise, I'm sure Painter would look level/balanced.
I really like him a lot...maybe work on that tail though, it's a little scraggly.