Painter Conformation
---
Here's my 8 year old paint/qh mutt. I know nothing about conformation, but I can see he's downhill, needs alot more topline, and toes out in these pictures (I don't think he normally does, I'll have to look tomorrow). So what do you think of him?
Left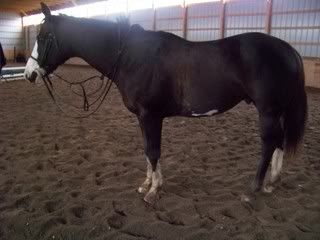 Right (sorry, he kept moving)
Front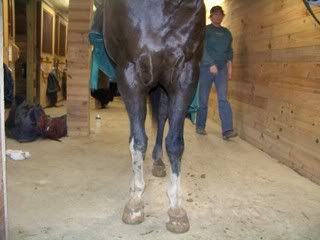 Back (From May, look at his little tail)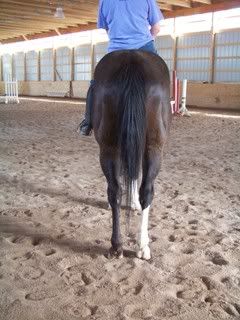 Head, isn't he cute?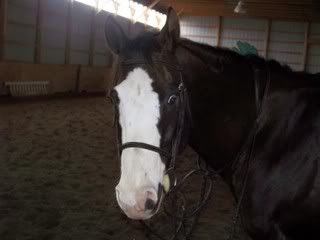 And this is one year ago, I think there's a huge differnence! Look at his tail!
Sorry there's so many pictures!
---
Last edited by 1dog3cats17rodents; 03-08-2009 at

04:57 PM

. Reason: I can't spell!
He has pretty decent conformation. With more exercise, he will have great muscle definition. He is really alert which is good. His chest is kind of narrow, as well as his hindquarters, but with some exercise, that will fill out a little bit more. But overall, he is a pretty good looking horse!
Thank you! The narrow chest and hindquarters is actually good, over the summer he was so bulked up he was like one of those giant weightlifters who can hardly move, everything was constricted and tight. His new food cut down his muscles and let him move. Now I just need to work him to bring it back up (although he's ridden hard 4X and lunged (50 mins) every week.
He has a wide front end ,and his neck is very skinny for his body, i would like to see more muscling if you are looking to do halter, and he doesnt have that babydoll face that judges look for but i think it could work. VERY strong should muscling which is a good thing. His rear end looks good also. His back legs look correct. Just try building that neck up with some exersicses! :) Fairly decent horse!
---
Sorry You Weren't Invited
AQHA Reserve Champion 2007
What type of work builds up neck muscle?
He's not for halter, but I'd still like him to look his best