Please Critique my flat work!!
---
If you could tell what you see good and bad in my position and anything about Joe. I have been working on sitting up a lot straighter and heels down. Joe is a very very lazy horse and its very hard to get him to keep a consistent pace, i either get him barely moving or going too fast
. Im just putting up our flat work, I was going to post an older video of our flat riding adn then pics from now and videos from now. (I am also going to post a thread on my jumping too...) Joe is a 6 year old TB, ex-racehorse, i started riding him when he was 3. He is built downhill and pulls on me a lot. Be as harsh as you want, i kinda know what needs to be worked on but any advice is welcome!
Sorry the videos arent the greatest, it is hard to find someone to video me! Thanks!
About a year and a half ago...
Video of Me riding Joe - Photobucket - Video and Image Hosting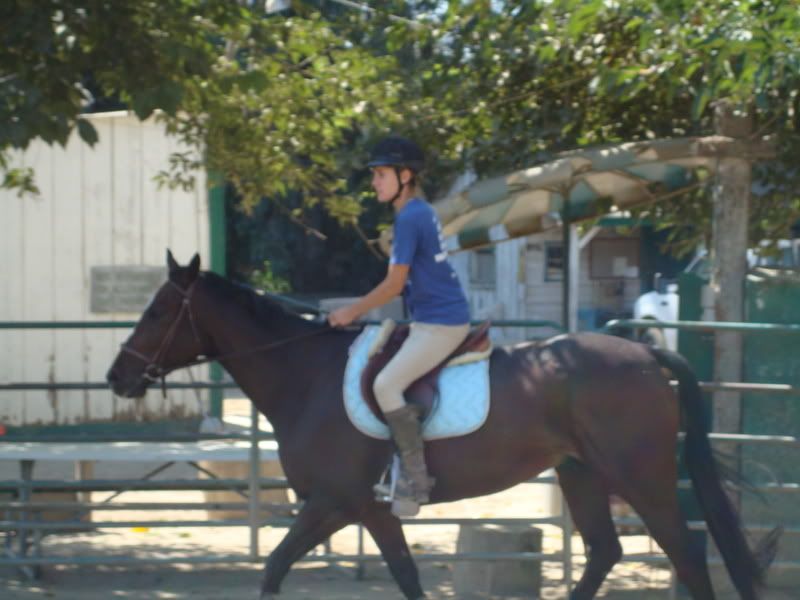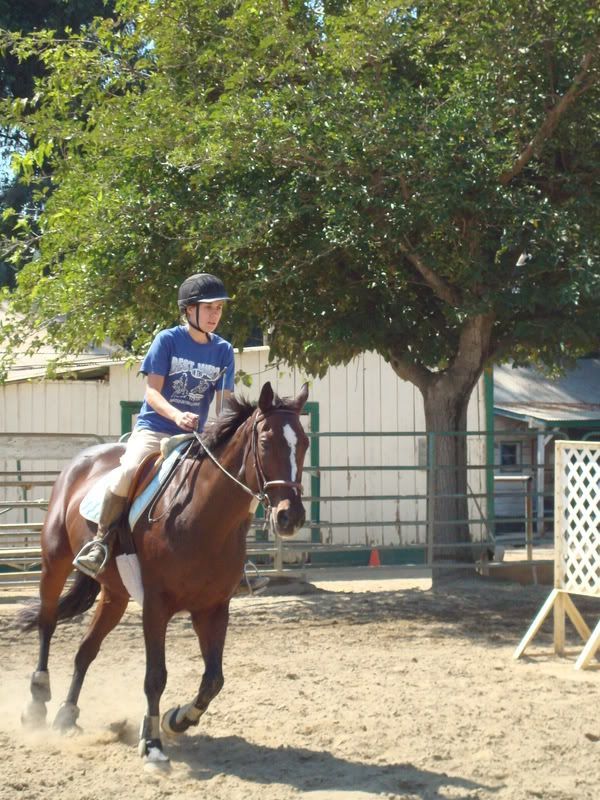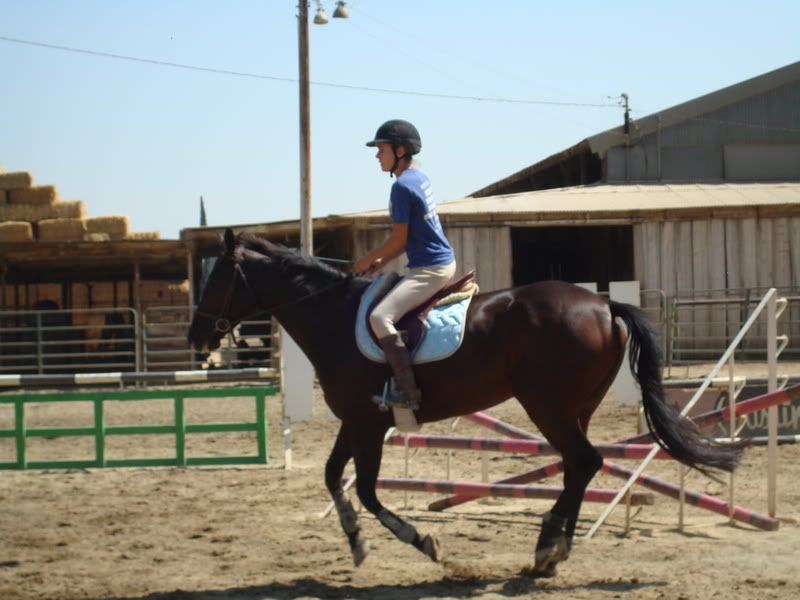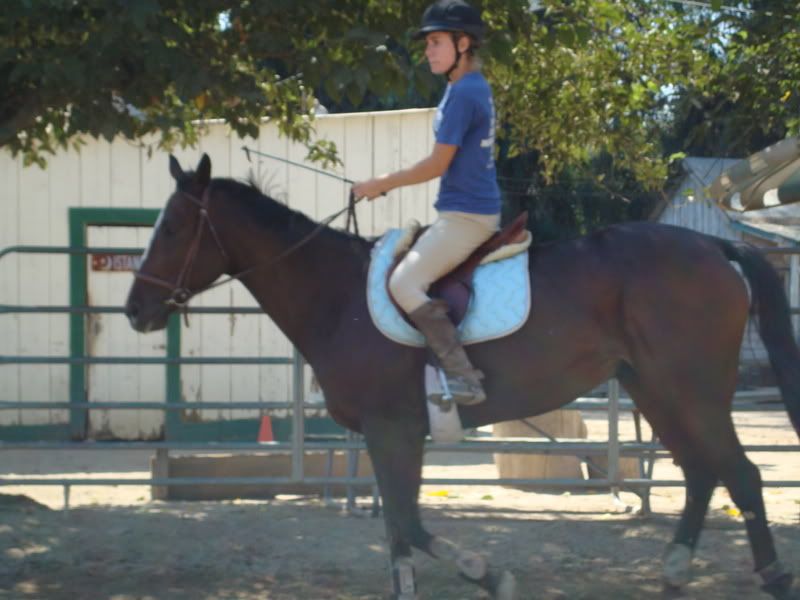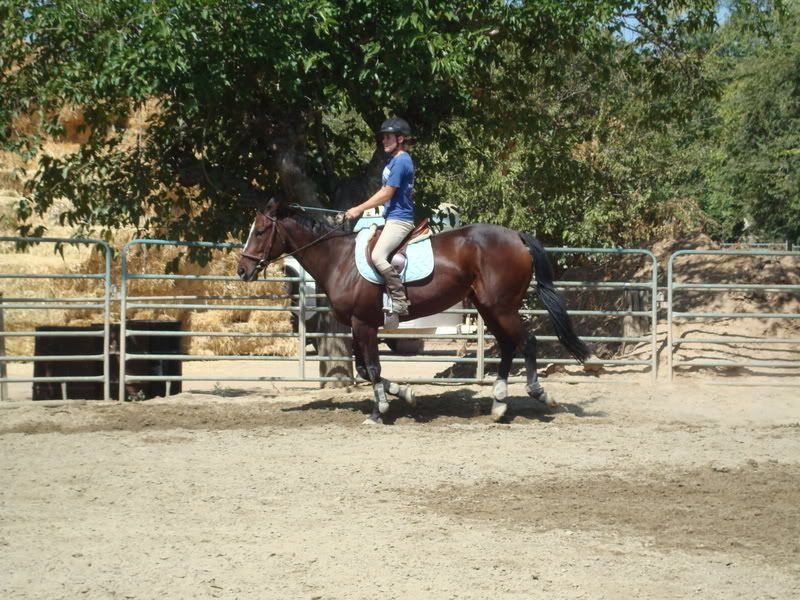 Joe-Omalley064.flv - Video - Photobucket - Video and Image Hosting
---
The rider casts her heart over the fence, the horse jumps in pursuit of it.
I have only looked at the photos but heres what I see.
Your heels are down nicely but you need to keep your toes in, you don't want to accidentaly bump your horse with your spurs, with your upper body try to role your shoulders back and push your hip forward a bit and keep your lbows back next to your sides, they are a bit far forward.
Your heels look great and your looking up, keep up the good work!
---
"If you don't like dressage it's because you don't understand it."
All I can say is that you have a very nice lower leg -- a good base of support.
---
Every ride, good or bad, teaches you something new.

Looks pretty good to me. I would like to see him more willing to break at the poll but other than that, beautiful.
Try and keep your hands more steady; they need to be independent of your body.
---
Fly Without Wings
just curious. what is going on with your crop? It should be pointed the other way, lying against your leg
You have a nice leg position, but at the canter try not to point your toe out so much and watch that your heel is not comming up and bigging into your horse's sides.
At the canter i'm guessing full seat. Shorten your reins, and lower your hands just a tad, they're all the way it the air! And relax a little bit and open up your chest.
this is for the videos.
What looks to be a strong base of leg is the picture is actually moving around quite a bit in the video.
Your also posting odly. You really clunk down in the saddle and when you go to post upwards you kick your leg back which might be annoying your horse with a little jab in the side everytime you post, soften up your hips. No stirrups and two pointing will help secure your lower leg. Your horse seems to get sticky in the corners, add a little more leg to incourage him forward.

Also when your cantering, try to absorb the motion in your hips rather than with your whole torso and closing your hip angle with every stride.

But overall it looks pretty good.
This is just a critique of the pics. First, I think you guys look really great. Don't be so hard on yourself.
Joe is just beautiful, a typically-built TB with nice legs and nice beginning muscle tone. I love his face!
Your lower leg looks awesome... your heels are very nice.
As you've said, your back needs some work and believe me I know how hard that can be, as that is my major problem as well. I would try riding on the lunge line, if you can, without reins. This really really forces you to sit back and let your legs do all the work. I've only done this a couple times, as its hard to get someone to lunge me, but it works wonders.
Someone mentioned flexing at the poll, and yes he needs to bring his head down a bit and start "accepting" for you. But I really don't think he's a long way off. He is still young and I already see a bit of flexion through his neck.
I would work on your hands too. In some of the pictures, they are uneven and unsteady looking. This often makes horses confused, as it unsteadies the level of pressure and also hinders with direction. I would loosen up your reins and work him nice and low, working him through his back legs, up into your hands (contact).
Overall, you both look very nice together, a great team!
---
"'For I know the plans I have for you,' declares the Lord. 'Plans to prosper you and not to harm you, plans to give you a hope and a future'" ~ Jeremiah 29:11
Thanks everyody!!
Thing with the crop, well someitmes I ride with it up becuase it helps get him moving, he is extremely lazy!!! Which is also why i post so funny! lol i think im trying to make him move with my body lol. Something I will definately pay more attention to when i ride.
Yes my hands are horrid! I used to ride with my thumbs to teh inside and criss-cross my hands
.
Thing with toes, i am having issues with them, my ankles are really bad, so i gotta stretch them out any suggestions on how to get ankles more stretched? Yah i need to ride more often without my stirups, i used to do it a lot and kinda got lazy
.
With Joe, how do i get him on the poll? We have recently been riding in a different bit that is supposed to get him off his front end.
Thanks again for all the comments and advice, its very appreciated!
---
The rider casts her heart over the fence, the horse jumps in pursuit of it.
A crop is used as a reinforcement for the leg. If he is not moving quickly enough i would try a tap behind the leg on his belly.

I also have reallybad ankles and find it help if I take them out of my stirrups half way through my lesson and roll them in cricles. This also helps before and after rides. You might also want to consider ankle braces(the sock kind) but don't wear it every ride as it will train your ankles to rely on that support. But then again, so no impact on your ankles, no stirrup work is great!