Please critique my new mare
---
I love her already! She is so pretty! I can't wait to bring her home! I know they aren't the best pictures, but I love them and she is so pretty! I think!!! But what colors do you think would go best with her, she is a cremello!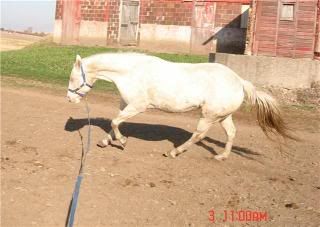 I don't normally like cremellos but she is really pretty. She'd look great with a sky blue halter and saddle pad, or maybe a pale pink or purple? Something light, anyways, coz dark would just cancel out the beauty of her colour
---
Satin Reign aka "Misty"... my life, my love, my everything.
As you can tell by my avatar, I have a blue-eyed, cremello colt. Love em.

She is very pretty. Nice topline.

My pretty boy looks just smashing in purple, which just happens to be my favorite color......
---
Know thyself, know thy horse.
I love cremellos and she is very pretty. I think she would suit green or yellow colours
beautiful conformation!!! very solid girl. i was trying to rescue a solid white qh that looks similar with the exception if him being 300lbs under weight!!! i like her a lot! i think a burgandy would look very flattering on her!
---
On The 6th day god Created The Quarter Horse...One The 7th he Painted All The Good Ones---
*trisha<3
Gosh she's absolutely beautiful!

I actually disagree with Misty'sGirl. I think a dark colour wold look really nice on her, it would give a good contrast and make her look extra white! I think a dark blue would look really nice or a dark pink/burgundy.

If you did want a lighter colour - maybe a baby blue?
---
Whoever said money can't buy happiness didn't know where to buy a horse.
I had baby blue on my cremello. It's my favorite color for them.

No critique here.
Lovely horse! Like some other posters, not a big fan of cremellos but she has lovely conformation and her colour really suits her.
I like purples, blues or pinks on horses her colour :)
x
---
♥ Seoul Searchin' for the Lovebug ♥
i used to have an andalusian that was white, i used to have him in a lilac colour, it really used to suit him, then i tried light blue and i thought that was the best for him. all in all your horse is a gorgeous girl and she is a very nice looking horse.

good luck and i hope you have a fun time with her :)

x
---
Once a ride, forever a friend!!
I have a cremello POA. LOVE HER!! As already suggested, she looks AWESOME in purple. I also have the cutest little getups in turquois. Cremello can really pull off most colors, but I like the bright ones!
---
I am owned by:
Reign- 6 yo Rocky Mountain gelding and Turista- 6 yo Paso Fino gelding...the loves of my life!