Please Critique my riding and my horse.
---
Hi, Can you guys critique my riding and my new horse? I got her 3 months ago. This video was taken about a month ago. I have not ridden her a lot since then as she has been having some problems. She has begun to rare, buck and back up while being ridden. So I am thinking she is in pain or she is just being a moody mare. I would also like to know if the way she carries her tail is normal? You will see how she does in the video. Now a bit about her...She is a nine year old Thoroughbred mare ( Not sure if she is purebred but that is what I was told she was and she does look like one :P She could have other breeds in her though). Before I got her she was only used on treks. She had never jumped before or she has never been worked so much so maybe she just adjusted to new training badly which is why she could be behaving bad. Also I would like to add her 'knees' crack when she moves them after being standing for a while so I think maybe she has joint problems. I will be getting the vet to check her out.
And about me...I am a 19 year old girl who has been riding since I was 9 but I took a few years break that is why I do not look great XD I also have bad confidence issues and lost my confidence about a year or more ago. I just about got it back but I still have problems jumping and riding scary horses which my mare now is! So I would love to get her problems sorted so I am not afraid of her.
So here is the video...!
And pictures of my horse. These are the best ones I can find. I was a bit worried about her neck because when I got her it was really thin and bad looking...
Here she is before I got her.
And this is when I had her for a few weeks...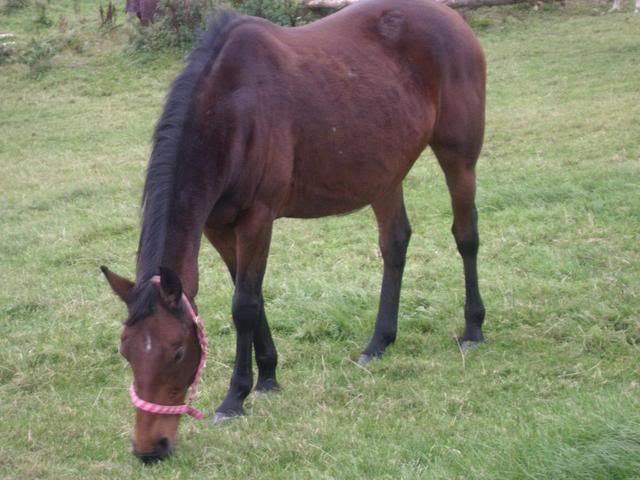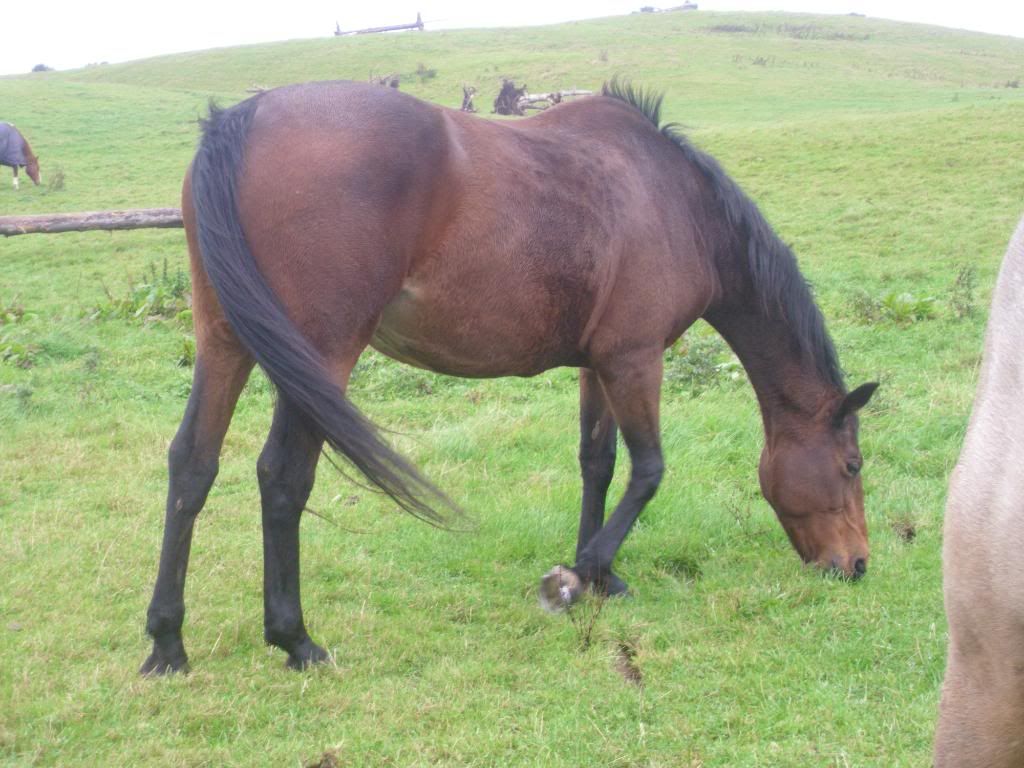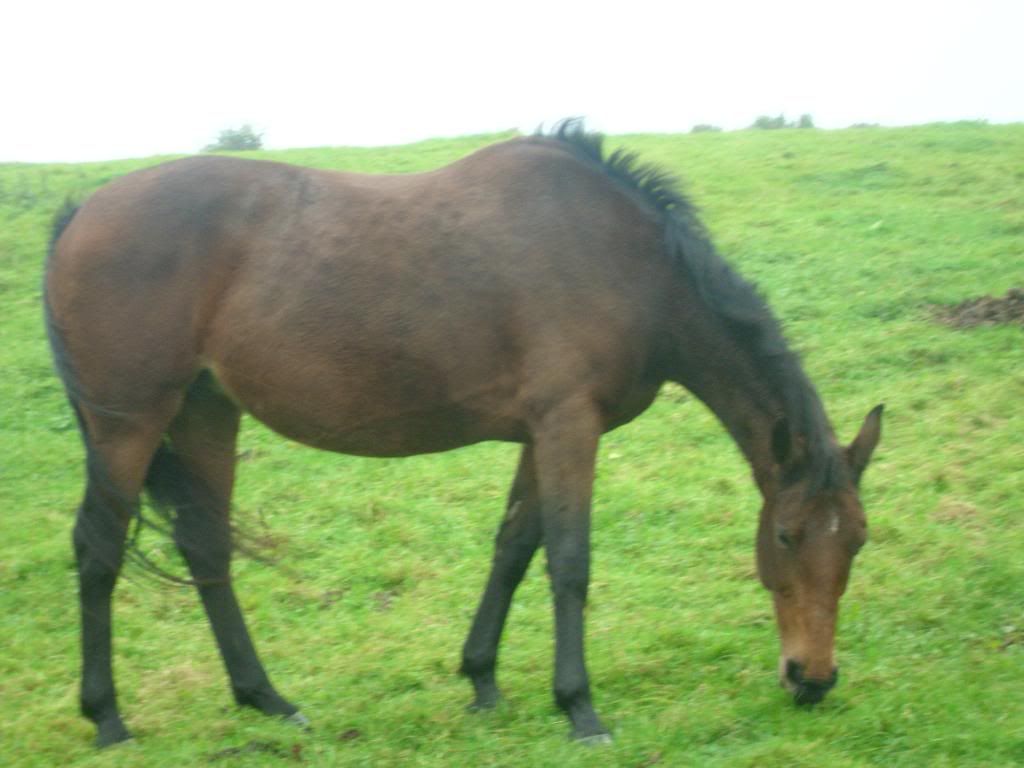 This was a few weeks ago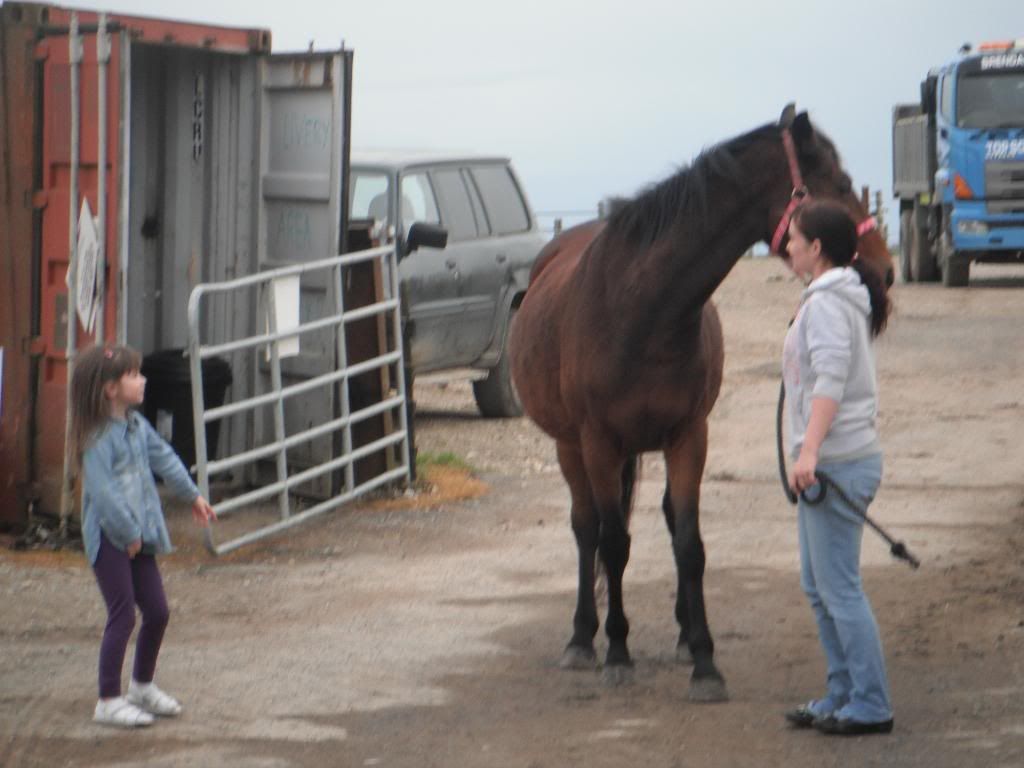 And these are the most recent...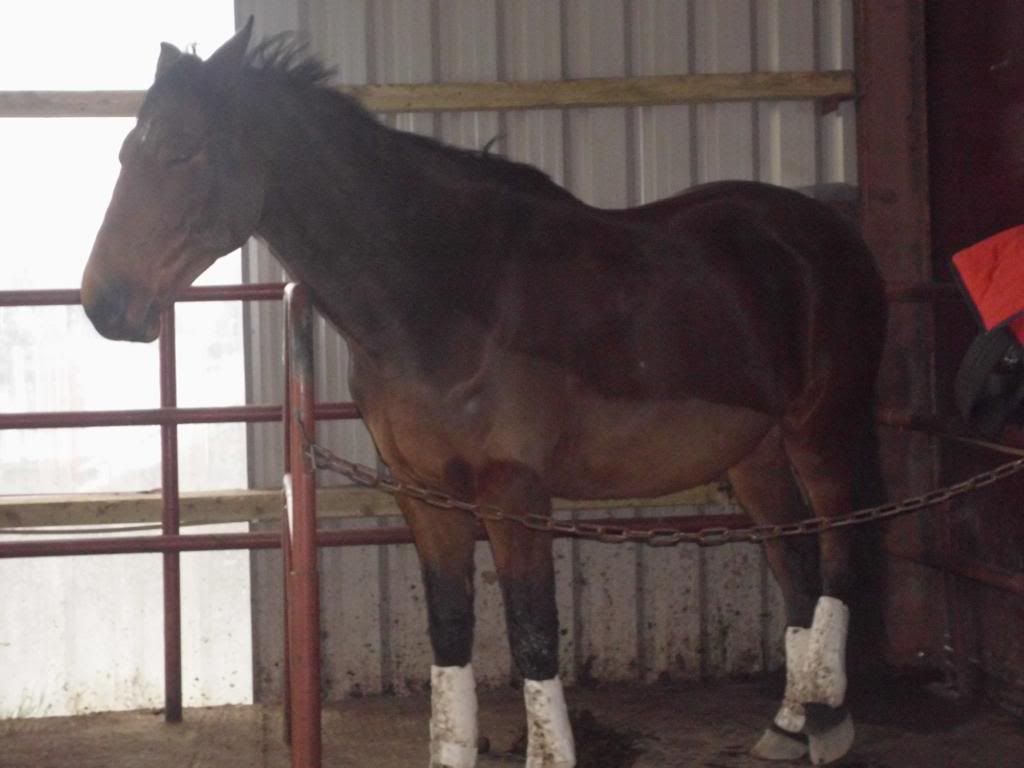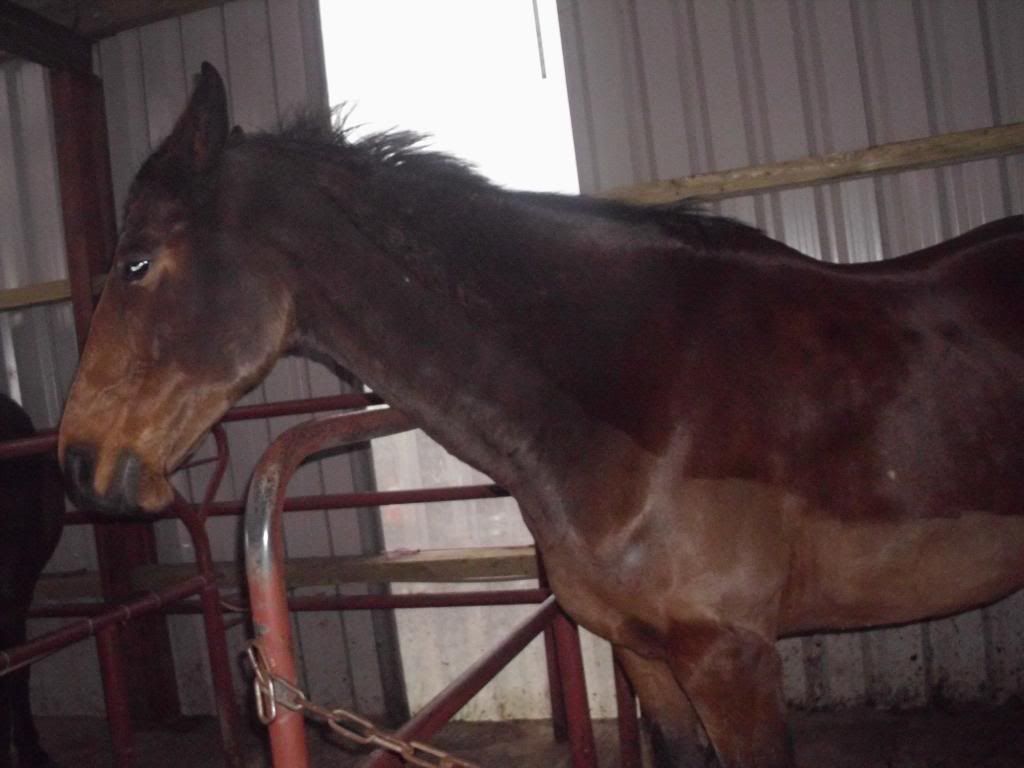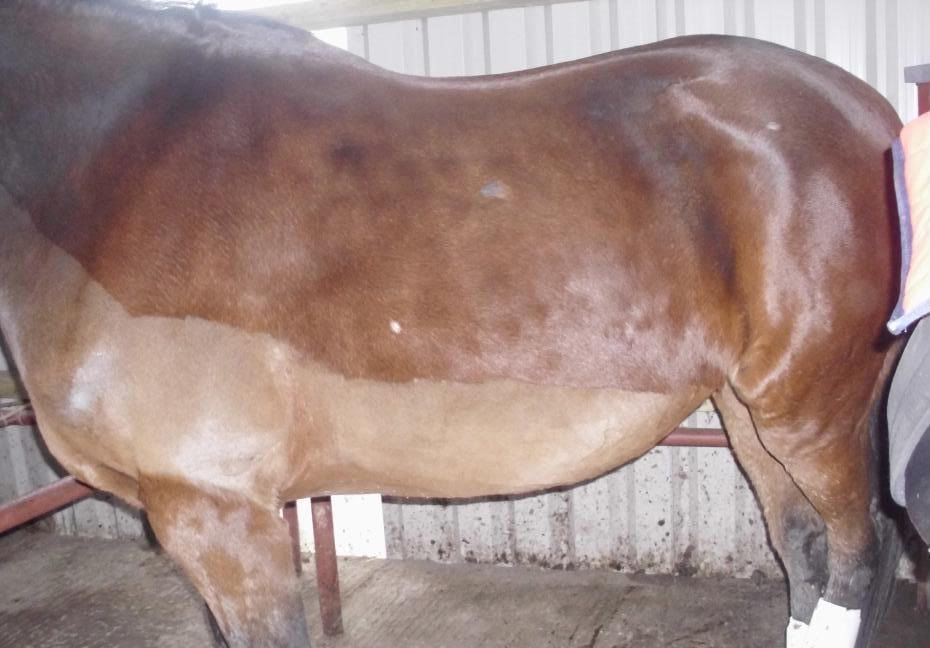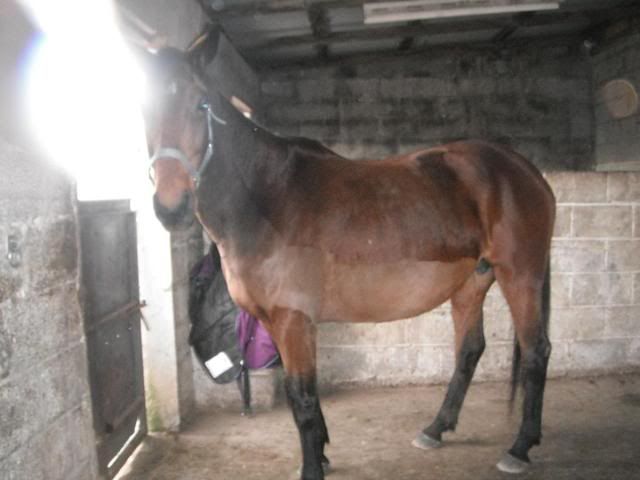 I will try to get better pictures of her
And sorry for posting again but I could not seem to edit the other post again and I forgot to add the pictures!
Thanks everyone!
when you walk her and her knees crack does she look stiff? our old mare ...she is gone now ): ... but when she got in her 20's she would crack a lot. its from stiffness and deteriorating joints and tissue between them just like when you crack your fingers or neck or watever. but deff have a vet look at her. it shouldnt come to a mare that young. there are supplements you can put her on but let your vet recomend was he/she feels best.

GIRL!! that vid made me dizzy. cool color effects...not so good for a critique. the only thing i saw that i could actualy focus on is your arms in the very beggining. they look like little boards. sooo stiff. when you trot and you rise and fall, your arm angle should open and close as you rise and fall. think about opening this angle when you rise and closing it when you fall but keeping your hands in one place and very still. shoulders back

also im not sure what you are training this mare to do but for me that trot was to fast. think about slowing the trot but keeping her tracking up the same. it would look alot better.
I think your position needs a little more work before you continue jumping. Your arms are definitely stiff, not enough bend in the elbow, and you also looked tense in your back and shoulders. Take a few deep breaths, loosen up a bit, maybe do some stretches before getting on your horse. You look like you are forcing your body's motion instead of naturally following the horse's movement. I notice it especially at the canter which may be part of the reason she's started to act up. I'm sure that someone else on here can describe it better, but instead of just lightly scooping into the saddle, and following your horse's motion in a nice smooth move, you are kind of tucking your butt underneath you, and forcing your hips forward, then part of the time you tense up again, and start bouncing pretty hard. Your lower leg also moves a lot, and is too far forward needs to be brought back underneath you more which will help with the forcing your body to follow the motion. You are looking up and not down at the horse which is awesome, nor are you messing with the reins too much. She looks like a very cute horse, and you guys look like you fit together very nicely. I like the amount of weight she has on her, and she's got a kind eye. I think that if you fix your position, that you will find that you two get along much better. I still tend to stick my leg out in front of me sometimes, and I've been riding for over 17 years, and I also lean too far foward. Constantly getting corrected about that ;). I'm glad that you have gotten on the forum and asked for opinions on your riding so you can further your knowledge. There are others on here though that can definitely critique a rider and explain things better than I can.
Sorry about the video! It is the only one I had :p Yep a lot of people are telling me my arms are so straight! I dunno why..Maybe because I need to hold the reins shorter with her as once she wants to go she will not stop which is also the reason for her trot being so fast...Hmmm I will definitely try to work on my arms. And my legs. I do look terrible especially in the canter. My legs look too straight for some reason..I will try to bring them back and maybe lengthen my stirrups one whole because some people think they are two short. But when I lengthen them anymore I cannot seem to get my rising trot right and they feel too long.

I am probably tense because I am sometimes so nervous on her. I am just gonna have to get over it and accept that she might be a bit bold. I hate being so scared of her because she is really nice and well behaved while not being ridden. And when she is ridden she can have her good days like the one in the video. Well if was one of of better days. Not brilliant though XD
Oh yes and about her legs..Well they only ever crack if she has been standing in a stall for a while so it could be stiffness. She seems ok after she has been ridden or lunged.
She doesn't seem to know the name of the game yet, and should only be doing singles right now. It would probably help her if you could put a jump on the rail for now to help her understand the game better. You should practice trot poles and just going though standards with either a rail on the ground or nothing. Later, set up some trot poles before the jump then move onto small grids. If you can free jump her some, that would help as well, but only if you have a good solid chute and extra helpers.
She doesn't seem to have a real enthusiasm for jumping right now. I didn't see her actually try to jump one of those crossrails. Part of her lack of enthusiasm could come from the fact that you seem to be hitting her in the mouth and you don't seem real sure of when she's going to take off. How much jumping experience do you have? Because you say she has none, and if you have little, then maybe you should try to make some more headway with your groundwork and leave the jumping for a later date or a trainer? If you are determined to do something, maybe trot poles? It would help her to learn to go over an obstacle when you ask (steering) without the pressure of a take-off or landing for you or her. There's no build-up either. She seems to get more tense the closer you get to a jump. With trot poles it's a continuum.

Your flatwork doesn't look all that bad. Your arms could be more bent (I have that problem too). As for her, she, like my mare, seems to like to run around at the trot with her head up in the air. This works with my girl, but might not with yours. Jacking her head up that high all the time can be exhausting. If you get to a point where you can trust her, maybe try giving her some rein and post REALLY slow and see if she'll relax and put her head down. I'd try giving her rein at the walk first, so she gets the idea, then graduating to the trot if you feel comfortable. Though, maybe she's uncomfortable due to your saddle fit or some sort of arthritis (what that cracking noise may be)?
When you're cantering, your legs were flapping really bad. I think you need to lengthen your stirrups one or two holes first and focus on wrapping your leg around his barrel straight down below you. You not doing the things above is causing you to pop out of your saddle a lot at the canter. I had this exact same problem, until someone told me that I was doing it wrong. Try focusing on moving your hips with his body, deep in the saddle. Then bring your shoulders and arms back. Heels down. Then if your legs aren't flapping, he won't be going as fast, which will let you loosen the reins (much needed).
At 3:23 where he refuses the jump, try opening up your right rein by holding your hand out to the right side away from his body so there's no pressure, and closing your left reign where it normally is with steady, light contact. While you're doing that, squeeze with your left leg. He should move back to the right and get him straight as well.
Some bonding time would help.. I attached a link to some videos of Jonathan Field. He talks about building trust and making your training interesting and how to.
Horse Training Videos with Jonathan Field - HorseChannel.com
Hope all this helps!
The one thing I really really noticed with your video is that you're extremely stiff and tense and I'm pretty sure she's picking up on that and being stiff and tense herself. I think if you figure out how to relax with her, you'll get a whole lot farther.
I really feel like a lot of the problems you say you're having with her being too forward and fast, etc, will be lessened, if not solved, by you loosening yourself up.

I'm not a very good critiquer so I don't have anything more helpful than that to say. Haha

Good luck! She's a cute mare!
---
Fabio - 13 year old Arabian/Lipizzan gelding

~
Rest peacefully, Lacey.

Ok guys here is another video of me on a different horse before I got Lola...Is there any difference?