Please Critique New Filly
---
I just acquired this Bonanza bred filly in Jan. She will be 2 in mid June. She will be used for halter, WP, trail, etc... So far she has a great deposition.
She is a registered breeding stock Paint - Fancy Lady Be Me
by Fancy Be Me (APHA)
Mr Fancy Bonanza (Mr Supreme Bonanza x A Real Lover)
Deposit the Check (King Mac The Knife x Poco Lena Squaw)
out of Josie Bonanza (APHA)
Luckys Kar Bar (Lucky Sonny Dee x Impressed Star Bar)
Bonanza Barflower (Mr Golden Bonanza x Scootin Petals)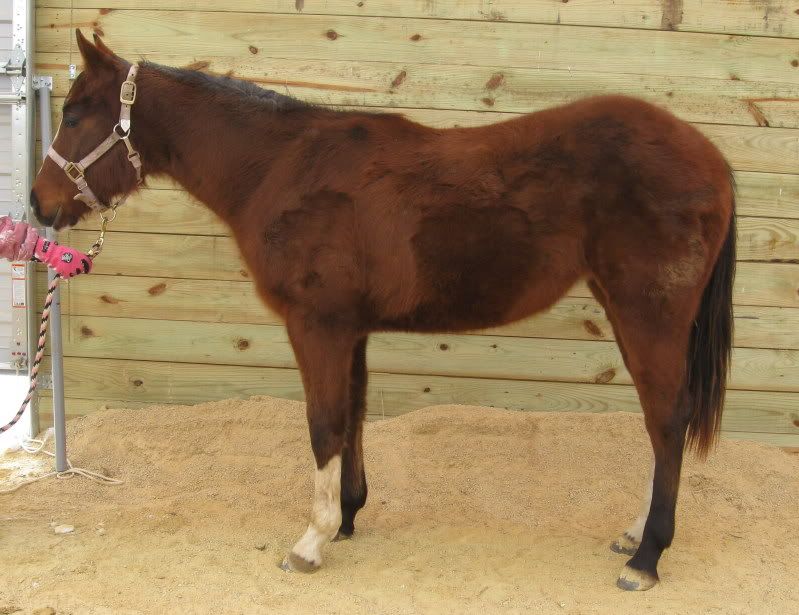 Very nice and tidy build. Has a really nice face and good hind legs.
Thank You Tiny
I can't wait for her to shed her winter coat, which wont be till May with all this snow!
Awe what a little fuzzy face! :) Haha shes so cute! Congrats!
I am not good at giving critiques, but that is one CUTE girl!
I love her face, so cute :)
Does anyone know why the picture isn't appearing on my computer?
She is paportiond very well. I love her angles. The only thing i do not like is her neck i would like to see it a bit longer.
---
live for the moment.
She is a sweet looking filly! I LOVE her face and huge doe eyes. I bet when she sheds out she will be a real gem. Looks like she will have the build to do a little of everything! I like how her neck ties into her body; looks like she will have a natural western headset. Her shoulder looks nice as well and should deliver a nice stride. She toes out a little in front but it could just be the pics. She seems sweet and again, I love her soft, sweet eye. Keep us updated with pics as she sheds out and grows!
---
~Lindsay~ Mom of 2, wife to the goldsmith, doula and childbirth educator in training, life-long horse dork