Please critique rider: beginner
---
Hello,
I'd like to know your thoughts on what I'm doing ok with, and what I can improve on? I haven't worked with a trainer in 6 months and prior to that, I probably switched to 2 different barns and 2 different trainers for the 6 months before that
I would consider myself a beginner. Perhaps, slight advance beginner, lol.
I was able to convince my boyfriend to get some pictures of me riding my arab gelding that I lease. He didn't get any at the walk, just 1 at the trot and the others at a canter.
I plan on starting dressage lessons within a month, so I think this will be a good baseline for a "before" set of photos haha.
A couple things I notice is my right leg: i tend to turn my toe out, but I do have some major flexibility issues in that foot. I think I lean too far forward at times too. Anything else?
Thanks!
i'd shorten my stirrups... but that's just me.
---
Life seems mighty precious, when there's less of it to waste.
sit back and relax into the saddle, you look a little bit to 'posed' i think, that will help the leaning forward. sit deep in the saddle and pictures string on the top of your helmet pulling your whole body STRAIGHT up in a relaxed way... thats what i always think about, and i think it helps :)
---
If there are no horses in heaven... im not going.
Definitely shorten those stirrups, it looks like you have to stretch to reach them, I'd bring 'em up 2 holes or until the bottom of the iron is about level with your ankle when you foot is hanging loose. After that my coach says every foot you jump bring you stirrups up a hole :p
Posted via Mobile Device
I agree. YOur stirrups are too long. Your foot is too far through them, too.

The second photo shows the horse almost at the third beat of the canter, when the leading leg strikes the ground. This is when the horse is in its' most "downhill" angle. YOU, on the other hand, at this point should be leaning back or at least very upright in the saddle, just as you would be if your rode your horse down a hill. This helps your and his balance. when he is in the next beat of the canter , reaching under with his strike off leg, he will be in his most uphill part of the canter, when you can be angled a tiny bit forward, as if you were riding him up a hill. If you are leaning forward too much, your hips will be locked and you will not be able to make there adjustments.

Also, your inside shoulder is dropped and advanced too much. This is somthing that you might not need to pay so much attention to as a beginner, but as you go along, you will need to correct his twist in the body. It makes your spine collapse to the inside, and centrifugal force pull you to the outside.

You look up very nicely and in the last two canter shots, your hand position is pretty darn good.

that horse reminds me very much of the mare I leased 11 years ago. She was a dingbat, but a lot of fun.
Thanks for your critiques so far! Very helpful. I was using this saddle for trail riding and lengthened the stirrups so I could get on and off easier in the woods (I'm only 5'1" and he's 15.1hh). Guess I forgot to put them back up. Whoops:). I definitely see how my inside shoulder is dropping now that you point it out. Something to add to the long list of things to work on!
Posted via Mobile Device
Can you get some video? Pics are only a shot in time and don't really give a good picture of your riding.
---
I'm not arguing with you, I'm just explaining why I'm right.

Nothing sucks more than that moment during an argument when you realize you're wrong.

It's not always what you say but what they hear.

I won't be riding again until next Wednesday, and then it will only be with my instructor. Maybe she will be willing to shoot a couple minutes for me at the end of the lesson.
Posted via Mobile Device
I thought dressage riders rode with a long leg.
If it was me (and I'm still at beginning level and don't ride English very often anymore), I'd leave the stirrups long and move your heel back a bit. Shoulders tend to follow heels.
English riders don't ride on their seat pockets, but I'd try a bit of that as an over correction...makes it easier to pull your heels back, and then the shoulders will follow.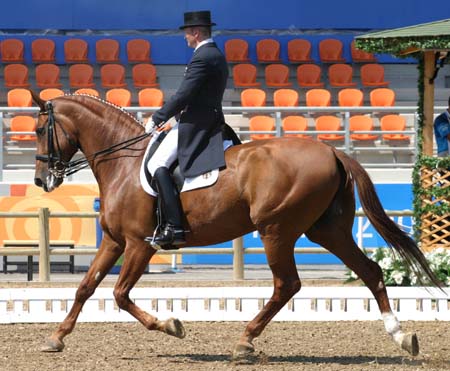 Riding with very long stirrups in dressage is not correct. One doesn't get a long leg just by making the stirrup really far away from the hip. On the contrary, too many dressage riders make their stirrups too long and end up "fishing" for the stirrup, riding on their crotch and having their weight stop at the knee, 'cause they are often gripping with it.



Besides, as a beginner rider, she would do better to have shorter stirrups.