pleasepleasehelp? kthnx
---
So these are about 2 months old. I saw these pictures and about wanted to jump off a cliff so HOPEFULLY i've improved a little. but regardless, here they are. I'll post some from about 4 months ago first, then the more 'recent ones' and let me know if theres any improvemets. there doesnt really seem to be which is kind of getting to me:
Older:
Newer:
So, my release is horrible. I get it decent over one fence and it just falls apart in the next. ugh.
Also, I jump super ahead. When I try and sit and wait, I end up with this:
which is also just yucky.
Elbows need to come in and bend which I feel that I've corrected quite a bit, though I still slip up. They're at least not totally straight like they used to be.
Also, I have this terrible pornstar butt that I stick out everywhere I go...that doesnt seem to have improved. Ugh.
Critique and let me know some exercises to fix it?
Seriously losing confidence in this whole jumping nonsense.
I drive about an hour and a half each way to get to my lesson once a week (jumping) and then go out another day or two to do flat work. The only horse I have at home though is my barrel horse. Though, I'm trying to find some cheapo lessons closer.
Bleh.
*hides under a rock*
Yearling
Join Date: Aug 2010
Location: Gold Coast, Queensland, Australia
Posts: 926
• Horses:
3
Not really sure but I did a 6 bar to teach me to get the strides right which helps in to judge when to go in to 2 point to help the horse. Not sure if it will work or even if it makes sense :P But it seemed to help me. Set 6 show jumps in a line and i have 4 strides apart but work out your horses strides and then have a go. you get jumbled round heaps to start because you and the horse are trying to work it out and they try to put that half a stride in and ping over it, but once you get the rythm and help push there strides it realy helpd me.. Ill see if i have pics if you want?? :) good luck anyway
---
The Perfect Day-
Going to bed with a Dream
and waking up with a Purpose!
Pics would be great. I'm usually pretty good once I'm in a combination, its the first jump of the combo, or fences on their own I have a hard time with. Part of it is in my lessons we don't really work on striding (trying to correct) so I can't count the strides till take off...is that kind of the purpose of the exercise you were talking about?
For the striding problem have you tried counting outloud or working over ground rails on your own to work on your eye? Your position isn't bad, your back looks very stiff over the fences which may be why your having a hard time. Work on your two point on the flat as well, this way you have a feel of what your comfortable with and what is correct without worrying about fences. Hope this helps!
Well, this isn't really too bad actually. lol No need for cliff jumping today! There are a few things you need to work on, but that's what critiques are for!
So kudo's to you for wanting to correct yourself!
Okay, so to start out, I'm going to give you a more recent picture of myself, just to compare.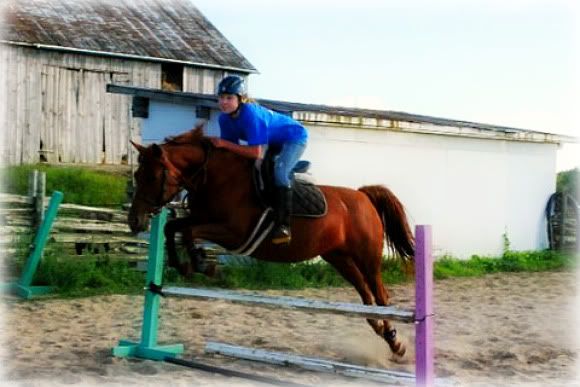 Okay, so in this picture, you can see my two-point is effective. My heel and hip are lined up, and I am giving a large enough release for this pony to round over the jump.
In your photo's, your heel is down but has slid back slightly from the girth. This is the result of you standing in your stirrups and 'jumping ahead'. To prevent jumping ahead, you need to have a strong base of support (your calves) to hold you in place, and you need to remember to keep your crotch over the seat of your saddle, rather than the pommel. By pushing your bum back over the saddle, you will be staying
with
your horse, and not jumping
for him.
For your release, I always suggest at least half-way up the horse's neck (or more). That way, you can give your horse his head enough to stretch down, round over the jump and bring his knees up. With my students, I like to tie a little piece of ribbon in the mane a little more than halfway up the neck. Just until they learn where to place their hands. It also prevents them from 'popping up' on the landing (where the rider leans back and hits the horses back, while tugging on the mouth on the landing). Hold onto the ribbon until two strides after the jump and stay in your two point, and then sit back down.
**FOR A PROPER CREST RELEASE** Line your forearms up along your horses crest,
DO NOT
drop your elbows. This is a common mistake seen a lot in the hunter ring. It is both NOT effective, and ugly. It doesn't help your horse one bit. They appear to be lying on the horse's neck. NO.
There should be at least a hand width between your belly button and their neck!
Also, for getting your strides right, I teach my students to count aloud three strides before the jump and then say 'UP' when the horse takes off. (ex. 'THREE TWO ONE. Up!"
It really helps!
Good luck :)
And I look forward to seeing 'update photo's'!
---
---
Last edited by x Branded Heart x; 09-09-2010 at

07:57 PM

.
Thank you!

I do a lot of two point on the flat along with stirrup less work and often get complimented on my lower leg. Then I go over a jump and I sort of tense up and then everything falls apart. =( Maybe it's partially nerves?

Would you suggest approaching the jumps/jumping a course in two point instead of sitting between jumps?

So push my butt out, more release...and gotta keep my back straight instead of making it dish inward. And count strides. Bases covered?

I'll see if I can get my instructor to take some pictures of me since I'm going to be doing the same for her :) Thanks!
I could be wrong because Hunter might be different to normal jumping, but shouldn't your stirrup leathers be perpendicular to the ground rather than your leg static on the girth? Because if that is the case, your lower leg looks fine to me :)
Yearling
Join Date: Aug 2010
Location: Gold Coast, Queensland, Australia
Posts: 926
• Horses:
3
um for pics they dont really help. The photographer only got the one jump, and its a 1 mtr 25 so im not sure if its a very good example. I also have trouble with putting my legs to far back, so cover your eyes on that one. but it might help you get the jist of what i mean.

Also im in a dressage saddle thats why it very off..
---
The Perfect Day-
Going to bed with a Dream
and waking up with a Purpose!
---
Last edited by JackofDiamonds; 09-09-2010 at

09:13 PM

.
Green Broke
Join Date: Aug 2010
Location: Southwestern Ontario, Canada
Posts: 3,324
• Horses: 0
DONT push your butt out! You will perch/pose then, and dont give a true release. If you close at your hip more, you will get the position Heart is talking about. Your leg has slightly slipped back in some of pictures.... Your hands need to come up the neck a bit further. Are you ridng hunter or jumper? If you are riding hunters, you shouldnt be completely sitting in the saddle the whole round anyways, but ride in a light seat/forward seat. I find that counting the strides between lines is very helpful to getting the correct striding and figureing out when I should be ready to give my release or whether I need to sit and wait still.