Position Critique Please!
---
Hey guys!
Lately I've been getting worried about my position, I'm starting to feel like all these things are off and I don't have the correct position. My trainer says everything looks good, but I'd like to get a second opinion from you guys, cause I truly don't feel it is.
I learned to ride in group lessons. We were taught well, but because of the multiple students there wasn't as much attention paid to little details and nuances.
I ride hunter/jumper.
I'd really appreciate your opinion, and if possible could you tell me ways to fix any problems that are there?
Critiques on jumping position and just overall form would be very helpful!!
I'm posting the most recent photos and videos, they're about 3 months old, well, here goes!!
https://www.youtube.com/watch?v=WH7s...sbQ&playnext=2
(Video One)
https://www.youtube.com/watch?v=lYof...hannel&list=UL
(Video Two)
And here are the pictures: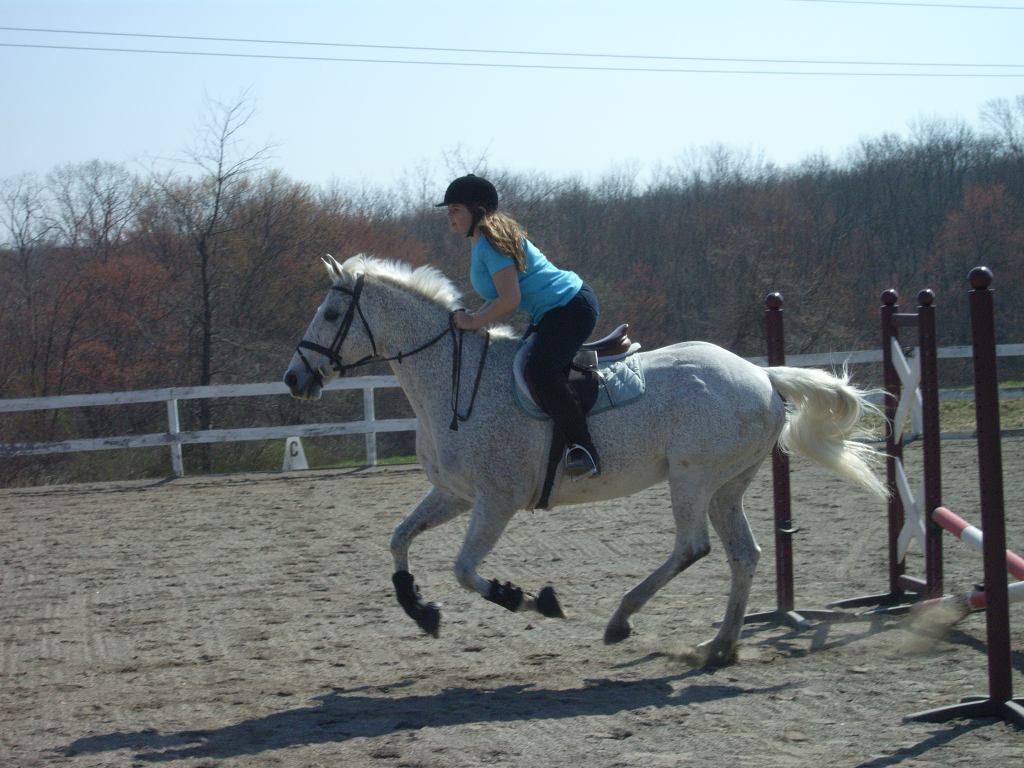 Looks to me like I'm pinching with my knee, which I do tend to do when I jump (I have a huge fear of jumping and get into a really bracing position)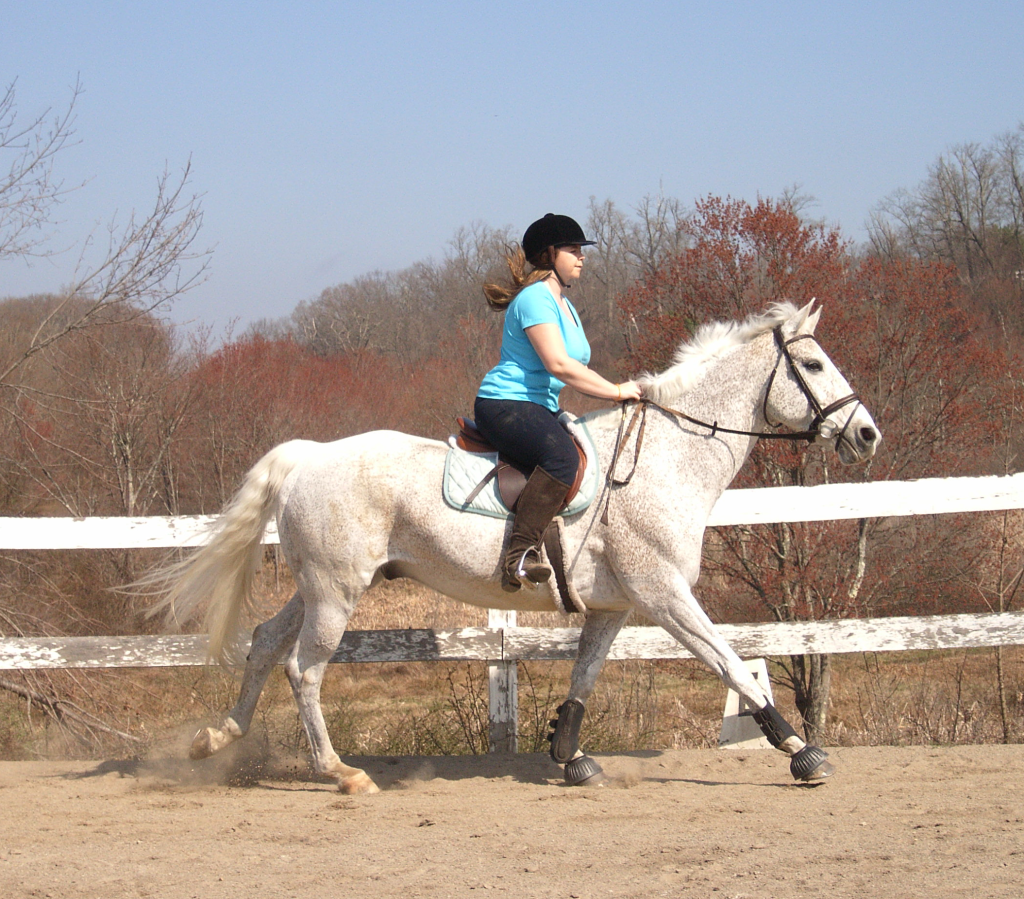 Took that one pretty long haha
So, I appreciate any (helpful) critique.
Hope I didn't stretch the board :/
look at every single picture of your horse....
His ears, his eyes, he's interested in you and he's interested in his job. I am in LOVE with his expression! And while i can tell that you're still a little weak, and your base of support isn't quite there yet, you're not doing anything that offends my eye.
---
Life seems mighty precious, when there's less of it to waste.
You look fine to me, your horse is so pretty!
---
"Life is not measured by the number of breaths we take but by the moments that take our breath away."
Thanks guys! I love him to death, and yeah, oxer, he loves his job and is quite a good listener!
I've been doing lots of no-stirrup work (on my OWN :O) to get stronger, any other suggestions? I've been conflicted on proper leg position. I've heard so many different things from everybody. Ear-hip-ankle line, ankle at girth, ankle behind girth, weight in the heels, grip with the calf, grip with the knee, grip with the seat, etc etc, and I just don't know which is correct anymore!
Yearling
Join Date: Sep 2012
Location: Central Western NSW, Australia
Posts: 1,120
• Horses:
4
I've been taught the ear-shoulder-hip-heel line. It seems to me like you could be leaning forward too much.
Apart from that, all I notice is that he's a gorgeous horse and that you look great together
Quote:
It seems to me like you could be leaning forward too much.
I agree with Tracer. you're a buxom young lass. so just be a little mindful of leaning forward. As you lean your weight forward, you being to make your horse heavier on the forehand. This will make it harder for the both of you to stay balanced.
---
Life seems mighty precious, when there's less of it to waste.
You can be seen to be leaning too far forward in the videos. when you lean forward, but your leg gets too far back and pinched at knee, then you creat a perfect pivot point to be launched from.
Sorry about your fingers. You were brave to get back on, and one CAN see how happy and trusting your horse is under you.
Here's what I see -
It looks like you're trying so hard to do everything correctly you are making yourself stiff and forgetting to FEEL and enjoy your lovely horse. I would like to see you relax, concentrate on your horse and do what feels right instead on trying to follow a lot off contraditory advice.
Now, I will tell you two specific things about your position and try to clarify some things for you. First, the lower leg - the ear shoulder hip heel alignment IS a good guideline, as is lower leg at the girth. To make this really simple, you want your stirrup leather to hang perpendicular to the ground. In your photos, you've pretty much got that, what you could improve is moving your stirrup out to the ball of your foot, with the outside branch ahead of the inside, and the outside branch almost touching your little toe. This will allow you to stretch into your heel a little more and be a little more flexible. Next, think about putting then grip more on the inside of your calf and less on the back of your calf. Changing the grip will elongate the leg and rotate your toes more forward.
Take a look at your photos and videos and really look at your shoulders and lower back. You ride with a pronounced hollow in your lower back, probably from being told to throw your shoulders back and trying too hard and overdoing it.
I speak with some authority here as I had the same habit for the same reasons and it took me a long time to overcome. Ideally, you want to bring your pelvis back underneath you (the hollow back tends to push your seat ones back)' relax the small of your back, and stretch up tall in an erect posture rather than forcing your shoulders back and hollowing your back.
I will post back later with some photos to illustrate what I'm talking about if you like.
But remember - you're doing a lot more right than you are wrong, and you're a happy rider on a happy horse. You're the kind of student I'd love to see come into my barn - capable and motivated, and with a few little tweaks, ready to advance!
[QUOTE=Tracer;1702782]I've been taught the ear-shoulder-hip-heel line. It seems to me like you could be leaning forward too much.
I agree, Your leaning too far forward, and your legs need to be more under you. If your horse were to spook/Buck, you would roll right over his shoulder.(trust me I am a Barrel racer with expirience in Bucks And or Spooks
)
Pick your hands up off his neck a little bit more, especially over jumps and at the canter.
Over the jumps, point your toes in and grip with your calf instead of you knee. Try to "relax" a little more. Not floppy all over, just not so tense. Don't arch your back as much. You could hold your two point a teeny bit longer, but other wise, you're all good!
---
I live to ride and I ride to live
Horses are just angels without wings
11/01/09 <3 my horse left hoof prints on my heart