Position O/F.
---
I think its getting better, what do you all think?
I know its not the best picture and sorry it's blurry.
Thanks for looking.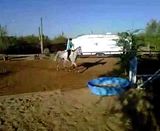 Here's a video, I know I hit the wrong lead and I need to help him through the bounce more.
In the pic your back is arched. Keep it straight :)
---
Barrel Racing Ain't For Sissies :)
Green Broke
Join Date: Apr 2009
Location: Queensland, Australia.
Posts: 4,488
• Horses:
1
You need a straighter back, your arching/curving :S and you need too push your heels down (they are like your seat belt.)
---
Sir Success. Eventer.
2000 - 2013,

It's hard to tell from the quality, but it almost looks like your stirrup is too long. It doesn't look like you weight's in your heel.

To me it looks like you're rocking/pumping your upper body in the canter. It's like you're over riding as I am really drawn to your upper body movement over the fences. What I'd like to see if I was your trainer is you lifting your hands... 3/4 of the time they are down on the withers. It will help support and lift your horse before the fence, and your shoulders won't be pointing down till you are in you 2point.
Thank you for the advice. :]