Possible Gypsy Vanner Purchase...
---
Hey Guys,
Well... I've gone and done it :p i've decided to shop for a Gypsy Vanner. But not just any Gypsy Vanner... one of Dennis Thompson's Vanners (the guy who imported the originals to the US and really established the breed in the States. Dennis is the owner of The Gypsy King, Latcho Drom, Cushti Bok, BB King, Caymus, etc).
I've narrowed it down to two Gypsies.. One is still intact, and the other is gelded. I had my heart set on a "The Roadsweeper" offspring, and the only ones currently available are colts. Now is the time to buy, seeing as the economy is down... and I am in a position to finally make this happen. I never thought i'd see the day I'd own one of these horses.
Anyways... I intend to train/test my Gypsy in all the lower levels of Dressage, and see where he can go from there. Overall, I just want a good quiet mount good for trail riding and work in Flat classes (English).
Please let me know what you think about them, and how they compare to other Gypsies, etc.
Meet Oz: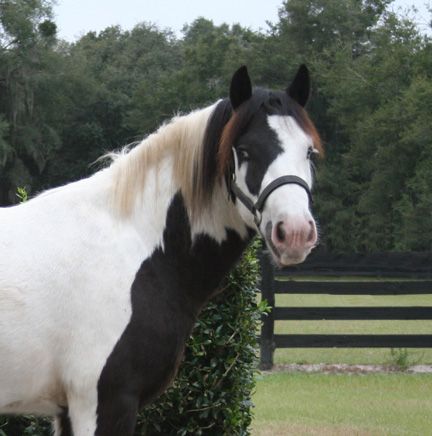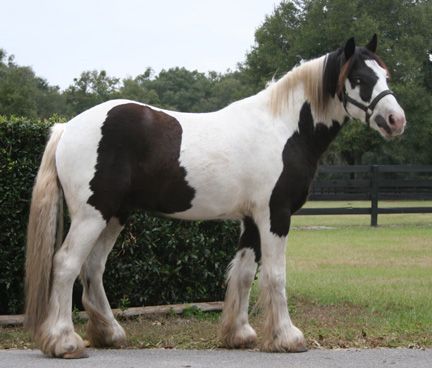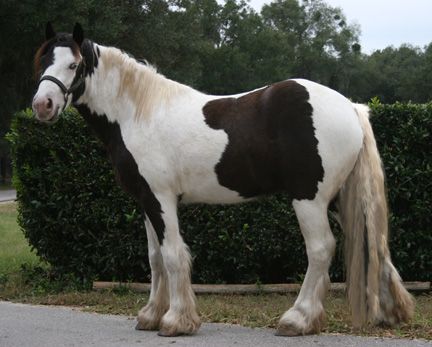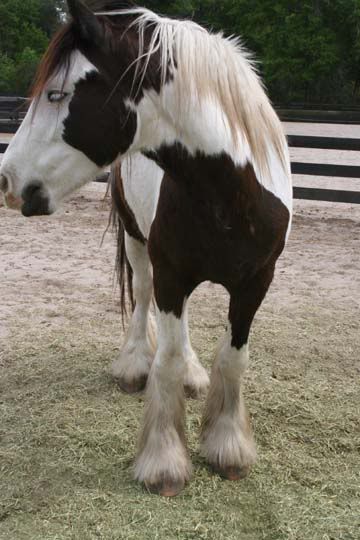 Born in 2006. I think he is around 15.0 hh. Gelding. Lovely in color, i believe he has blue eyes. I feel he has a good build... he just needs some serious grooming. He just went out today and took the chest picture for me =)
Sire: The Roadsweeper (US) ((The Lion King x Blossom's Filly))
Dam: Candy Queen ((Out of The Producer x ??? [i think thats him in the bottom right part of the picture!]))
Meet Roadster: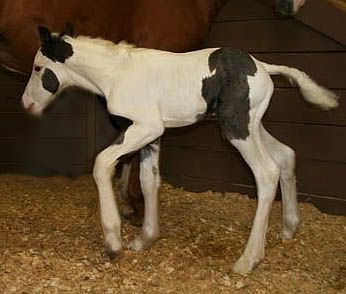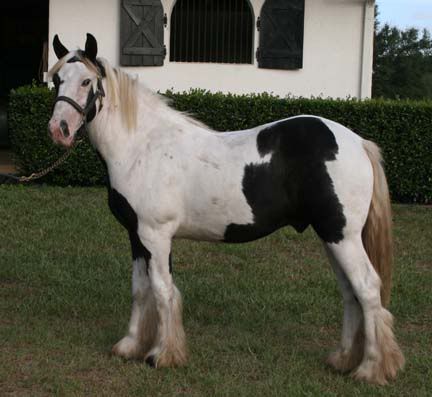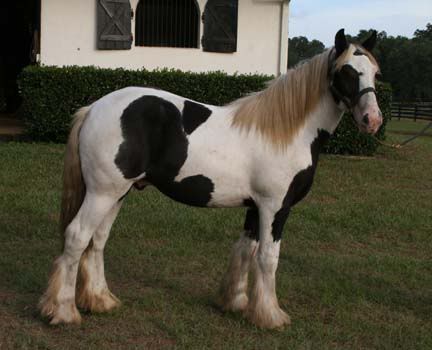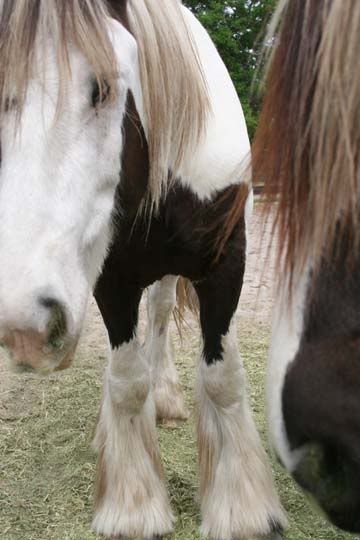 The Roadsweeper's only foal for 2007. After talking to Dennis, he was unsure of his current height, but said he would be taller than Oz. He is still intact. I am in love with his breeding, but as for overall "appearance" i think i like Oz better. I would keep Roadster intact if I purchased him. Dennis had expressed interest in hosting him for stud later down the line if I was interested. As with Oz, he took the picture of Roadie's chest today because i asked :p
Sire: The Roadsweeper (US) ((The Lion King x Blossom's Filly))
Dam: Kaulo Ratti ((The Gypsy King x Mary [full sister to Dolly, the first imported Vanner]))
Let me know what you think, honest constructive critique please! Not just silly "I don't like Vanners" or "You're so silly to pay that kind of money for a Vanner". It's my dream :p so don't rain on it ;D
I look forward to your critique!
---
Last edited by Skippy!; 03-26-2009 at

05:58 PM

. Reason: Had to fix the pictures :p They didn't direct link
Give me a minute to edit the post to fix the pictures :p
I agree, I like Oz's looks better :] He looks as though his mane may have been chewed though, lol. Once that grows out he will be a stunner. I love the black patch on his face. To me he looks a bit better proportioned than roadster, more consistently 'thick' if you know what I mean. Roadster also looks to have a very short back, although it may just be the pictures. I love Oz's blue eyes as well!

Boy am I jealous of you :p
---
My vote is Oz
---
Cale Crane: You are a great champion. When you ran, the ground shook, the sky opened and mere mortals parted. Parted the way to victory, where you'll meet me in the winner's circle, where I'll put a blanket of flowers on your back.
I have a feeling that since Oz was gelded, he was put in a pasture with a few of the other sale horses, hence the dirty feathers :p

Immediately after posting this thread I looked through the pictures of the two horses side by side and came to like Oz even more. I wish he was a mare ;; And i see what you mean about Roadie's back.. it does look shortish. He was a "long yearling" in those pictures. I forget how old Oz is in his pictures =)

Thanks for the reply! I can't believe i've actually gotten to a point in my life where i can actually buy a horse like this o.o!
I just visited the site... Some of those colts... *wipes drool off the keyboard...*
---
Looking again, I do really like Oz. There's something about the way his head and neck join that makes him look really cheeky and full of personality... lol. It is a shame he isn't a mare, although the rpices of the mares for sale are amazing! Although they are amazing horses, and I have no doubt you could make that money back in breeding.
---
I really like Oz.. he is gorgeous!
Dennis has a mare for sale, Chakra. I met her as she was coming in to his place =) I've visited him before and met the horses. I hauled buns to go see The Roadsweeper <3 Bill (Gypsy King) was out in turn out being majestic, lol!

Thats my biggest bit of heartache at the moment... Since Oz is a gelding, i cannot breed =/ (and yeahyeahyeah i know we are already over populated with horses, yadda yadda) I just got an e-mail back from Dennis saying he is only 14.0 hh, so regrettably, I may have to pass on him ;___________________________________;

I need to make sure i put my money into the right Gypsy. I was also interested in a colt named "Walt" but he is out of Caymus and Dolly (Caymus is impeccably bred, as is Dolly) but I really wanted a Roadsweeper baby. Walt was also born on my birthday, LOL! I might further inquire about him.

I may put some pictures of Walt up too, to see what you guys think.

Thanks again for the input :)
My favourite of the cols was Prince William. Boy is he a looker. But yeah Walt is also a stunner :]

Why do you specifically want a roadsweeper baby? He is the shorter of their stallions, so you would be looking at a shorter horse depending on the mare. What height are you looking for?
---