Possible horse
---
I was wondering if people could give me some advice on this horse. He is a 6y/o Standardbred. He has been off the track for two years, and for that time he has been just pretty much left in the back paddock of his breeder/trainer/owner. He's been checked, had feet done etc. but otherwise left alone.

I'd be getting him through this organisation that re-homes STBs. I would receive him on a one year lease and if I liked him after that year I can keep him for free, if not I can return him during the lease.

He looks in paddock condition - which is what he is. He doesn't have any muscle tone and has not been broken to saddle. Obviously I'd feed him up, rug him etc. but what do you think? Sometimes I think his back legs are too much under him but other times he seems to stand straight. My mother says while some of the pictures make his hindquarters seem high, they are not really higher than the wither. Looking at him I think he'd need lots of muscle work, especially with the neck, extra feeding, rugging etc. I have not seen him, my mother went to look at him and these are her pictures. If I like him I'll get him trucked up.

My mother liked him very much because he had a wonderful temperament. The owner gets no money for this horse - he has no reason to lie, and he says he's calm and quiet, just too slow for the track, he retired sound. Temperament is really, really important to me.
%
---
Last edited by Saskia; 09-19-2010 at

03:01 AM

.
One more pic.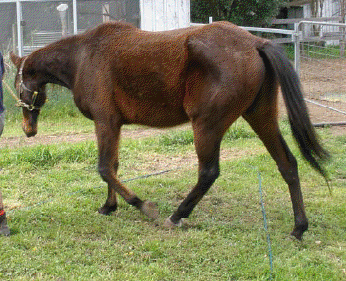 I have rescued two standardbred's in the past, and they are wonderful great horses. He is really under weight, and I am surprised that he has been with a re-home organization, that is not a condition of a well taken care of horse. If the vet check is good I say go for it, you wont find another breed with such even tempers. Good luck, hope you give him a good home
---
Cowgirl Up and Git R Dun
The organisation is just a volunteer link up system. You send them your details of what you want (ie. height and age) and they put you in touch with trainers who would rather donate their horses than other options. The owners keep the horses until a home is found, but once rehomed the horse becomes property of the organisation. I am having photo issues - here are some I tried to put up but that don't appear to be working - sorry if I double up.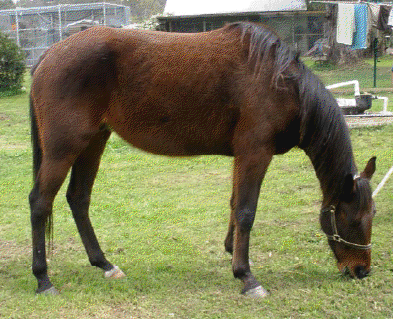 So skinny! Standbreds are great horses so rescue this guy and put some meat on those bones!
I'm more concerned about his hindquarters and back legs. Sure he needs to put condition and muscle on, and I figure that will fill in his neck and back, but his hind legs seem to come under a lot (is it called sickle hocked?). Do they, or am I just reading into it too much?

I will be breaking him to saddle and using him as an allrounder and he does need to be sound for that. I understand that he is skinny, but I am not a horse rehabilitation centre. I can only afford one horse, and the agistment fees are pretty expensive, so I don't want to but months of work and lots of money into a horse that isn't likely to be sound or be suitable for what I want it to do.

I am just not experienced in conformation - I've done riding and horse care and some training but I just never have learned, or needed to learn, about conformation. So someone who can advise me regarding this would be wonderful.

Thank you for all the responses so far :)
Wow. I would pass. That whole back end is a problem. Definitely under weight which could be fixed, but I'm not sure about the other. He is just not a well put together horse.
---
Unless it weighs a ton... it's just a horse.
Draft horse motto.
I don't know why, but I like him. The back end looks odd, but I would just wait and see what the vet has to say. Good luck!
Well you could certainly take him on, get him fed up and do some work with him, and always send him back if he doesn't work out. I'm not a fan of his hinder, but it's not 'terrible' compared to some horses I've seen and they were still useable for pleasure riding.
---
"The ideal horseman has the courage of a lion, the patience of a saint, and the hands of a woman..."
I've decided not to get him.

While he is a free horse, it will end up costing me around $400 to truck him up. I don't want to put the time and money into feeding him up, agistment, training and starting him to find out that he can't really stand up to work, or anything beyond casual trails.

I grow very attached to horses, and it would be heartbreaking to have to give back a horse that I'd put all the work into. The horse I get I really want to offer at least a semi-long term home. The best chance of that is to get something that looks like it has the potential to be okay. I'm a uni student so I can't just be throwing money around.

To do what I want to do I need a horse that is able to do a basic level everything - some collection, jump 1m, short endurance rides etc.

The organisation has a fair few people on their books (I believe) so I am sure that someone who just wants a weekend pleasure mount will be happy with him. I'll just wait until a more suitable horse comes along. There are always more Standardbreds needing good homes, and I'd prefer to wait for one that suits me and that I can offer a good, solid home.

Thank you for all the advice though. I get so nervous picking horses but I think in the end I have to find all the information available, then go for gut instinct, and while I liked this horse, my gut instinct was no.