Possible Trade.
---
Here's the scoop. I got my Colt about two months ago. I love him to pieces, and he is a great little guy. He is going to make a fabulous horse.
However, I don't think he is going to get very big at all. I was hoping he'd be in the 15h range since his Sire is pretty big, but I started talking to the owner of his champion sire and she said from looking at the pictures, he doesn't look like he's going to get bigger than 14h, around the same height as his mother.
Another thing is, he will be a yearling in June. I want to do Eventing with him, but that is going to be a good solid three years before I can even contemplate doing it. Granted, I know there is a lot of training before then. I realize this, he isn't the first baby I've worked with.
A friend of my Trainers has a 17h Clydesdale X Thoroughbred cross, said he is absolutely gorgeous, but only 4 years old. A trade might be possible, with some money on top from my end.
My colt comes from good lines, and he's already showing what a good natured boy he is.
Here are pictures of my colt. Please tell me what you think. I have not gone to look at the gelding yet, we are going this week. Obviously, if he isn't all he's made out to be then there will be no trade.
But if I do like him, I feel very awful for turning my colt over so fast to someone else. I want to make sure he goes to a good home, because he really is a very nice little boy. I just am not sure I want to keep spending $250 a month for three years until I can actually do what I'd like with him. If I had my own land, it would be different, I would keep him for sure.
And please don't tell me I should have thought about this before. I did. I put a lot of thought into this little man. But I essentially got him for free, and I was saving him from the environment he had been in. He was skinny and WAY underfed when I brought him home. I have heard stories of where he came from, but I don't want to share for privacy issues. He needed a good home, and I felt compelled to save him because he IS going
to make a nice horse one day. He shouldn't have to sit and rot in a barn.
If I can't trade him, then I will keep him. I've already put a lot of work into him. Its not that I'm trying to get rid of him. I enjoy him very much. But if I can and I know he's going to go to a good home, then I will let him go.
Thank you.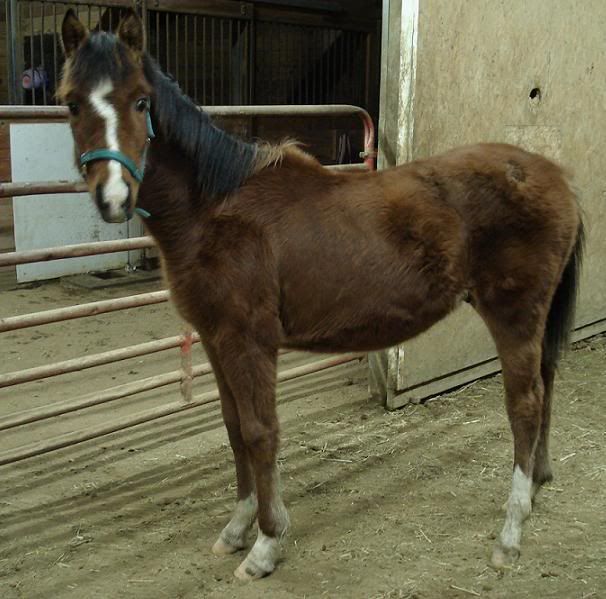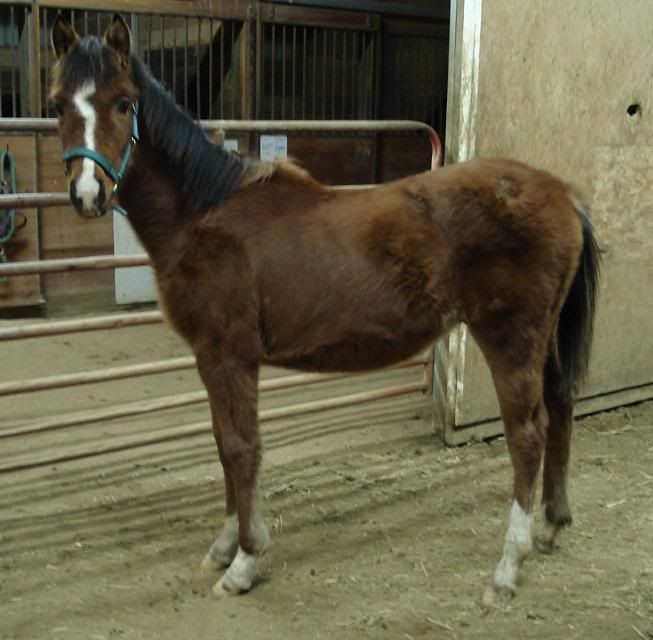 I know its hard to judge babies, but please tell me what stands out to you.
How tall do you estimate him to be? When this picture was taken he was 9 months old, going on 10 months.
Now, here is a comparison. The first two pics is him now. The second one is the day I brought him home.
I think he looks much healthier and happier. You can't feel his ribs anymore, either. He is finally starting to get a belly.
Now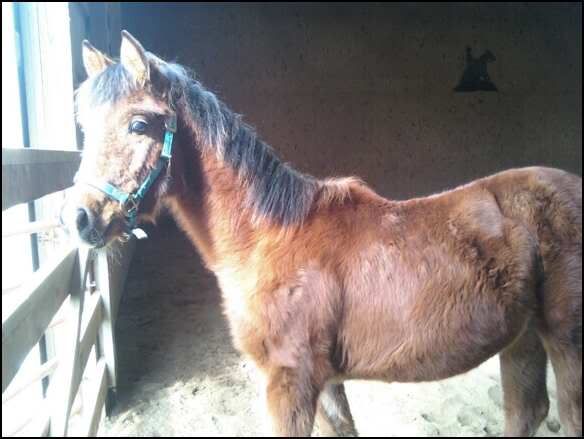 Then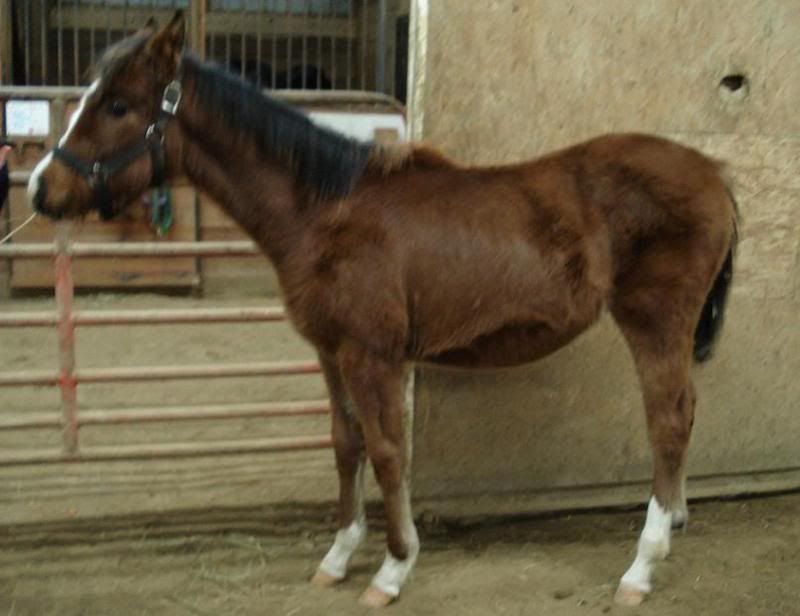 THANK YOU!
If I owned the clyde/TB I would not trade for the colt. That wouldn't be a good trade at all - not for the people with the clyde at anyway. I couldn't even begin to critique the colt. He's just not well put together at all. Maybe he will grow out of some of but I'd be hard pressed that anyone would do a trade for him. Good luck though.
He doesn't look like he's going to be very big at all. Take a peak at my Starshine, she is about the same age as your boy and she is MUCH bigger.
Banned
Join Date: Jul 2008
Location: Oklahoma where the wind comes sweeping down the plains...
Posts: 752
• Horses:
9
He's kinda built bad. Sorry, maybe he would've grown better minus the abuse, but right now he's not looking to be worht much. I don't think he'd bloom well under saddle for sport, but that's just me. Do whatever you want. Here's my critique:
He is wayyy butt high, and I'm thinking he will still be even as he grows. He already has a swayed back, his shoulder is straight, he hocks in, and he is high-flanked.
Sorry, he's just not that great. But I totally understand how you could love/care for him anyway. A cutie, nonetheless
To critique we need to look through an awkward age, winter woolies, and poor condition. None of these are easy to do one their own, let alone all together. So don't be surprised that you will get negatives, and try not to let it get you down.

I want to start off by saying good on you for getting him out a bad situation and bringing him along. The improvement isn't to the "wow" point yet, but it's there. It takes a time to bring back any horse, and a baby is hard because they put resources to growing as well. I wouldn't feel bad about passing him on so soon, as you still did him a service - provided that you trust the home he is going to is a good one that understands he needs a little extra right now.

As for his height, have you tried the "string test"? Depending how bad his situation was, it may have slowed his growth...in some cases it's permanent, though in others you can see some compensatory growth..... In any case, he does look to be pretty tiny.

For conformation, a couple of things I see that won't likely change much as he matures...I think his shoulder is decent with an open angle between shoulder blade and humerus, and a long humerus. However his back is a bit long and hindquarter is short. Not sure I like the hind legs, but those angles can change a bit as he grows. In the first two pics his front feet look kind of wonky...not sure if it is the picture or something you are already addressing.
Started
Join Date: Mar 2009
Location: Middle-of-Nowhere, Illinois
Posts: 2,225
• Horses:
1
He looks like he's going through that fugly stage that most young horses go through. He might grow out of some of it, but you really can't be sure of what you're getting at this age.

Overlooking the fuzzy coat and young age, he still doesn't look that well put together. I don't think it would be a good trade on the Clyde owner's part.
We really need to see some pics of this Clyde/TB cross!
Similar Threads
Thread
Thread Starter
Forum
Replies
Last Post
Would you trade?

reining girl

Horse Riding Critique

51

03-16-2009

09:39 PM

Trade for lessons

free_sprtd

Horse Riding

6

12-25-2008

05:19 PM

Trade?

Gingerrrrr

Tack and Equipment Classifieds

16

11-04-2008

10:15 PM

Trade Offer

farmpony84

Horse Riding Critique

11

08-11-2008

12:20 PM