Possibly Buy, Would Like Critigue
---
This is a 2 yr old QH Filly.
Here are her parents pedigrees:
Sire:
Say Peppy Please Quarter Horse
Dam:
Bee a Royal Star Quarter Horse
I am just looking for a nice trail horse, that can run barrels once in awhile, so she doesn't have to be perfect just want to make sure she doesn't have any really bad flaws. I know they aren't the best pictures, I will take some more when I go look at her, I just want to make sure she is worth driving 2.5 hrs to look at.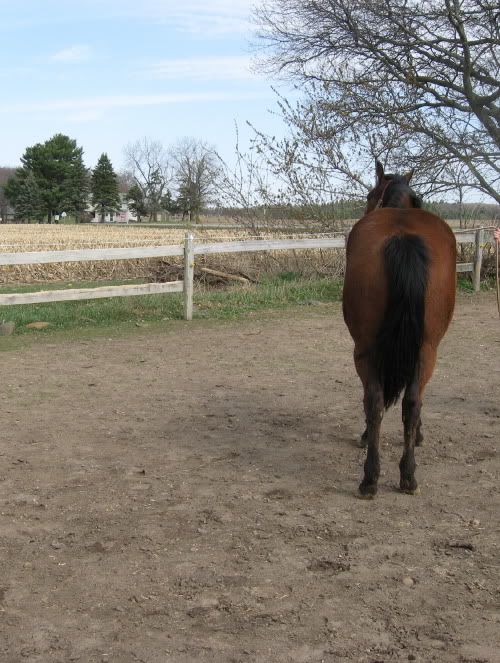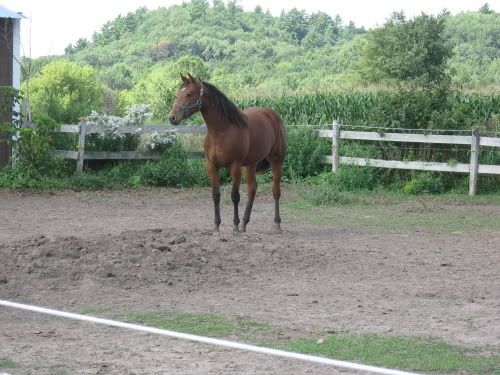 Thanks!!
I'm not good at conformation but nothing really jumps out at me off hand. Her hooves look like they could use a trim. She looks pretty relaxed when he's holding her so no big concerns there. She's definetly a pretty girl!
She certainly is pretty. It's going to be awhile before she can run barrels and do long trail rides.... Maybe go for something a little older?
I not looking to do it for a couple years, I like to get them young and start them very slow. Like this year all I would do is ground work and ground drive. Next year light trails, and by 4 I would start her slow on barrels. I only go 4-5 times a year, and I do them for fun. I dont push them.

So that isnt a concern of mine. I want something not broke, as I dont want any bad habits or vices.
Ist of all it is nice to see that they take good care of there horses so that is a good sign. The only thing I noticed is the picture from behind she toes out alot in the rear but she doesn't look cow hocked. So the flare out seems to start at the lower part of her leg, that seems worth asking a vet about maybe before you travel to look.
I really like her. She's solid and a good bone for trails and barrels, no stick legs and narrow base for this girl! It's hard to pick apart her confo from those pics we would need a side shot but I don't see any reason from these pics why you would really need to post one. You're not looking for the next Olympian and she seems well made. Her only flaw is she's a little butt high but for a Qh that's not uncommon and won't really hurt her for trails and light barrel racing. And she's only 2, she could even out in the next 2 years or so. If the price is right and your personalities click I would not hesitate to get her. She seems sweet and I am a sucker for bay mares =)
Then I'd go for it. She is nice looking : ) Reminds me of the horse I just sold, Piper.
They are asking $1000 or best offer.
For $1000 I would snatch her up!
Okay! Thanks!! I really apperciate it!