Potential candidate for first horse...
---
Please tell me ANYTHING that comes to mind when you look at this gelding. He is 12 years old and 15 hh.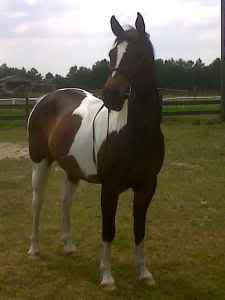 I cant help with conformation or anything, but I LOVE his color/marking. Hopefully someone else can give you some better insight, but i do know a picture squared up and from the side would be easier for others to give you critique
Need a better photo. Looks solidly built with adequate legs and FAT, but that is all I can see.
beautiful horse! he looks a bit out of shape, but with some riding, and training, he can get back into shape. looks to have nice legs, cant really tell on conformation. nice neck, small head, good conformation, from what i can see.
He appears bright and engaged in his environment. I like him!
Looks very alert, pretty head, legs look straight, might be a bit cow hocked (but it could be the pic) he's a wee chunky monkey lol nothing some training can't fix and a proper diet =)
Started
Join Date: Mar 2009
Location: Middle-of-Nowhere, Illinois
Posts: 2,225
• Horses:
1
He is super cute.
He looks real solid, and I like his calm, alert expression.
---
"A musician must make music, an artist must paint, a poet must write, if he is ultimately to be at peace with himself.
What a man can be, he must be." Abraham Maslow, 1968

I really like him too. It looks like he has good sturdy legs, he's at a good weight, he seems to have a good temperament also. If he's what you want I don't see anything wrong with him.
Oooooooo I love!!! His confirmation looks great from what I can tell at that angle and I like him a bit chunky lol once it turns into muscle he'll be quite the looker! Love the way he holds himself and his expression and of course I'm a bit partial to his markings