Prospect?
---
Hey, I'm new here, just posted in the Introductions board... anyway.
I'm currently looking for a horse. It's exciting, ha ha. But I really wanted a second opinion of a gelding I'm looking at. He seems to be everything I am looking for but I'm still developing my eye for conformation and would like to know if you guys see any major flaws?
He *is* a bit downhill in these pictures but these were taken when he was three and hopefully he'll have evened out a bit more now. I'm corresponding with his owner about him and will ask for more recent pictures of him. I believe she has a video too.The horse's name is Aubrey and he's a 4 year old Thoroughbred. He has been in professional training since September 2007, is jumping small courses, and has his lead changes. (I'm thinking simple, not flying.)
Here are the pictures...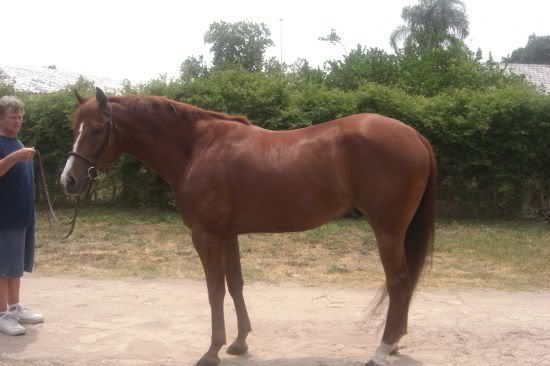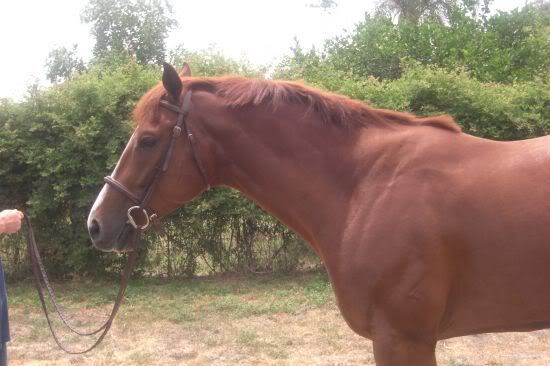 What do you guys think?
---
I give myself very good advice, But I very seldom follow it
He has a very straight shoulder. He's pretty though, some recent pics would help.
Ah, wow, I didn't even see that until you said something... blinded by love, ha ha. Would than affect his ability to perform much? I'm not into big shows or anything but would really like to start jumping again and maybe compete a little bit.

And, I'm asking for more recent pictures now... just waiting for a reply from his owner.
:]
---
I give myself very good advice, But I very seldom follow it
I'd want a better shoulder for jumping...front legs needs to come up. A straight shoulder also tends to produce a short choppy stride. My eventer does not have a great shoulder, but he was tall so it compensated. He's 17h.
Excuse his hooves, he hadn't been trimmed in a while.
for some reason he doesnt look like full tb but it might just be me.
I thought so too when I first saw him, but they say he is... he's definitley a lot stockier than TBs usually are. Or at least the ones that I've worked with/seen. That reminds me, I need to ask more about papers and stuff also.
---
I give myself very good advice, But I very seldom follow it
Sickle hocked a bit..
---
"Doing what you like is freedom, liking what you do is happiness."
He is quite a bit downhill but he is still young. I wouldn't mind seeing how he goes under saddle when you get some videos.
He's standing under himself quite a bit in the first picture. He looks sickle-hocked, he has a short neck that's slightly thick through the throat latch and runs fairly smoothly into nice withers. His neck ties in strangely to his shoulders, which are much straighter than I would like. His head is coarse and a tad large, though not unnapealing with a lovely soft eye. He looks off-balance. He has a short back, nice hip, nice depth through the girth, long feet, slightly upright pasterns, and looks very downhill.

I would have never guessed he was a full TB; he looks more like a QH or QH cross.
---
I give myself very good advice, But I very seldom follow it