Really interested in buying this reining prospect!!!!!What do you think???
---
She is 4 years old and 15 hands. Not broke, but I have expierience breaking a horse and have no problem doing it again. I actually prefer it because then I only have to fix my own mistakes not other peoples and I can also train her my own way. Ill also probably put her into some reining training in the future.
They are taking offers on her and some of there foals because there pasture is too full and might have to take some to the auctions if not sold in a few months.
Her bloodlines can be seen here:
Smokin Delta Lena Paint
They had her priced at 1000 but are taking offers. What should I offer for her?
Also any critiques welcome. Pics arent super great for critiuqing.
AND HERE SHE IS: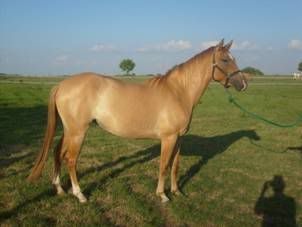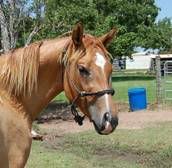 I notice she needs more muscle tone but if there is anything else please let me know.
Thanks
---
Last edited by shermanismybaby3006; 04-16-2009 at

09:33 PM

.
I don't like her hind end very much and she seems a tad light boned. Definitely not worth $1000. I thinks she is adorable though. I love her face and coloring.
She is a pretty color but there is just something about her that throws me off. She is VERY butt high and her legs seem too small for her body size. She also stands very under herself. Her croup is very steep as is her shoulder, plus her neck ties in pretty high. Her bloodlines are okay but I see nothing spectacular within the last couple of generations. I don't know how smooth she would ride but it is worth a shot if you can get the price talked down. $1000 is too much IMO. I would start with an offer of 400 to 500 and go from there.
---
Always remember that feeling of looking at a big, open country over the ears of a good horse, seeing a new trail unwind ahead of you, and that ever-spectacular view from the top of the ridge!!! Follow my training blog:
http://robertsontraining.blogspot.com/
Like Smrobs said, she's built downhill, her neck ties in way too high, and she doesn't seem to have much of a chest. It could be the pictures, but it looks like her neck just goes straight into her legs. Her coloring is beautiful, but her conformation's not good at all. If you do buy her, I wouldn't ever breed her.
---
I've spent most of my life riding horses. The rest I've just wasted.
Bloodlines are not outstanding up close - but you don't ride the papers.

I think she needs muscle and definition. She looks out of sync as she is maturing with no condition to her.

Offer less and see what happens!
ok thanks everyone!
I will offer less and also shop around some more to see if I find anything better.