Retraining my equitation
---
I ride a very hot OTTB and I've been having to retrain myself to ride with proper eq because of how horrible my leg had gotten from making sure I didn't bump him. I won't be riding him this coming season (as of right now) so I've been trying to rid myself of some habits.
I've been working on it on a super sweet Perch/TB cross.
How is it looking? I'm mostly focusing on my leg and this horse isn't exactly the prettiest mover but he helps me to just focus on my riding.
Don't mind the muddiness, our catchpen becomes a pit and there isn't anything we can do about it - also don't critique the horse! He's not a great mover and I really have no way to get him into a nice frame or anything. He's a jumper - not a flat horse lol
And I know my hands are messed up in both :/ I need better contact and need to carry them a bit better. It was weird to transition from the hot OTTB to this basically dead-to-leg horse.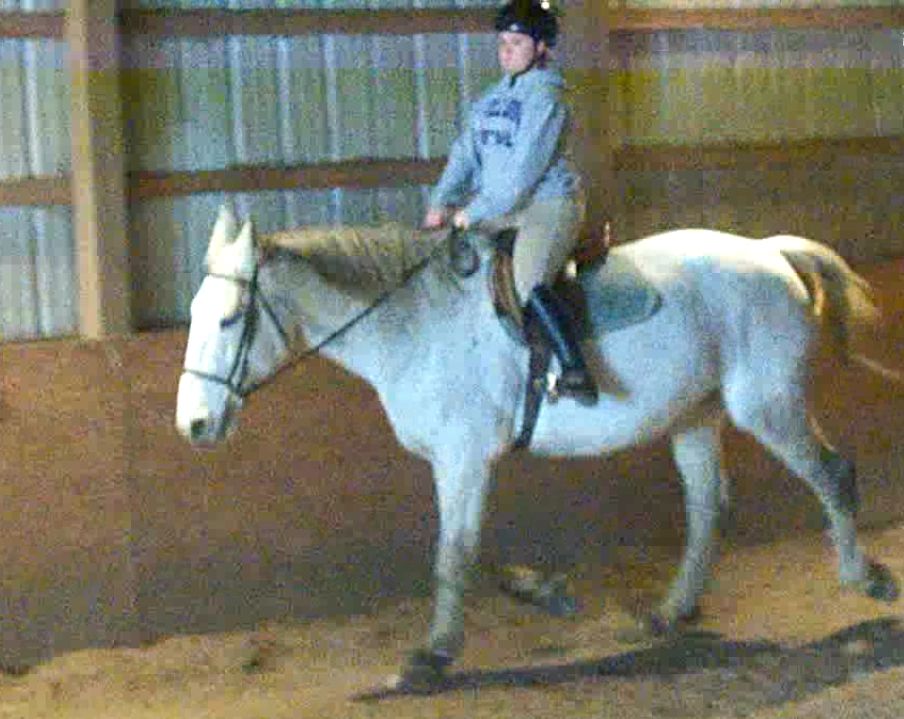 I think you are focusing too much on one thing. Your shoulders are so tight, your arms aren't soft and bending.. you are jamming your heel down. I think you should just ride effectively and stop worrying about being perfect because it's really not helping you out.
---
"Strength is the ability to use a muscle without tension"

Your center of balance is up over your ideal at the point of hip, causing your leg to swing backwards. Your heel is jammed down and your whole body looks quite rigid. Id like to see more bend in the elbows and a straighter line from shoulder to hip to ankle (right now it's at a slant)

Just relax. Sit deep in your seat and see what happens. Then quietly pick up your stirrups with your toes and try to stay in a neutral position

I think the better thing to be working on though is getting the TB where you're able to keep leg on her without her being reactive. From the pics you've provided it looks like you might go so far as to hold your leg off the horse- fixing that training hole should be your first order of business.

Good luck!
---
We are not human beings having a spiritual experience. We are spiritual beings having a human experience. -Pierre Teilhard de Chardin
You look very tense and very set, if you relaxed your back a bit you would come off much more comfortable. Your heel doesn't look natural at all. I get that the equitation thing with the heels needing to be down, but you first relax your ankle then allow your heel to relax down, forcing it down isn't helping anything but making you tense your entire body. Overall you need to relax your body and leg and collect your reins a little more. You also seem to tilt forward and point your thumbs towards each other.
Other posters really nailed it...your leg is swinging back, and you look tense. If you're riding a dead quiet horse, you may want to try a ton of no-stirrup work. Also, getting someone to lunge you while you're on him, and letting go of the reins so you can ride with your arms in a T would really help. If he's lazy, have them hold a lunge whip.
---
Riders aren't 16 and pregnant. Riders are 16 and arthritic.
Similar Threads
Thread
Thread Starter
Forum
Replies
Last Post
Retraining?

countryboy92

Horse Training

10

01-28-2013

11:02 PM

Retraining an OTTB

NicoleLynn

Horse Training

2

11-13-2012

11:17 AM

Retraining

tempest

Horse Training

10

10-13-2010

02:21 PM

Retraining ottb

hiwaythreetwenty

Horse Training

35

10-10-2009

01:15 AM

Retraining Red

Lonestar22

Horse Training

15

10-01-2009

11:10 PM