Rexy's turn!
---
Rex (aka How Clever) is my 15 y/o grey thoroughbred gelding. He has been a pasture puff for the last 6 months so is definitely lacking in muscle!
I suspect he has had some basic dressage training which I would like to continue with him now that I am bringing him back in to work. I am not expecting too much from him as he fractured his pelvis when he was younger which I assume will make it more difficult to properly round up.
I am only just learning about conformation so would love to know everything you see. I do apologise for the not so great photo, it wasn't until I uploaded it that I realised it wasn't the best!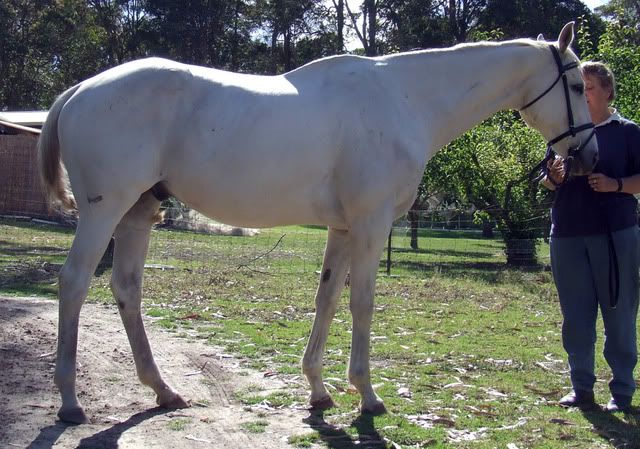 ---
Flirt-Hugo-Phoenix-Romance-Fanta-Nippa-Shiloh

Trojan 09.11.02 - 26.10.10 // Kody 01.09.89-25.06.12 // Rex 05.11.95-21.12.12

Nice horse
ok to the critique. Hh seems to have a high wither and his neack is a bit low-set. jis back is a little short and he has long front pasterns and a sloping croup. hmmm and the last thing, his back legs could have a little bit more bend in them.
He is a pretty horse and good luck with your dressage
---
Cross Country- The act of hurling yourself and your equine partner at a stationary object with poise and grace while attempting to survive...

I love your boy, :)

First off, he looks well balanced. He also seems to have a fairly wide chest which is good. His forlegs and hind end seem straight, almost too staright. As Pinto Tess said, a little more angle and bend in the back legs would be good. His withers are rather high but his back is short and strong. He could also use alot more muscling.

Anyways, good luck with your dressage training!
---
I Ride. I Win. I kick butt, like a girl! So get over it!