ridding critiqe
---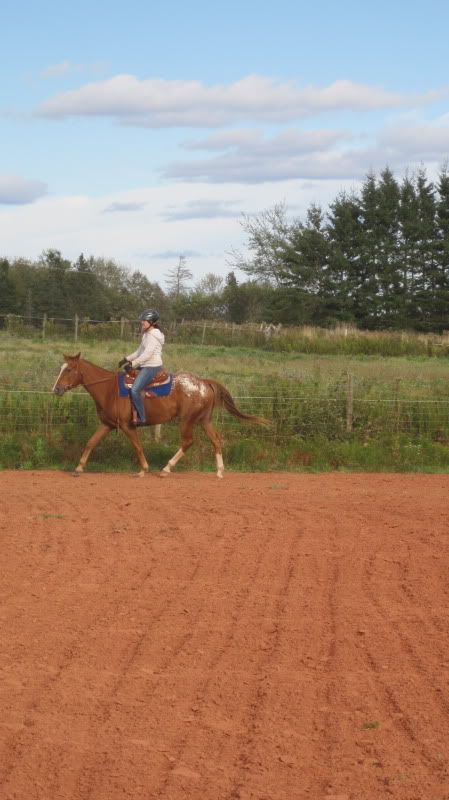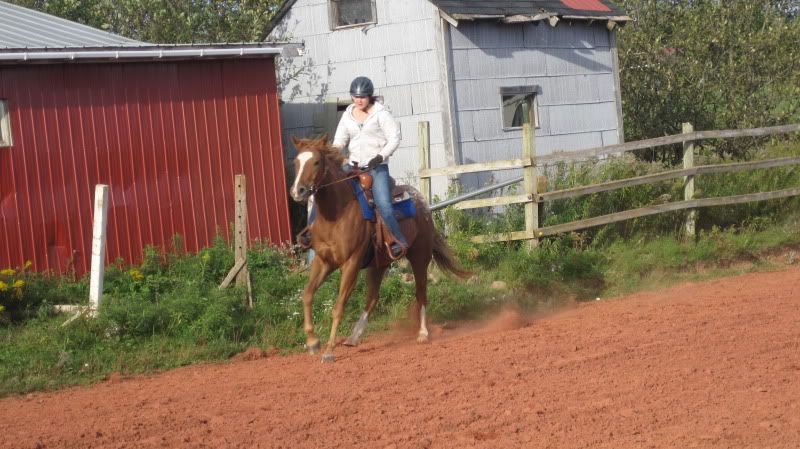 Tuck back those shoulders! I like to see riding with a loose rein, just bring your shoulders back a bit. You got plenty of rein there, no excuses ;)
I would also check your stirrups to make sure that there not too long, your heels should be down with your toes straight (otherwise, you may give the horse mixed signals).
Squeeze, squeeze, squeeze and try to keep those lower legs steady. Especially when going at a trot or canter. You'll feel more balanced. When in a canter, try to squeeze with your legs and lift up your seat so you only have light contact. Don't tilt backwards, you'll unbalance yourself. You want to be forward and moving with the horse with your legs and seat.
Are you asking for a whoa in the last picture? If so, then your hands should be lower. Good practice is to try and keep your hands at the bottom of the swell. If your guy has problems with whoa'ing, I would definitely start training with the one-rein stop. My mare could be a real hard head when it came to the whoa on occasion, a couple of one reiners encouraged her to be softer and listen to my vocal and seat cues.
Otherwise, really looking good. That horse is just too cute for his own good
---
Wait! I'll fix it....
same old stuff
---
Hi,

It 's the same old stuff we are always working on, and always will be;

you need to relax at the hips enough to better allow your hips and lower body to move WITH the horse. the last photo looks like you are coming out of the saddle at the canter and that says to me that your are too stiff in the waist and hips to give your lower body to the horse's motion.

Even though it's western you still need to keep your elbows in and your hands thumbs up (the two are linked and doing one helps the other).

I think the stirrup length is good and your leg placement is good. You are looking up and balanced side to side. feet look ok.

Over time you will get better at taking a bit of contact up for a bit to have that horse soften at the poll. Just focus on letting your pelvis/waist go with that horse' motion, but don't slouch. Loose doesn't mean droopy.
Sorry I don't know much about western
---
A good rider can hear his horse speak to him, a great rider can hear his horse whisper, but a bad rider won't hear his horse even if it screams at him. Millie and Archie my two beautilful ponies.
thanks guys, I notice that when loping I tend to bring my elbows out, Only recently have we been working alot on loping, as he wasn't quite ready for it before so its taking some time to get a good seat again in a western saddle, and to keep my legs sound.

Im not asking for a woah in the last picture lol. I haven't asked for a woah at the lope yet, but he does well at walk and trot so far.
You'll get more comfy at the lope in time. One thing to help keep your elbows at your side;
The canter is like a wave. If you are stiff in the hips, the wave comes up through your body and out your elbow, causing the old "chicken" flap. Think of the wave as going FORWARD and backward, so your body and elbows (tacked together) will go forward and backward with the WAVE motion.