Riding critique please? *flat and o/f*
---
Okay so all the photos are posted here,
Riding Zeus (picture heavy!)
, but I wanted a little critique on my riding. I am taking dressage lessons, but not as regularly as I'd like. Supposed to be once a week but because of being out of town and being so busy I haven't gotten one in two weeks, and won't have one this week either.
Anyway. Before we start let me tell you what I see, feel free to repeat though, ha ha.
Walk - I'm happy with the walk pictures. Like that my leg is secure and underneath me, but look up!
Trot - In the trot I need to choke up on my reins, and bring my hands up and forward, creating that straight line from elbow to bit, to allow Zeus to reach for the bit and travel a bit better, instead of letting him brace his neck against my hands/arms. I'm mostly okay with my leg, may need to bring it back a smidge in the siting trot.
Canter - In the one canter I'm much happier with my arms/hands.
O/F - Need to stay with the motion, may or may not look it, but I was a tad behind his jump. However, I like that I'm not too far out of the saddle in most and I like my landings. Release is just my pre-programmed crest release from all my years as a hunter, and until my confidence and position improves o/f I' happy with staying out of his mouth and out of his way. Leg could be a bit more underneath me but is MUCH improved.
Okay, pictures!
Walk: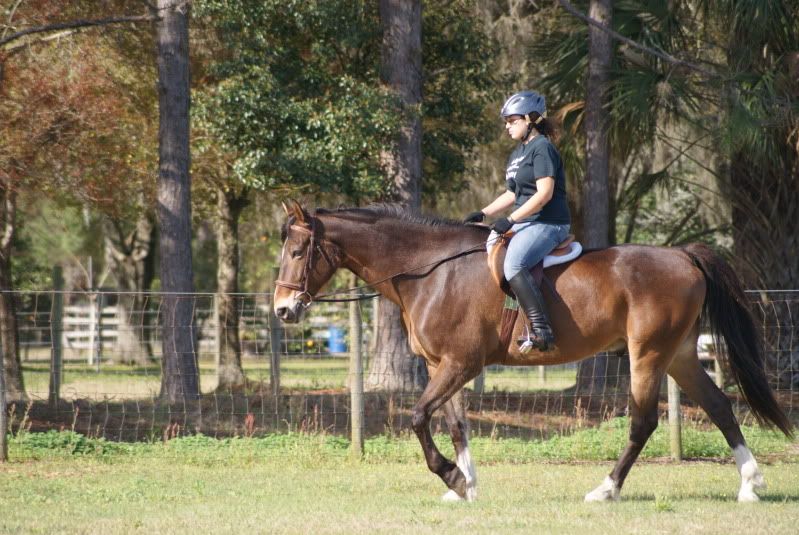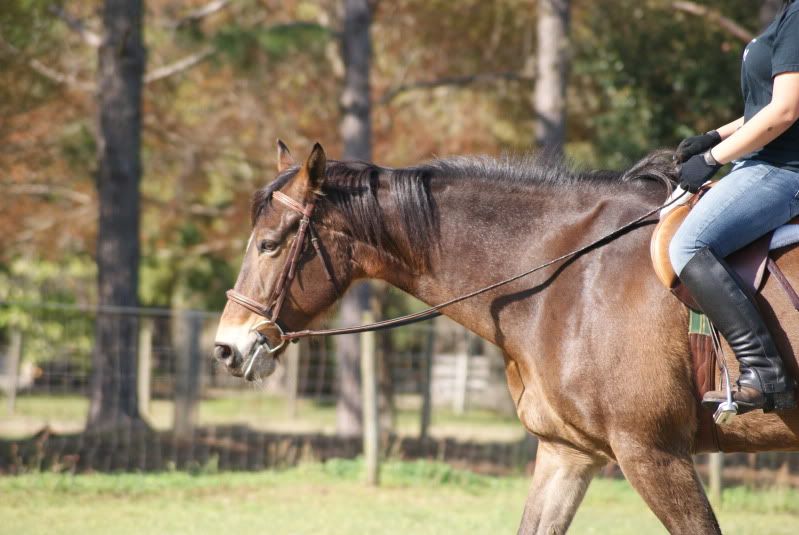 Trot:
(mostly sitting)
Canter:
(Only one from this ride so I'm adding another from a week/few weeks ago.)
Sorry it's a video still and dark, but you can see my upper body/seat.
O/F:
(Posting the ones from today and then one of two old ones so you can see the improvement.)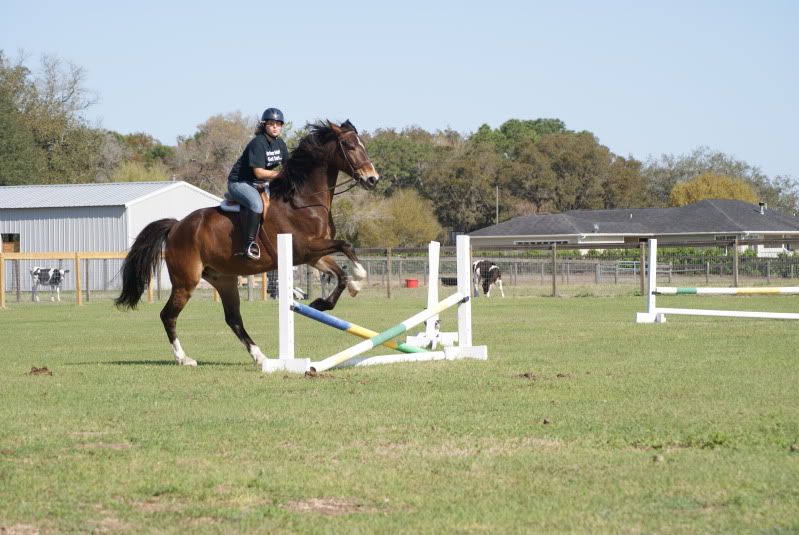 Yes, we knocked this down because a) I didn't balance him before the jump and left it all up to him, and b) Because I sat down too early and caused his back legs to come down early and knock the rail. And yes, I was laughing at myself.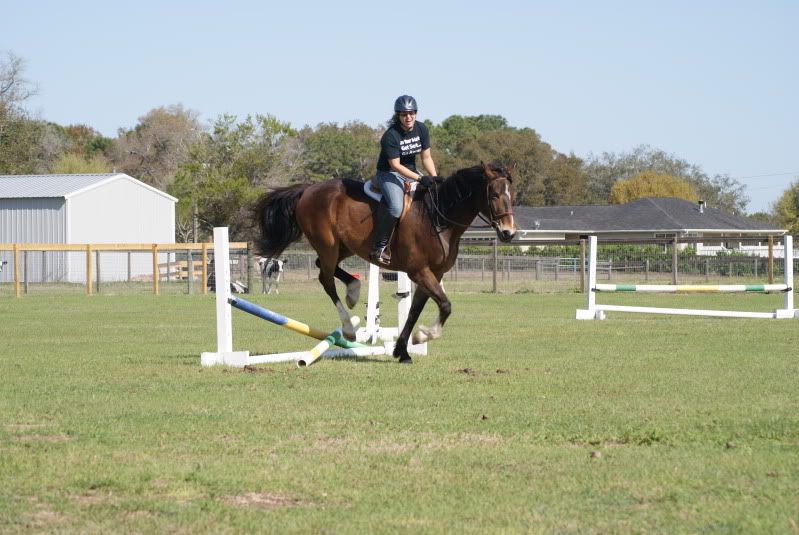 Jumped it while it was still down. Early take-off because of the down rail, hard for him to judge the distance correctly and he's still learning to trust my judgment o/f. However, felt that I stayed with him pretty well, considering.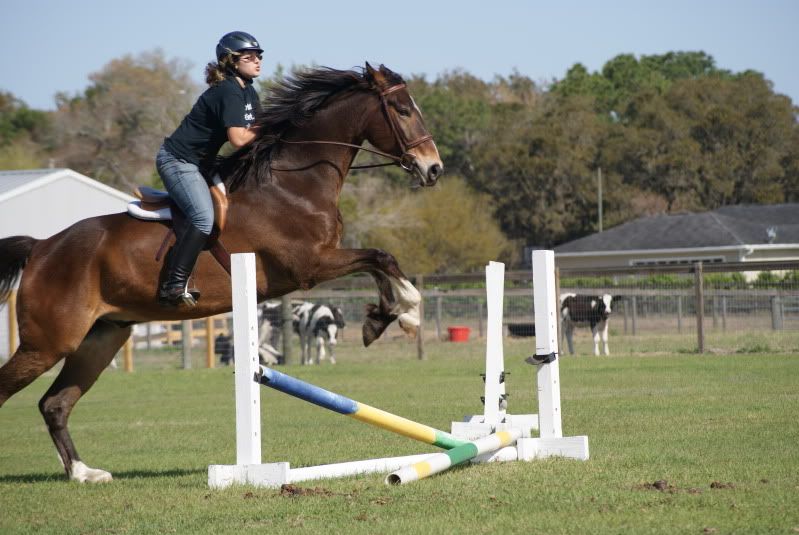 Landing.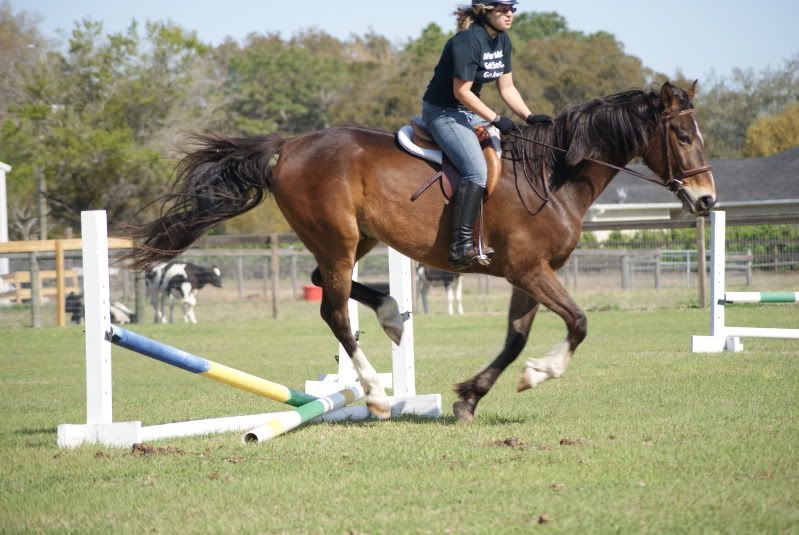 And an
old o/f picture
! Much improved, eh?
Thanks in advance for taking the time to critique us!
---
I give myself very good advice, But I very seldom follow it
---
Last edited by Gillian; 03-29-2010 at

10:47 AM

.
You seem to be doing fine. I would work on getting your hands out of your lap and up off his neck so you can be more effective with your rein aids. I would also suggest dropping your stirrups a hole at least for flat work. Your leg seems to be almost coming up over the knee roll and you should be stretching down your thigh so your heel comes underneath you more. Remember that you want a straight line from head to shoulder to hip to heel. Also as you jump, let yourself balance on the balls of your feet and let your knees and ankles get very loose and elastic. You want to kind of let your legs bounce and give with the stride while keeping your butt as close to but not in the saddle as possible. I also suggest that you work on doing all three gaits in 2-point so that you can get good at rating speed, asking him to pick up the pace etc while you are up there. It will help your balance and you will learn to be effective in that position. It will really improve how you approach the fence and how well you stay with your horse on the jump.
Thanks! Sometimes I think the saddle might be a bit too small for me, but I can't really afford a new one and I'm still effective in it. :/ And, alright, stirrups down a hole for flat work, was thinking that too. Didn't realize till I saw the pictures how much my hands were in my lap, though, wanted to kick myself, ha ha. This habit was nonexistent a month ago. But that's why I love pictures or videos of my riding!
Definitely need some two-point on the flat, you're right there. Right now I'm just kinda along for the ride o/f and while we have been working on influencing what lead he'll land on o/f in lessons and stuff, it's all very basic. Guess I just need some more practice/time in the saddle.
Thanks again.
---
I give myself very good advice, But I very seldom follow it
I agree about the hands also about the saddle issue. If you can put a whole hand behind you and it fits then your saddle is fine if not then its to small. But thats okay you aren't doing anything more then riding right?? Anyways sugestion about the stirrups 1-2 holes down.. it seems to be that your heel isnt completly down. Put it straight down.
Is it just me or did your leg go to far back O/F? If not then it is just me.. Anyways good work everyone can always use work as can I. :)
Cute horse as well.
Yearling
Join Date: Feb 2010
Location: Between two places in Canada!
Posts: 1,005
• Horses: 0
I agree with the other posters - hands up (I'd like you to tighten your reins in a few of the pictures to pick up more contact) and leg back but only a smidge. Your friend's camera is amazing, great shots of you and your beautiful horse! Very jealous of your weather also haha.
On an off topic note, can you tell me what kind of half-chaps you have? They look exactly like a pair I'm looking for :)
---
Definite improvement. You do seem to have what I call the "shrimp" posture. You're upper body is collapsed a bit and your core is not engaged. If you use your stomach mucles to stabilize your seat, your upper body is free to grow tall and allow your shouders to open. Your stomach may hurt for awhile, but you'll see an instant improvement in your riding and your horse's movement.
---
You just have to see your distance...you don't have to like it.
I'm just going to pick on three things, and relate them to your effectiveness in the saddle.
The foremost, and most obvious thing that has been picked on is your hands - more accurately, your rein length. You need to carry your hands and keep them together and in front of you. The horse knows his job, you don't need to have your hands 5 miles apart from each other to get this horse's head down - you need leg. I would suggest bridging your reins and shortening them about a foot. Not like your foot, a 12" foot. You have long enough arms you can put your hands on the horse's neck.

What this is going to do is force you to have an independent seat. Right now you are slouching with no tone through your abs or back. Like our horses when they are in a good frame - we need a positive tension in our position. Your shoulder blades must be flat against your back and your back must be flat - you also need to sit further towards the front of the saddle. From here - balance your head over top of your body and drive your shoulders down. It is a hard muscle group to explain but it is basically in the middle to bottom of your ribcage along your sides and back that you really need to engage.

Finally and this should solve itself - but is a good indicator of the two above issues is your elbows and upper arms. Your upper arm is a part of your upper body and needs to act as such. Your elbows and wrists are enough to absorb the "shock" of the horse's neck movement. Your elbows do not need to swing. They should rest on your hips (yes, physically touching your hip bones) at all times.

Slowly lengthening your stirrups (about a half hole a week) and sitting towards the front of the saddle will correct your leg position as well.

Good luck! You have improved a lot already, but dressage is not a sport of complacency!
Thanks you guys! And anebel, as I was sitting here reading your post I tried what you said about my back, pushing my shoulders down, shoulder blades flat, etc., and I could definitely feel what you're talking about. Going to ride today so I'll start tackling these problems.
Thanks again! This is why I love feedback from you guys.
---
I give myself very good advice, But I very seldom follow it
I'm really bad at critiques and have nothing better to add than what others have said, but I just wanted to comment on the cows watching in the background. They are SO CUTE! LOL! I think they're a little jealous and want to get out there over those jumps too!
---
Quote:
Smart people listen. Not so smart people think they do not need to hear what others have to say.
- your hands are too far down, and too far apart, raise them up and together
- your leaning too far back, sit up straighter.. as well most hunter/jumpers tend to sit in a more forward position, which helps with your two point when getting ready for the jump, so you dont find yourself behind in the jump as you are here.
- you dont look to have a whole lot of contact with your horses mouth at walk, your not working with your horse, and he seems to be just plodding along. You see how his neck is just stretched out long? You need more contact, to get him to tuck his nose in and go nicely into a frame, it also helps alot with controling your horse.